The silver price jumped about 70 cents an ounce on Tuesday - the biggest one day advance for the iShares Silver Trust (NYSEARCA:SLV) in almost five months - as buyers returned, many of whom were short sellers closing out positions that have been profitable in recent weeks.
Shorting silver has been a winning trade for the last six months, as the metal has charted a course steadily lower. There have been repeated furious rallies but, each time, sellers have outlasted buyers. Of course, weakness in the gold price during that time has played a key role in silver's decline. This comes amid what appears to be a full scale assault on precious metals by hedge funds, investment banks, and the mainstream financial media at a time when the world's paper money system looks as shaky as ever.
As always, the price of silver is dependent upon gold and sentiment in the gold market hasn't been this bad in quite some time. According to this report at FT Alphaville, Goldman Sachs is now advising clients to short gold while, at the same time, they wonder why the gold price isn't moving higher:
The other interesting thing they note, is that despite the resurgence in euro area risk aversion, it's pretty notable (if not remarkable) that gold prices have remained unchanged over that period...
That's kind of odd... This comes after a half dozen economists at Societe Generale declared the gold era to be over last week as detailed here a few days ago. It's hard to imagine how silver will be able to mount a sustained advance without a similar move higher for gold, but yesterday's gold gains that fostered a silver surge offer some hope.
As shown below via StockCharts, we're rapidly coming up on another anniversary of silver's early-2011 glory when the spot price reached about $50 an ounce during the last week in April two years ago.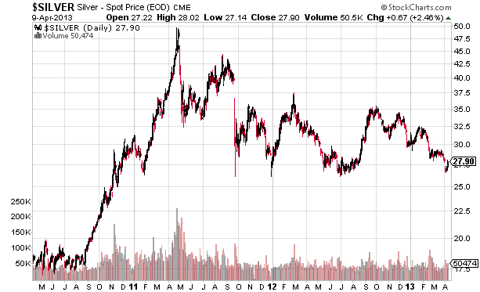 Click to enlarge
Ironically, when silver peaked two years ago at nearly double its current price, the gold price was lower than it is today. But the important distinction between then and now is that the gold price had been on a steady upward path for a few months, the exact opposite of what we see today.
Silver coin sales by the U.S. Mint are on pace to shatter records this year as Americans can't seem to get enough of what served as money for many decades in this nation. Even after the price weakness of the last two years, a pre-1965 quarter containing 90 percent silver is still worth about $5 in today's paper money.
Of course, when it comes to determining the price of silver, coin sales are the tail, not the dog. Futures markets set the spot price that determines what coin buyers will pay and, lately, futures market traders don't think much of the metal.
Silver short positions are now at multi-decade highs according to this report at the The Short Side of Long, but there is hope for silver bulls in that similar developments in the past have marked long-term bottoms. Holdings at the SLV trust were steady over the last two days following an outflow of 180 tonnes on Friday. Unlike the trust for the SPDR Gold Shares ETF (NYSEARCA:GLD) that continues to shed bullion, the world's most popular silver ETF has added more than 400 tonnes of the metal this year as the price has declined about 8 percent. Clearly, SLV owners are hanging on to their positions as weak hands in GLD fold, but it's uncertain how long those two trends will continue.
As shown below via BigCharts, silver's start to the year reflected optimism by investors and analysts who saw it outpacing the yellow metal in 2013.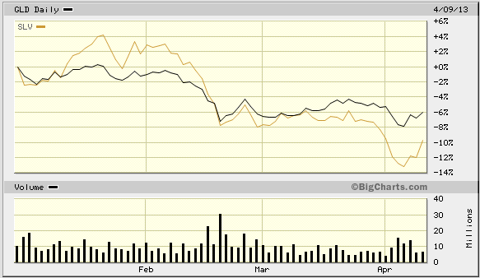 Click to enlarge
This outperformance changed to underperformance last month, but yesterday's jump in the silver price served as a timely reminder of just how far and how fast silver can rise. Sentiment is most bearish at market bottoms and more evidence of this comes from the rapidly shrinking premium for the Sprott Physical Silver Trust (NYSEARCA:PSLV) that, for the first time ever, is threatening to move into negative territory. In yesterday's update at the Sprott website, the premium fell to just 0.25 percent, an astonishing development for a fund that just over a year ago commanded a 35 percent premium. Kid Dynamite reports that Eric Sprott has been selling PSLV shares at a furious clip in recent weeks which probably accounts for some of the decline in premiums.
To be sure, it's been a rough two years since the silver price peaked in late-April of 2011 and yesterday's price action offered just a taste of what markets were like back then. But, it will be tough going for silver until the gold market is able to turn things around and that will probably only come with some sort of major catalyst that, at the moment, is nowhere in sight. The good news for silver investors is that, given the precarious state of the world's paper money system as money gushes out of central banks all around the world, that catalyst could come at any time.
Disclosure: I am long GLD, SLV, PSLV. I wrote this article myself, and it expresses my own opinions. I am not receiving compensation for it (other than from Seeking Alpha). I have no business relationship with any company whose stock is mentioned in this article.
Additional disclosure: I also own gold and silver coins and bars