By: Brendan Gilmartin, VP Research & Content
Wells Fargo (NYSE:WFC) is slated to report 1Q 2013 earnings before the closing bell on Friday, April 12. The results are typically released at 8:00 a.m. EST and will follow with a conference call at 10:00 a.m. Wells Fargo's results will be reported an hour after JP Morgan Chase (NYSE:JPM) posts its quarterly numbers for the same period.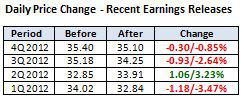 Outliers & Strategy
For the 4Q period, the Street is looking for earnings of $0.88 per share (Source: Yahoo! Finance). The range is $0.76 to $0.94.
On a historical basis, earnings have tended to closely track consensus estimates.
Revenues are seen coming in roughly flat y/y to $21.6 bln, with some estimates running as high as $22.08 bln.
Wells Fargo shares are up nearly 9% YTD. Given the recent strength, look for EPS at least at the upper end of the analyst forecast range of $0.76 to $0.94 in order to push the shares higher from here.
Earlier this quarter, Wells Fargo announced plans to up its quarterly common stock dividend to $0.30 per share, bringing the yield to well over 3%, even after the recent run-up in the shares.

Recent News
04/05: According to a post on TheStreet.com, JP Morgan Chase Analysts believe Wells Fargo faces a steep decline in mortgage origination income, offset by steep expense declines.
03/14: Wells Fargo announced the Fed approved the firm's 2013 Capital Plan and calling for a dividend rate of $0.30 per share for the second quarter of 2013, and an increase in common stock repurchase activity for 2013 compared with 2012.
03/14: BMO Capital Markets initiated coverage on Wells Fargo with a Market Perform rating and a price target of $40.00, according to a post on Benzinga.com. On one hand, the firm noted the banks strong market share position, offset by weaker mortgaging banking revenues, lower net interest income, and decreased loan growth.
02/21: Berkshire Hathaway boosted its stake in Wells Fargo for the recent quarter by 17.3 million shares, bringing total holdings to 439.8 million shares, or 8.9% of the outstanding issuance.
02/11: Stifel Nicolaus upgraded Wells Fargo from Hold to a Buy rating with a price target of $42, according to The Dividend Daily, citing the bank's strong management team, profitability, and high-quality franchise.
Technical Review
Wells Fargo shares are up more than 9% YTD after recently touching the highest level since 2008. The recent high at $38.20 (March 20) would be the initial resistance point in the event of a positive surprise. Conversely, support is at $36.50, with downside risk to the 50-Day SMA near $36.00 should results fail to meet forecasts. (Chart courtesy of StockCharts.com)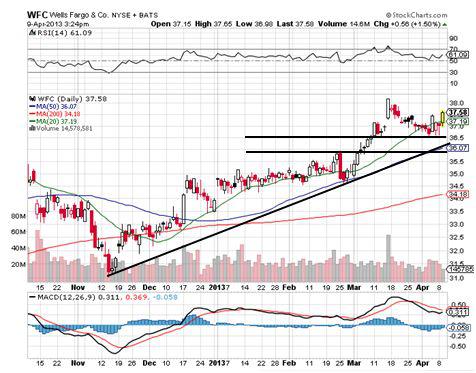 Summary
Wells Fargo shares have been rallying in recent months, benefiting from a pickup in lending activity, healthier net interest margins, an improving economic backdrop in North America, and the housing market recovery. With that being said, the bar is set fairly high in advance of the 1Q 2012 earnings release, implying Wells Fargo needs to deliver earnings at or above the upper end of the forecasted range to maintain the positive trajectory.
DISCLAIMER: By using this report, you acknowledge that Selerity, Inc. is in no way liable for losses or gains arising out of commentary, analysis, and or data in this report. Your investment decisions and recommendations are made entirely at your discretion. Selerity does not own securities in companies that they write about, is not an investment adviser, and the content contained herein is not an endorsement to buy or sell any securities. No content published as part of this report constitutes a recommendation that any particular investment, security, portfolio of securities, transaction or investment strategy is suitable for any specific person.
Disclosure: I have no positions in any stocks mentioned, and no plans to initiate any positions within the next 72 hours. I wrote this article myself, and it expresses my own opinions. I am not receiving compensation for it (other than from Seeking Alpha). I have no business relationship with any company whose stock is mentioned in this article.