Business
Behind Suncor Energy (NYSE:SU), Canadian Natural Resources (CNQ) is Canada's second-largest energy company. It has a dominant land presence in Western Canada, as well as a diverse portfolio of oil producing properties, and it currently holds a drilling inventory of over 8,000 wells. CNQ is engaged in exploration and energy asset development in the North Sea (near the UK) and off the western and south western coasts of Africa, near the former French colonies of Cote d'Ivoire and Gabon.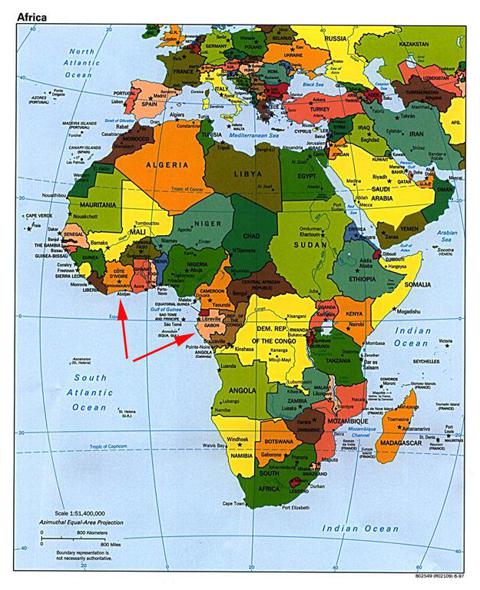 Most of the company's production, however, comes from its North American assets, and CNQ is one of the largest land owners in the western Canadian sedimentary basin. It is also the second-largest landowner in British Columbia in terms of undeveloped land. The company's pride and joy is its Horizon oil sands project, which began producing synthetic crude oil in 2009. Currently, the Horizon oil sands has a remaining production lifespan of approximately 50 years. Unfortunately, however, the oil retrieved from the Horizon project is some of the most expensive to produce. Through an "upgrader process" the company is able to produce sweet synthetic crude oil from bitumen, which is mined at Horizon.
Sadly, a fire, which was preceded by an explosion at Horizon's upgrader coker unit, forced the plant's closure in early 2011, but the damage was quickly repaired and the plant was restarted in late August of 2011:
Canadian Natural Resources (TSX:CNQ) (NYSE:CNQ) has restarted its Horizon Oil Sands Project in Northern Alberta after a fire shut synthetic crude oil production early this year.

Production from the Horizon Oil Sands Project was halted following a fire that occurred in the coker unit on January 6, 2011. An investigation found that a coke drum top unheading valve was opened to the atmosphere on a live drum, and changes have been implemented to ensure it does not happen again.

Following repairs to the primary upgrading facility and operational and safety improvements, the Stop Use Order on the four coke drums was lifted on June 28, 2011.

Canadian Natural successfully resumed production at Horizon on August 16, 2011.

For the past four days, synthetic crude oil production has consistently averaged about 75,000 barrels a day, and Canadian Natural plans to ramp up to full production of 110,000 barrels a day over the next week.

First pipeline deliveries of synthetic crude oil from the Horizon Oil Sands Project commenced on August 18, 2011.

The Horizon Oil Sands Project was sanctioned in February 2005 and produced its first barrel of crude oil in early 2009. The project includes a surface oil sands mining and bitumen extraction plant, as well as an on-site bitumen upgrader to produce synthetic crude oil from the bitumen.

Source: [Link]
Since that time, the company has remained "focused on steady and reliable production." According to information obtained from the company's 2012 Annual Report:
Horizon Oil Sands operations remain focused on safe, steady and reliable production. We have a world class asset with over 3.35 billion barrels of proved plus probable synthetic crude oil reserves, representing decades of fully upgraded light crude oil production potential without decline. We have made significant progress in operational discipline and reliability in 2012. The addition of the third Ore Preparation Plant has enhanced reliability significantly and allowed the effective use of intermediate tankage to deliver steady operations in the upgrader. We expect reliability to continue to increase in 2013, particularly after we complete our first major turnaround. The execution strategy of Phases 2 and 3 at Horizon are delivering expected results as we continue to track below cost estimates. Phases 2 and 3 are targeting to bring Horizon production levels to 250,000 barrels per day, with potential for further expansion to 500,000 barrels per day. Production costs at Horizon are largely fixed; as a result, production costs on a per barrel basis are targeted to reduce significantly when Phases 2 and 3 come on-stream, greatly enhancing the plant's economics and sustainability.

Source: [2012 Annual Report - pdf]
Fundamentals
Company sales increased 4.44% over the previous year (i.e. 2011); however, net earnings were 28.41% lower on a year-over-year basis, and 28.33% lower on a year-over-year diluted per share basis.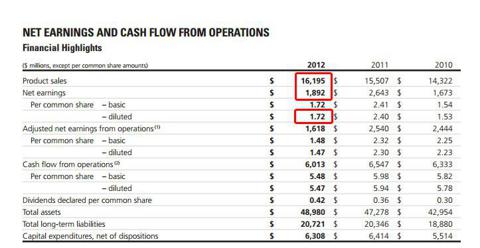 According to the company's 2012 Annual Report, the decrease in adjusted net earnings for 2012 was primarily due to:
lower crude oil and NGLs and natural gas netbacks;
lower realized SCO prices;
higher depletion, depreciation and amortization expense; and
higher realized risk management losses;
partially offset by:
higher crude oil and SCO sales volumes in the North America and Oil Sands Mining and Upgrading segments.
Also noteworthy is the 8.156% decrease seen in cash flow from operations:
Cash flow from operations for 2012 decreased to $6,013 million ($5.48 per common share) from $6,547 million ($5.98 per common share) for 2011 (2010 - $6,333 million; $5.82 per common share). The decrease in cash flow from operations for 2012 from 2011 was primarily due to the factors noted above relating to the decrease in adjusted net earnings, excluding depletion, depreciation and amortization expense, as well as due to the impact of cash taxes.

Source: [2012 Annual Report pdf]
Some of the more pertinent positive points that were highlighted by the company's management team in the report's Management Discussion & Analysis (MD&A) section are as follows:
Achieved net earnings of $1.9 billion, adjusted net earnings from operations of $1.6 billion, and cash flow from operations
of $6.0 billion;
Achieved record yearly crude oil and NGLs production of 326,829 bbl/d in the North America - Exploration and Production segment;
The company largely maintained its natural gas production levels while strategically reducing its related natural gas capital
expenditure program;
Drilled a record 886 net primary heavy crude oil wells;
The company focuses on efficient and effective operations at Horizon and continues to place emphasis on safe, steady,
reliable operations;
Purchased 11,012,700 common shares for a total cost of $318 million under the Normal Course Issuer Bid; and
Increased annual per share dividend payment to $0.42 from $0.36, the 12th consecutive year of dividend increases.
Currently, CNQ has a Tangible Book Value of $21.80 per share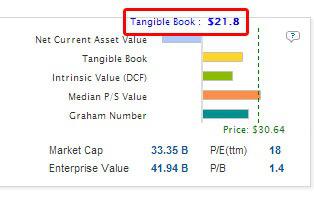 and a Net Current Asset Value of negative $21.05 per share, which would indicate that the company's liabilities are greater than its assets.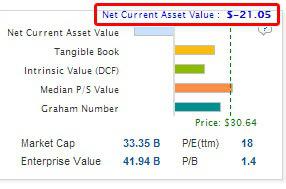 In addition to the negative Current Asset Value, both, the company's Current and Quick Ratios are below one; and, more importantly, both figures showed significant declines over the previous year (i.e. 2011).

Technicals
CNQ has been in a very choppy, sideways trading pattern since the end of 2005, and its On Balance Volume has shown a steady decline since early June of 2009 (yellow oval).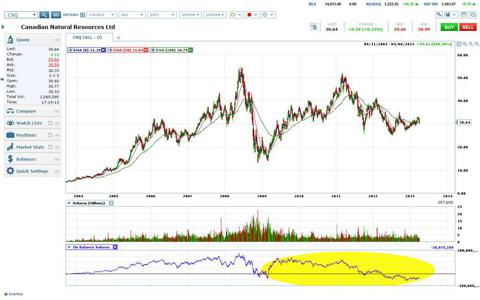 Positive Catalyst
Bullish investors believe that CNQ has shown a history of quickly adapting to changing market conditions, and that management has allocated capital accordingly. It is also believed that the Horizon oil sands project will provide CNQ with significant free cash flow for future expansions. Another positive for CNQ is its significant drilling inventory of over 8,000 wells, and its expansive, undeveloped land mass.
Negative Catalyst
On the downside, however, CNQ's management team has not disclosed a budget for the Horizon project, leading some investors to worry about cost overruns. Also weighing on investor's minds are the political risks, and the environmental concerns, surrounding oil sands development and, more specifically, safety issues surrounding the Horizon project.
Conclusion
Presently, Morningstar has a five star rating (out of its five star rating system) on CNQ; however, there are other analysts who are not so enthusiastic about the company and its prospects. The company has experienced some major headwinds over the past several years, and it could face many more in years to come, given the overall concerns surrounding safety. For those who may be interested in initiating a new position in CNQ, a wait and see approach may be prudent. For those who already hold a position in the company, hedging strategies may prove beneficial.
Note: Chart courtesy of optionsXpress. Financial data courtesy of Morningstar.com. Tangible Book Value and Current Asset Value information courtesy of gurufocus.com.
Disclosure: I have no positions in any stocks mentioned, and no plans to initiate any positions within the next 72 hours. I wrote this article myself, and it expresses my own opinions. I am not receiving compensation for it (other than from Seeking Alpha). I have no business relationship with any company whose stock is mentioned in this article.