Our commodity stocks have performed well this week and the support levels we threw out for readers on a few of those names were not reached, which is unfortunate but also adds credibility to the thesis that we have picked an area for entry where the market sees value. We are looking at a few more names at this time, but we keep coming back to certain holdings we already have exposure to at this time as delivering the best value, so we may be forced to continue to add to certain positions rather than expand the portfolio to new names. We will keep readers posted in that regard.
Commodity prices this morning are as follows:
Gold: $1581.40/ounce, down by $5.30/ounce
Silver: $27.695/ounce, down by $0.186/ounce
Oil: $93.83/barrel, down by $0.37/barrel
RBOB Gas: $2.9079/gallon, down by $0.0345/gallon
Natural Gas: $4.066/MMbtu, up by $0.049/MMbtu
Chart of the Day:
If copper is supposed to tell us where the economy is going, it seems to be indicating no where fast. We are range bound here and actually at the lower levels bouncing off of support. Is copper potentially telling us that all the gains in the stock market are not real economic growth, but simply growth due to funny money (i.e., inflation)? Seems possible...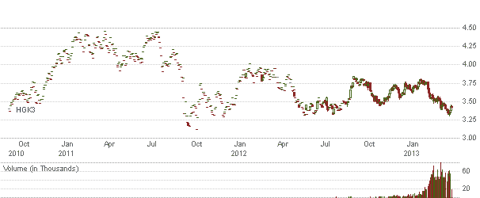 Chart courtesy of CNBC.com
Oil & Natural Gas
Investors in Petrobras (NYSE:PBR) had reason to cheer yesterday as it appears that the company may have solved at least a portion of its financing needs required for their ambitious build-out over the next few years while also helping out one of Brazil's richest men by assisting one of his troubled assets by utilizing his company's assets rather than constructing their own. This makes sense to us, but it also appears to be a type of bailout and when someone has to specifically stipulate that this is a business deal and not a form of government aid...well we generally find ourselves venturing into the camp calling it government aid. Not that it is a bad thing, but we would rather call things what they are.
Solar
Well we most certainly have egg on our face right now, but the good thing about the modern world is that this is an issue a good shower can take care of. As readers know we have long been bearish of the solar industry, as there were far too many names involved with razor thin margins and technology which in many cases was generic among firms. When China entered the industry, we figured it would be lights out for everyone else as they could manufacture at a far cheaper rate, however their technology lacks other players in certain key areas so investors have seen a plateauing of sorts in the industry.
Yesterday First Solar (NASDAQ:FSLR) saw shares rise over 45% to close at $39.35/share after the company reported sales figures and a forecast which caught many off guard...ourselves included, although we do not short the sector via short sales and have been neutral for some time as the big gains for bears have already been had. The news caused a rally across the board in the industry with enough bullish sentiment being present to push SunPower (NASDAQ:SPWR) back above $10/share after the shares rose $1.66 (17.06%) to close at $11.39/share. That was the stock which we thought was the leader in the industry, but maybe there are two now. Either way it does make the story a bit more interesting moving forward.
'Cliff Climbing'
Cliffs Natural Resources (NYSE:CLF) has seen a rally taking place over the past few sessions, and even showed strength during days when we were red. We initially chalked that up to a dead cat bounce, especially as other names which had recently been slaughtered saw their shares green at the same time. Well shares have continued to climb, thus today's intro mini-title, and yesterday broke back above the $20/share level which was previously support for the shares. This in no way indicates that the worst is over for the shares, simply that buyers have returned and the selling has abated. With the new shareholders though, another move lower could take place as they look to cut losses before they become too large. New investors are not necessarily strong hands, that is a lesson we have learned and been forced to learn again a few too many times and something to keep in mind this morning.
Precious Metals
Allied Nevada (NYSEMKT:ANV) demonstrated what can happen when one delivers on their promises of production guidance and sales estimates as well as bringing a project and/or mine expansion online. These events tend to get discounted into the miners' shares but when they surprise on the good side the shares quickly reflect that 'hidden' value. It is rare that the surprises happen, so readers should not go out and try to figure out who will surprise in the next few months, but just something to keep in mind for future reference. With shares up $3.56 (30.30%) and closing at $15.35/share, it was quite impressive and gives investors an idea of what we initially thought was possible with AuRico Gold...and is still possible should management sell out to another player or finally get their act together.
Disclosure: I have no positions in any stocks mentioned, and no plans to initiate any positions within the next 72 hours. I wrote this article myself, and it expresses my own opinions. I am not receiving compensation for it (other than from Seeking Alpha). I have no business relationship with any company whose stock is mentioned in this article.