It appears that OCZ (NASDAQ:OCZ) has yet to file its 10-Q for the August 2012 quarter. After having been given numerous extensions, and after management has flapped its gums at investors, assuring investors that the filings would be out by each Nasdaq (NASDAQ:QQQ) deadline at various conferences (audio recordings here), the company once again misses its target and fails to file. The company faces being de-listed from the Nasdaq, but that's the least of the company's problems. I believe that there is a non-trivial risk that within 6 months, OCZ will declare bankruptcy as cash burn from operations, coupled with loans that feature incredibly high interest rates, leave the company insolvent.
The Cash Burn Situation Is Unsustainable
According to CEO Ralph Schmitt, the company has a breakeven level of approximately $110M - the revenue baseline that the company operated on before all of the restatement shenanigans. See, what OCZ tried to do was to sell solid state drives for what appeared to be good gross margins, but would offer incentives that would be applied to SG&A rather than to COGS. What the short sellers noticed (and what I am ashamed to have missed when first looking into this company a year ago) is that despite the "good" gross margins, the company never managed to produce positive cash flow during its entire existence: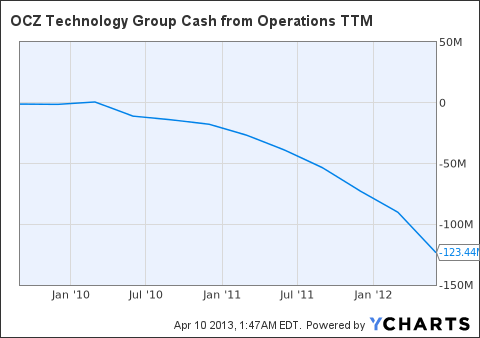 OCZ Cash from Operations TTM data by YCharts
Further, the company actually had a history of pulling this stunt before when it was a memory module supplier. The company was originally listed on the AIM, before the shares lost 95% of their value and were ultimately de-listed. The SSD story seemed like a better bet, especially as the promise of higher margins, deeper vertical integration, and a competitive advantage in controllers/firmware/software helped to make the investment look quite promising. Unfortunately, it looks like the same thing is playing out here.
The problem is that OCZ kept the top line growing, but this - at least according to the cash flow statement and the need for restatement - was done at expense to the bottom line. Ex-CEO and co-founder Ryan Petersen had no compunctions selling millions of dollars of shares into the inflated share prices. Does anybody really know where Mr. Petersen is right now? Multiple independent sources whom I have spoken to that allege knowledge of the matter suggest that he is currently in Panama, but I cannot confirm this personally.
After burning up hundreds of millions in cash, OCZ now finds itself at the mercy of loan-shark like loan agreements with Hercules Technology Growth Capital (NASDAQ:HTGC) in order to score a hit of working capital to the tune of $30M. I believe that OCZ's breakeven of $110M against a "revenue range" of $65M - $85M, excluding any potential legal fees from the numerous class action suits that are pending against the firm, do not suggest that the company can operate for much longer given that the Hercules loan would perhaps cover a quarter or two of cash burn.
It is doubtful that in a weak PC demand environment, amplified with rising NAND flash prices (OCZ is at a significant structural disadvantage as it is competing with NAND fabs) and topped off by rising DRAM prices (OCZ's SSDs use 512MB - 1GB of DDR3, which puts competitors such as Micron (NASDAQ:MU) and Samsung (OTC:SSNLF) at a distinct advantage in terms of cost structure) that OCZ can actually become cash flow positive within only a few short quarters.
Enterprise? Ask STEC How That's Going
I also cover STEC (NASDAQ:STEC), a former pure play SSD high flier that came crashing down to earth and is now burning cash by the millions per quarter. Luckily for STEC, the company has a fairly large cash reserve, so it can fund a potential turnaround for at least a year without worrying about solvency. OCZ, on the other hand, is now in debt, is cash flow negative, and is shuffling what few resources it has left after a 15% workforce reduction to try to play in the enterprise space. Unfortunately, if it didn't work for STEC, why would it work for OCZ, a brand with next to zero credibility in this space?
Again, the NAND suppliers also have the majority of this space on lock down, with a few very high value added players such as Fusion-io (NYSE:FIO), LSI (NYSE:LSI), and Violin Memory still pushing hard to keep their high margin, software-differentiated niches. OCZ has neither the software expertise, nor the hardware track record to play in this space, and with next to no cash left and accounting fraud issues hanging over its head, it is not exactly in a position to hire the top talent.
That is another issue: talent retention. Simply put, if you were an engineer who needs to put food on the table, would you really risk staying at OCZ if you had almost any other alternative? I would think not. In a highly competitive, fast growing field, top talent is highly sought after, and you can be assured that OCZ's engineers are looking for new work daily as they (rightfully) worry for their livelihoods. I expect OCZ's R&D to be significantly hampered as companies that can offer better job security as well as more compelling pay packages poach its finest talent, leaving only the dregs.
Conclusion
I worry that OCZ never files its 10-Qs, failing to regain Nasdaq compliance. I further worry that it will then file for bankruptcy protection shortly thereafter. The cash burn situation is the only thing that matters here, and it is clear that with its cash reserves nearly gone, the $30M loan from Hercules isn't going to last the company more than a quarter or perhaps two before it is burned as well. The interest rate on said loan is toxic, but I suspect that Hercules will need to sell off OCZ's IP and equipment/property in order to recoup its investment.
OCZ's management needs to be a lot more transparent to investors, and it needs to show that at the very least, it has a "plan B" to get investors out of this mess without seeing their equity stakes go to $0. Right now, I'm not so convinced that management even has a plan or that it cares about its investors.
Disclosure: I am long LSI. I wrote this article myself, and it expresses my own opinions. I am not receiving compensation for it (other than from Seeking Alpha). I have no business relationship with any company whose stock is mentioned in this article.