The market has been unkind to Bankers Petroleum Ltd. ("Bankers") (OTCPK:BNKJF) the past few years, ignoring its growth in production and cash flow from heavy oil fields in Albania, with its stock price falling from over $9.00 per share to less than $3.00 per share.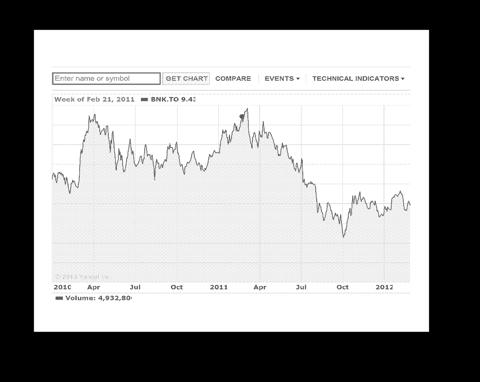 Source: Yahoo Finance
Oddly, the decline in share price took place during a period of expansion by Bankers, whose cash flow has grown from less than $50 million in 2009 to over $250 million today.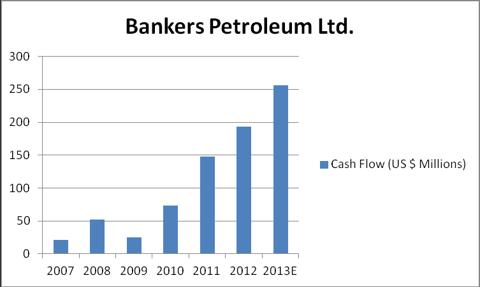 Source: Bankers Petroleum Ltd. bankerspetroleum.com
On April 5, 2013, Bankers announced Q1 2013 production at 16,916 barrels per day, an increase of 4.7% from Q4 2012, continuing its steady growth in oil production. In the same announcement, it disclosed that the price it is receiving for its oil had increased to $89.42 per barrel from $78.53 in Q4 2012.
Bankers' market capitalization is approximately $675 million, and the company trades at less than three times cash flow. Sooner or later, the market will recognize the value in this debt free producer. 100% of its production and pricing are tied to Brent and not to Western Texas International pricing.
Bankers operates in Albania and enjoys strong and improving net backs from heavy oil production, with new wells realizing payback in less than a year at current prices. It is the largest oil producer in Albania, with original oil in place in the fields it is developing of approximately 5.4 billion BOE, according to its corporate presentation published in April 2013 on its web site. Bankers reports proven and probable reserves of 226 million barrels of oil at December 31, 2012, with a Net Present Value at a 10% discount rate of $1.865 billion or $7.35 per share.
With a relatively clean balance sheet, Bankers' $247 million capital budget for 2013 is wholly funded by the $250 million of cash from operations it expects to receive this year. Bankers expects to be able to expand production by 10% to 15% annually without adding debt to its balance sheet, assuming stable pricing.
Since the oil fields Bankers is developing are older fields, Bankers is using a variety of enhanced recovery techniques such as horizontal drilling, water flood and reactivation of former producing wells to meet its production goals. With such techniques there are always operational risks. Bankers encountered some of those risks in 2009 when cash flow from operations fell and the share price tumbled in parallel. Since that time Bankers has demonstrated steady year to year growth in cash flows.
At a price to cash flow of less than 3 times and with expected annual production growth of 10 to 15%, Bankers is a solid bet for capital appreciation at current Brent oil prices, in my view.
Disclosure: I am long OTCPK:BNKJF. I wrote this article myself, and it expresses my own opinions. I am not receiving compensation for it (other than from Seeking Alpha). I have no business relationship with any company whose stock is mentioned in this article.