In this article I develop a bull case for investing in Ford (F). I summarize the results of my analysis in 5 key points. My analysis was carried out taking a 1 year investment horizon.
1) Ford is making steady progress in strengthening its balance sheet
Ford's debt continues to be one of the main reasons why investors tend to keep away. Indeed, after 4 years balance sheet remains weak. However, the automobile maker has reduced its debt every year since 2010. 2010 itself saw a 43% reduction in debt. Overall, Ford reduced its automotive debt by $19.3 billion since 2009.
Most of Ford's approximately $86 billion in total debt does not come from real automotive debts but from its financial division (the underfunded pension): roughly $72 billion; where low interest rates continue playing against the car maker. If we assume that in the next 2-4 years the economy continues recovering (moving towards its natural steady state), interest rates will to adjust. This will help Ford by stopping the inflationary effect on its debt size.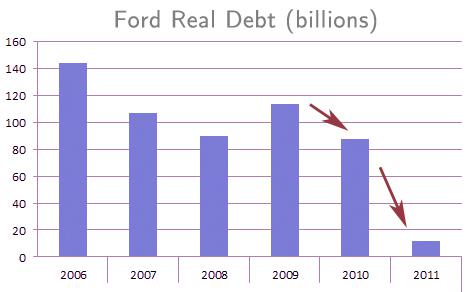 Thus, assuming a decent macroeconomic recovery and management commitment to strengthen the balance sheet, a zero debt milestone will most likely be reached in the next 2-4 years.
2) Ford's free cash flow generation is improving
Not only are Ford's fundamentals are improving steadily. The additional free cash flow is being wisely used to pay off debt and reduce pension liabilities!
The following signals make me believe that this trend will continue in 2013:
High level: At the end of 2012, Ford had available liquidity of $34.5 billion and net cash of $10 billion.
High growth: Ford's net margin increased from 2% in 2009 to 14% in 2011.
Ford is improving its rating and increasing its fair value estimate.
3) It is a value stock!
With a forward P/E of 7.72, Ford is trading for 18 times free cash flow and about 3 times book value. Not surprisingly, most research firms label Ford as a buy. Below some examples:
| | | | | |
| --- | --- | --- | --- | --- |
| Institution | Analyst | Rating | Fair value estimate | Comments |
| The Street | - | Buy | - | See note |
| Morning Star | David Whiston | BBB- | $21.00 | - |
| Morgan Stanley | Adam Jonas | Buy | $17.00 | - |
| Jefferies & Co | Peter Nesvold | Buy | - | - |
| Goldman Sachs | - | Buy | $17.00 | See note |
4) Improvements in economies of scale
I expect manufacturing costs to reduce considerably. This is because Ford is embracing a "common platform" paradigm in production: by 2016, it expects 80% of its global production - about 6 million vehicles-, to come from 5 global platforms. The move to 9 platforms (2016) from 27 platforms (2007) will make production faster, optimize the supply management and promote savings in development costs. Furthermore, by optimizing the supply, it will help Ford to strengthen its brand, as there will be less room available for discounts.
5) China
Ford is doing extremely well in China, even better than GM (NYSE:GM). Sales were up 65% in March over the year-ago period. Ford totaled 186,596 wholesale deliveries in China in the first quarter, up 54% over the first quarter of 2012. Could it get any better? Yes. Early last year, the firm said it would launch 15 new models in China by 2015. The first of those new models, the Focus compact, arrived last April and has been a huge success since.
Ford sales have been impressive not only in China. Overall, sales increased 3.4% (y/y). The latest seasonally adjusted annualized selling rate (Automotive News) was 15.25 million, a 1.12 million increase since March 2012.
Conclusion: There are more than 5 reasons to believe that there is a lot of value hidden in this firm. Ultimately, Ford's future will be defined by the strengths of its products. I believe in Ford's cars and cannot imagine a near future without Fiesta or Taurus, and considering the impressive sales the firm achieved recently, I'm sure I'm not alone here. At $13 per share, Ford could be more than a wonderful investment.
Disclosure: I have no positions in any stocks mentioned, but may initiate a long position in ZNGA over the next 72 hours. I wrote this article myself, and it expresses my own opinions. I am not receiving compensation for it (other than from Seeking Alpha). I have no business relationship with any company whose stock is mentioned in this article.