Netflix's (NASDAQ:NFLX) investors would be rejoiced over the fact that their investment swelled by more than 60% following the company's fourth quarter earnings announcement. Who knew that Netflix would come back again with a stock price of $190 after falling from its high of $304 in Jul 2011 to $54 in Aug 2012? The higher-than-expected growth of domestic streaming subscriber counts and revenue that exceeded Wall Street's expectations ($945 million vs. $934.5 million) were the main reasons behind the extraordinary jump in the company's stock price. With the growing popularity of Internet-connected TVs and tablets, the demand for digitally delivered movies and TV shows will also increase, and as a result Netflix may return to its former glory.
Strength
The gigantic subscriber base is the main catalyst behind Netflix's growth. With around 27 million streaming subscribers domestically and over seven million streaming subscribers internationally, Netflix has the potential to even further increase its subscriber base. With such a massive database of viewing habits and history, Netflix can also tailor its content creation to lure more audiences. And we have already seen this happening, in the case of the hit series House of Cards. Due to its on-demand nature, Netflix has the elasticity to change the fixed sequential series order and the also the duration of any show. Netflix knows what people watch, what people don't watch, and what people search for, and with that information Netflix has the ability to forecast subscriber's demand. This in return will give Netflix an edge over its competitors. Though Netflix's international subscriber base is struggling, recent earnings have reported an increase in the company's international subscriber base from 6.6 million to 7.3 million. Recent expansion into the Nordic countries of Denmark, Sweden, Finland and Norway will further boost Netflix's international subscriber base.
The Children's segment is Netflix's key weapon in American households and it's another reason why TV hours are getting longer. Last month, Netflix announced an exclusive content deal with DreamWorks Animation (NASDAQ:DWA) to increase its range and variety of kid's offerings. This is not the first deal in the children's sphere, as Netflix earlier initiated a major integration in the form of Disney exclusive film rights, which is scheduled to start in 2016. This will allow children to watch flicks from Disney (NYSE:DIS), Walt Disney Animation Studios, Pixar Animation Studios, Marvel Studios, and Disneynature, and will be distributed on all platforms, including online, mobile/tablets, connected TVs, Blu-Ray players, gaming consoles, and other streaming boxes. In short this deal will motivate parents to continue subscribing to Netflix in order to engage their children. Another deal in this segment is the streaming deal, which Time Warner (TWC) signed with Netflix. This will allow children to stream Cartoon Network shows. In addition, this deal will also cater to the adult segment via their Adult Swim titles. Overall, all these deals have a huge potential to increase the subscriber base of Netflix.
On-demand video is Netflix's other catalyst. In my opinion IP-delivered on-demand video is the future of video viewing for shows and movies that don't feature live action. Though there are many devices that can address the opportunity of on-demand video such as satellite company TV, everywhere services and incumbent cable, Netflix surely has substantial advantages-due to its working experience, technology platform and customer base-to create a superior customer experience. Netflix has the largest content library, which is much larger than that of its closest rival, Amazon (10 million products), and is $5-$6 per month less expensive than the on-demand service offered by HBO. Its mobile app Netflix Instant is also popular and intuitive, like its rival Hulu Plus. Though Amazon Instant is a popular option, it is not available on Apple TV's set-top box, whereas Netflix is the one video option that appears on every conceivable device.
The more refined the mobile devices are, the easier and more enjoyable it is to watch video. I still remember a few years ago when it was very difficult and frustrating to load a video on mobile devices, but with the refinement in smartphones and tablets, along with their corresponding networks, this experience has improved and is attracting more users. As per ABI Research, by the end of this year 1.4 billion smartphones and 268 million tablets will be in use. This supports the view that the growing shift towards smartphones/tablets is leading to increasing on-demand video subscription and with that a growing share of Netflix subscriber growth can be credited to mobiles and tablets.
Another catalyst is that Netflix has regained its customer satisfaction after the debacle of 2011 in which Netflix announced its new pricing strategy to separate DVD and streaming offerings. In a Consumer Technology Survey (Q1:2013) conducted by Pacific Crest Securities it was found that Netflix's customer value proposition is stronger than that of its peers. This survey was based on Net Promoter Score. (Net Promoter Score is measured based on the percentage of people who respond "yes" minus the percentage of people who respond "no" to the question, "Would you recommend [name of the service] to a friend?") Based on Netflix's continuously improving content (see the chart below), it is very likely that Netflix's high customer satisfaction can lead to further growth in its domestic subscriber base.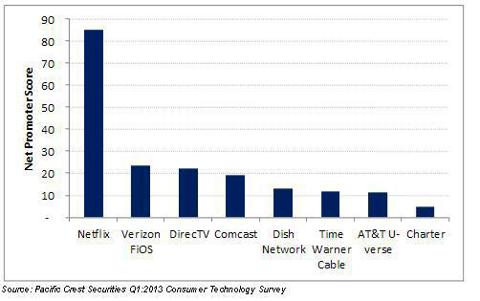 Besides these catalysts, there is one more positive point for Netflix users. Netflix is getting more sociable with its deal with Facebook (FB, which will further solidify its domestic presence in streaming services. Netflix users in the U.S. who opt for this service will be able to see two new content sections: "Friends' Favorites" and "Watched by Your Friends" which will make viewing decisions easier. This deal in my opinion will not increase Netflix's subscriber base - do you really think a large population of U.S. Facebook users is still unaware of Netflix? But, it will help the current subscribers to learn about the content they didn't know was available through Netflix, which in return could help reduce turnover, if users keep discovering new content.
Threat
To this point DVD rental has been Netflix's most profitable segment. On a per paid subscriber basis, DVD Contribution Profit is $15.84 (almost four times as profitable as streaming). But the downfall of Netflix's DVD division is another serious concern. CEO Hastings has also admitted that the DVD division will continue to decline. The number of paid DVD subscribers has dropped 42% since the September 2011 quarter when DVD and streaming were segregated. However, Netflix reported a smaller decline in the DVD segment last quarter, when the new pricing policy was announced. So, Netflix can expect to receive more benefit from the DVD segment than it originally forecasted, though the continuous decline will negatively impact their profitability. In order to offset the DVD division's decline Netflix has to grow its streaming service rapidly in the international markets or it has to come up with new offerings.
Netflix is undoubtedly growing by leaps and bounds but investors shouldn't forget that it is facing fierce competition from cable operators and other streaming services such as Amazon Prime, Hulu, and LoveFilm. Amazon (NASDAQ:AMZN) Prime's rising subscriber base could be an alarm for Netflix in the future. Amazon has already entered the original content creation market and has an extensive library for its readers. If Amazon integrates its streaming service with Amazon Kindle and its library of books, it will improve its Amazon Prime service and performance of other divisions. In fact, Amazon has the potential to do many Netflix-Facebook type integrations within its own company.
Other potential rivals Comcast (NASDAQ:CMCSA) and Dish Network (NASDAQ:DISH) for now are lagging behind, but these streaming behemoths could pose a threat to Netflix in the near future. In Feb 2012, Comcast introduced its Xfinity Streampix, allowing subscribers to complement their Pay-TV packages with more streaming services. Customers can take advantage of this service for $4.99 per month, which is $3 less than what Netflix is charging. In the beginning of this year Amazon's LoveFilm signed a streaming deal with Comcast, which will solidify Comcast's market presence in the UK, where Netflix's service is already weak.
Another rival, Dish Network, offers the sling DVR technology to its subscribers, allowing them to remotely access Pay-TV programming. Its Blockbuster streaming allows subscribers to watch what they want, when they want, from wherever they want. And this directly competes with Netflix in both DVD and streaming services. With the FCC granting a green flag to Dish to develop a wireless network, Dish will become more aggressive in promoting its streaming service by selling streaming devices that will work on its broadband network and will thus pose a greater threat to Netflix.
Apart from the above-mentioned worries, another threat is its investment in content obligations. In 2012 Netflix invested $368M in content acquisition and licensing for international operations and does not yet have the revenue to cover it. Netflix's content acquisition costs (as % of revenue) have jumped from about 22% in 2011 to almost 44% in 2012. Netflix has taken on a lot of content obligations with deals such as Disney exclusive and the Warner Bros. content deal. As a result, content liabilities (including agreements to license streaming content that represent current or long-term liabilities) now total $5.6 billion, of which $3.1 billion is off-balance sheet (off-balance sheet means the license agreements do not meet content library asset recognition criteria). Of the $5.6 billion, Netflix has to pay over $2 billion before Sep. 2013. Investors should not forget that its last quarter free cash flow was also negative (-$51 million). The critical point is that Netflix only has around $750 million in cash and short-term investments. Very soon it will issue $400 million in bonds, of which $225 million might be available for content obligations. In the case Netflix is unable to pay off this content obligation, it will lose its premium content, which in return will be released to other services, like Amazon, Apple or Redbox Instant Venture, as all these have tens of billions of dollars on their balance sheets; this would thus result in losses to Netflix's subscriber base. But it is still too early to predict whether or not this "if" situation will happen.
Conclusion
With its strong subscriber base, rising on-demand service and improving customer service, Netflix is a decent stock. However, investors should not ignore that its international profitability is still laggard in comparison to its domestic profitability. Netflix is also under the heavy burden of content obligation. After weighing these pros and cons, I would advise staying neutral toward Netflix for long-term growth outlook.
Disclosure: I have no positions in any stocks mentioned, and no plans to initiate any positions within the next 72 hours. I wrote this article myself, and it expresses my own opinions. I am not receiving compensation for it (other than from Seeking Alpha). I have no business relationship with any company whose stock is mentioned in this article.