Gilead Sciences (NASDAQ:GILD) is one of the best performing stocks of the year. Its share prices have grown by more than 30% year-to-date. In fact, it is ranked among the top performing Nasdaq-100 stocks in the first quarter. The stock has been following an upward trend for almost a year. I think the market expects that the company will release more exciting news regarding its pipeline products.
Current Products
Gilead is a research-based biopharmaceutical firm that primarily focuses on the production and commercialization of drugs for unmet medical needs. Gilead's products offer relief against serious cardiovascular and respiratory conditions, liver diseases, and more importantly for HIV/AIDS.
The company was founded in 1987. After 25 years in business, it has grown into a multi-billion dollar company. It was recognized by Fortune Magazine as the second fastest growing company based on 10-year profit growth rates. Gilead's chief executive, John Martin, was ranked #5 in 2012 list of top 100 best performing CEOs in the world. This recognition was also published in Harvard Business Review.
In the past 5 years, Gilead has released 6 high-performing drugs, namely Lexiscan, Viread, Complera, Truvada, and Stribild. The last two, Truvada and Scribild, were launched last year. They were among the main catalysts of Gilead's upward trend in 2012.
Truvada is used for the treatment of HIV-1 infections for pediatric patients and adults, in combination with antiretroviral agents. This is further used to reduce the risk of sexually acquired HIV-1 in combination with safer sex practices.
Stribild, on the other hand, is somewhat similar to Truvada. They are both indicated for the treatment of HIV-1 infection. However, this is given as a complete regimen. With both products in the HIV market, Gilead is poised to dominate this segment.
Products in Pipeline
While having numerous products makes Gilead a stable company, what makes it attractive to investors are its pipeline products. Gilead has many undergoing studies and clinical trials, and the latest count was 29 all-in-all. The breakdown is as follows: seven in phase I, eleven in phase II, and 8 in phase III trials. There are also two products, Cobicistat and Elvitegravir, which already submitted for U.S. and E.U. marketing approval. Stribild, while already approved in the U.S. and Canada, was also submitted for EU approval for HIV/AIDS.
All three submitted drugs have potential indications for HIV/AIDS. Those that are still under clinical studies have potential indications for chronic HCV, pancreatic cancer, and diabetes among others.
Positive news on the outcome of its clinical trials will certainly create an impact on Gilead's market position. If the results are good then positive catalysts can be expected. This makes it a stock to watch for this year and in the upcoming years.
The latest press release made by the company was on March 26. It announced updates on Phase 3 study on oral fixed-dose combination of Sofosbuvir for Genotype 1 Hepatitis C patients. The same update was also made on Ledipasvir, and all the results were encouraging. This triggered another surge in share prices. Gilead jumped by 4.28% from $45.76 to $47.72 the following day after the announcement was made.
Financial Profile
Gilead has a sound financial portfolio. It has a market capitalization of $74 billion. The company generated an operating cash flow of $3.19 billion in 2012. The company posted a 16% jump in product sales for the full year 2012 compared to the previous year. Total sales amounted to $9.40 billion; $2.51 billion came from the fourth quarter sales. This is an increase by 18% year over year.
The sales growth was mainly driven by its antiviral products like Viread, Truvada, and Atripla. This is aided by its HIV product, Stribild, which contributed about $40 million in sales in the fourth quarter.
Total revenues in the 4th quarter of 2012 increased by 18% compared to the same period of the previous year. It jumped from $2.2 billion to $2.59 billion. The fourth quarter net income was $762.5 million. This is equivalent to $0.47 per diluted share; an increase by 9.3% compared to the previous year earning at 0.43.
2013 Market Outlook
Gilead started the year with a strong financial and stock performance. Its early performance can be sustained throughout the year. Gilead is optimistic about the approval of its drug, Sofosbuvir, in the second or third quarter. This has a potential indication to treat people suffering from hepatitis C virus [HCV].
There are about 150 million people suffering from HCV across the globe. Its approval will give hope not only to the millions of patients suffering from HCV but to investors as well. Sofosbuvir is expected to generate peak sales amounting to $4 billion.
Analyst Ratings
Many analysts have reached the consensus to buy Gilead; some recommendations were strong buys. This is due to the projected revenue growth coming from pipeline drugs. Additionally, breaking news about the status of its ongoing clinical trials will further strengthen its stock position. It is possible that the prices will even soar to new high levels in 52 weeks.
The median one year target of some analysts pegged the price at $49.36. The high target is $66 while the low target price is $44. On March 28, it closed at $48.94. Therefore, there is still enough room for growth towards the high target for this year.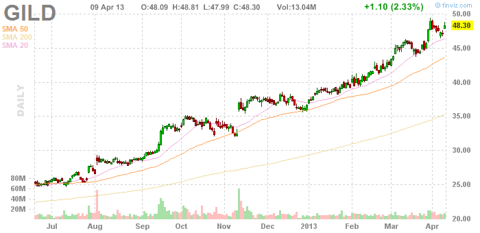 My Take
Reaching the above mentioned targets is possible, considering that the company has several pipeline products due for approval within the year. It is expected that Elvitegravir will be decided on by the FDA on April 27. Cobicistat, on the other hand, will follow suit by the end of the same month. The approval of both products will set another round of increases in share prices. These are reasons to support the buy/strong buy recommendations of the analysts. Surely, the stock is not as cheap as it was a year ago, but it still has some upside potential.
Disclosure: I have no positions in any stocks mentioned, and no plans to initiate any positions within the next 72 hours.
Business relationship disclosure: Efsinvestment is a team of analysts. This article was written by one of our equity analysts. We did not receive compensation for this article (other than from Seeking Alpha), and we have no business relationship with any company whose stock is mentioned in this article.