JPMorgan Chase & Co. (NYSE:JPM), intends to increase its quarterly dividend to $0.38 per quarter, starting Q2 2013. This increase will boost the dividend yield up to a very respectable 3.12% at the current price per share of $48.68. The company also announced the repurchase of six billion dollars' worth of their own shares.
But that's not the only reason I expect JPM's stock price to climb in the near future. In this article, I will be examining JPM's revenue, earnings, analyst expectation and valuation.
Revenue: Back to previous highs

Revenues dropped by 5% or just over $5 billion in 2011, compared to the $102 billion in 2010. However, analysts expect JPM to get its revenues back to this level as soon as 2014. I think this is a very reasonable expectation, as it requires less than 3% growth in revenue annually.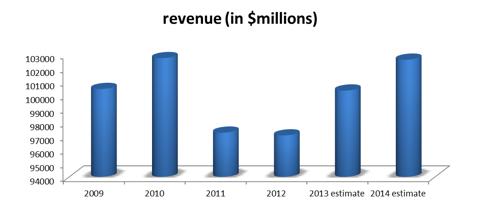 Earnings: Going up quickly
JPM's net income dropped to only $5.6 billion in 2008. Since then, it has been climbing back up at an amazing pace, reaching $21.3 billion in 2012. This is even higher than it was before the financial crisis.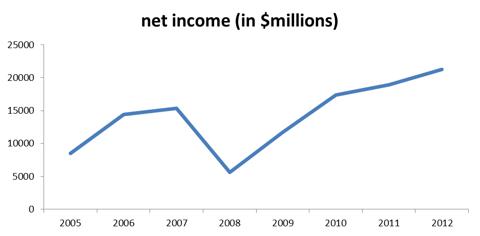 With share repurchases reducing the number of shares, EPS should rise at an even faster pace, and I expect the dividends to follow. EPS for 2012 was $5.20, which means the payout ratio was only 23%. Such a low payout ratio will allow JPM to raise the dividend and make more share repurchases. EPS for 2013 is expected to be at $5.48, just over 5% more than in 2012. For 2014, EPS is expected to rise another 6%, putting it at $5.81.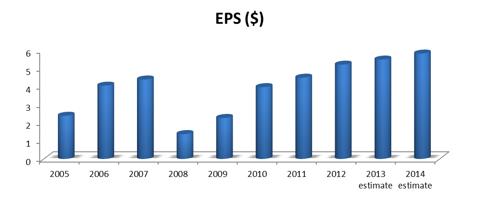 As we can clearly see in this graph, the earnings per share are already 19% higher than they were in 2007, while revenue has also grown. However, JPM's price per share is only now catching up. The picture below shows the price per share for JPM in 2007 (Google Finance). We can see it has traded around $50 for a large part of that year.

Valuation: How cheap is it?
So, we already know JPM is close to its 2007 price, while earnings are up, and expectations are good. The 2013 forward P/E is only 8.9 with the 2014 forward P/E at only 8.4.
With its 2012 EPS of $5.20, JPM has a price to earnings ratio of only 9.36. This is very low when compared to Goldman Sachs (NYSE:GS), Citigroup (NYSE:C) or Wells Fargo (NYSE:WFC), as can be seen in the next graph.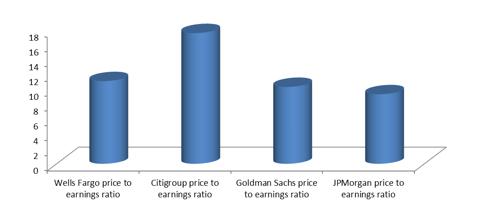 JPM has a price to book ratio of 0.95, which is comparable to Goldman Sachs's 0.96. Citigroup is somewhat cheaper at only 0.71, while Wells Fargo's 1.35 is quite a bit higher.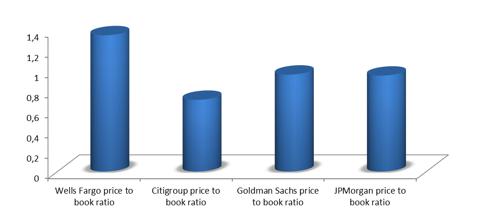 Conclusion: The time to buy JPMorgan is now
With forecasted growth in both revenue and earnings per share, JPM is undervalued. Its price to earnings ratio is a lot lower than its competitors, and its current share price of $48.68 is at roughly the same level as in 2007, when earnings were a lot lower. JPM has a low payout ratio, leaving it more than enough cash to fund impressive share buyback programs.
I'd love to hear your opinion on JPMorgan or any of the other companies discussed in this article.

Disclosure: I have no positions in any stocks mentioned, but may initiate a long position in JPM over the next 72 hours. I wrote this article myself, and it expresses my own opinions. I am not receiving compensation for it (other than from Seeking Alpha). I have no business relationship with any company whose stock is mentioned in this article.