Traders with long-term investment horizons should be salivating at the value still left to unlock in the financial sector. There are four stocks in particular that make for a terrific diversified financial portfolio - two trading far below their tangible asset book value and two that have showed relative strength through the crisis. Genworth Financial (NYSE:GNW), Wells Fargo (NYSE:WFC), JPMorgan Chase (JPM) and Bank of America (NYSE:BAC) show an incredible amount of value going forward, but to unlock that value it is important to invest in the basket of these four as opposed to any one individual stock. The financial sector has been at the forefront of the market moves for the past few years - they led the decline in 2008 and 2009 and have outperformed almost all other sectors since the bottom. This comes as no surprise, though, as many of the bank stocks were to blame for much of the mess we ran into. Likewise, the upswing has been spurred by renewed confidence that the financials have made it through when many speculated on even more consolidation than we in fact saw.
So if the financials have led the drive - the Financial Select Sector SPDR (NYSEARCA:XLF) is up nearly 20% in the past year and 200% since it bottomed in 2009 - investors are wondering if there's much room left to grow. The answer, in short, is yes. There is still tremendous value to unlock in the financial sector if you know where to look. The place to start looking is with the four stocks we'll analyze here - they offer a mixed bag, diversified portfolio of financial stocks and are some of the most-recognized brands in the world. Two have outperformed their peers and are safe plays while the other two are poised for significant breakouts during the coming year. Let's have a look.
Genworth Financial
GNW is one of the two stocks in this small financial portfolio that has largely underperformed its peers in the rebound since the sector bottomed in 2009. Additionally, it is a bit different from the other stocks in this article because the company deals mostly in the insurance business. According to the company's most recent 10K, GNW derives over 80% of its revenues in its life, long-term care, and mortgage insurance businesses in both the US and international markets. The company's exposure to the real estate industry has been its downfall as the stock reached a prolonged bottom just eight months ago, much later than its industry peers. In the same light, however, the recovery of the real estate market has been the spark behind the stock's recent resurgence - GNW is up 88% since November and the trend continues to rise. With new leadership and a strengthening balance sheet, GNW is poised to continue its ascent. As noted in the chart below, GNW is trading very cheap - a Forward P/E multiple of 8.18x and a Price-to-Sales ratio of .48x indicate a discount valuation, and given the fact that the stock is currently trading at a 68% discount to its liquidation value, it is safe to say that if you believe this company has the wherewithal to stay in business, the stock is surely headed higher.
Wells Fargo & Co.
WFC has had a more consistently positive performance than most of its peers during the rebound. As noted on the company profile, WFC is engaged in community banking, wholesale banking, and wealth, brokerage, and retirement management. The stock has had a fantastic run during the past eighteen months - up 61% - and continues its uptrend. Like GNW, WFC bares much exposure to the housing market, so the acceleration in new and existing home sales has been a catalyst for the recent strength in WFC. The company stands almost as the antithesis to the argument for GNW. If you recall from above, GNW is trading at a significant discount to its liquidation value and at a tremendously low valuation with regard to its forward-looking earnings and price relative to revenues. WFC, on the other hand, is trading at a 76% premium to its TABV. The company operates at roughly the same operating margin as GNW but trades at 2.27x Price-to-Sales. Many would argue that they don't belong in a value portfolio, and I would counter that they're still only trading at a 10.14x Forward P/E. Before the financial crisis of 2008/2009, financial stocks were trading with average multiples of 15-18x. As shown in the company's 10K forward projections, WFC forecasts continued growth over the next few years, and as broader market conditions continue to brighten, WFC will be a leader in the continued financial revival. Not to mention, they're near the top of the financial field with a 2.70% dividend yield and a terrific ROE of 13.16%.
JP Morgan Chase & Co.
The other outperformer in our financial portfolio is JPM. Along with Goldman Sachs (NYSE:GS), JPM has long been considered the cream of the crop in the financial sector. The company features a diversified portfolio of businesses, but the 10K shows core operations are focused on investment banking, consumer and small business financial services, commercial banking, transaction processing, asset management and private equity. Because of the diversification, JPM (though largely hit) was less affected during the financial crisis than many of its industry peers. Like WFC, JPM should be a pillar of strength and a source of a bit more confidence and certainty in a financial portfolio like ours. It tops its counterpart with a 3.13% dividend yield, and while its operating margin is a few points lower than that of WFC, so too is its valuation. JPM is trading at a 8.86x forward multiple and a very-strong 1.92x Price-to-Sales ratio. Though there has been recent dismay over Jamie Dimon's involvement in a $6 billion trading loss (here), management is still regarded as top on the street, reinforced by their 10.72% ROE. While the company is trading at a premium to its liquidation value, there is still tremendous value to be unlocked. M&A is ramping up again and small businesses are continuing to rejuvenate their local economies - two metrics which will drive JPM and buoy their consistent growth for the next two to three years.
Bank of America
BAC, like GNW, has the potential to be a story stock over the next three years. If economic conditions continue to improve, BAC will grow significantly. The company services a wide range of customers - consumers, small and middle market companies, large corporations, and governments. Since reaching lows in early 2009 of $3.00 the company rebounded handedly, gaining nearly 600% in just one year. Since then, the stock has languished, losing over 70% of its value during the next two years before starting to show signs of stability in early 2012. Since then the stock has nearly doubled, but its valuation is still incredibly low, trading at a discount of nearly 15% to its liquidation value. With a minimal yield and very low margins - 3.69% operating margin - many investors are cautious to jump into the stock. The uncertainty has led to the previously mentioned stagnation during the past three years. Despite the risk, BAC is a terrific stock to hold in a diversified financial portfolio. There is promise of growth - the company has beat on earnings the past three quarters and continues to surprise to the upside. The dividend yield could be hiked if future earnings justify - a return of cash to shareholders will be a significant catalyst for stock upgrades. For our two growth stocks in this portfolio, BAC shows less relative strength when compared to GNW, but the upside is still significant, as the stock is trading at that noted 15% discount to TABV.
The Risks in Financials
With any investment comes risk, and it seems that rings especially true for the financials. I will mitigate risk with this portfolio by hedging between higher potential breakout names and more traditional value plays. The major risk that investors see for financial stocks is the FOMC and the current QE policy that it has in place. If the Fed decides to pull back on the easing and interest rates start to go up, consumers and businesses won't borrow as much from the banks and business will suffer (here). From a broader market perspective, easing in QE will hurt companies that are currently flush with cash and might adversely affect forward earnings. There's worry about whether or not this entire rally has been built on a house of cards, and if QE proves to be just that, then the stock market is due for a significant pullback from these all-time highs. The QE pullback should happen sometime later in 2013, and a correction can be mitigated by selling calls and collecting premiums. These 4 stocks are terrific long-term value plays - in three years they'll be trading at a significant premium to their current prices.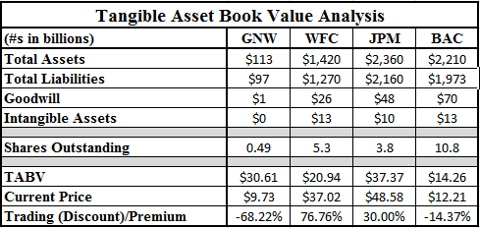 Disclosure: I am long GNW. I wrote this article myself, and it expresses my own opinions. I am not receiving compensation for it (other than from Seeking Alpha). I have no business relationship with any company whose stock is mentioned in this article.