Yesterday Nasdaq published updated short interest data for BlackBerry. BlackBerry's (NASDAQ:BBRY) short interest was 156 million shares as of March 28, which was only slightly higher than the short interest two weeks earlier. Following the Morgan Stanley upgrade a few weeks ago, I discussed the company in an article titled, BlackBerry Rallies On Upgrade But 'Niche Midrange' Thesis Questionable. Since then, BlackBerry reported earnings and more information about the company have come out for investors to digest. I continue to have a bearish long term outlook on BlackBerry, but in the short term there may interesting trading opportunities, so I continue to follow the stock. In this article, I will update my outlook on BlackBerry.
Short Interest
On March 28, 2013 BlackBerry reported earnings. The latest information about the short interest is for the same day. As of March 28, the short interest in BlackBerry was 156 million shares. For context, BlackBerry has 524,159,844 common shares outstanding as of March 2, 2013 (source: BlackBerry's 2013 40-F).
The short interest at the end of March was at the highest level that Nasdaq reported in the last year, but it was only slightly higher than the level as of March 15.
BlackBerry's short interest has continued to climb in 2013, even as the stock price increased. The rising short interest, which reached ~30% of the outstanding shares, reflects a lot of pessimism about the company.
There probably have been some instances of short covering since the September low, which may have helped the stock price rise. However, the shorts have been returning to the stock.
BlackBerry's volume has also increased over the last year. While the short interest seems large, the increasing volume makes it easier for shorts (and longs) to get in and out of the stock, an important factor for those expecting a short squeeze.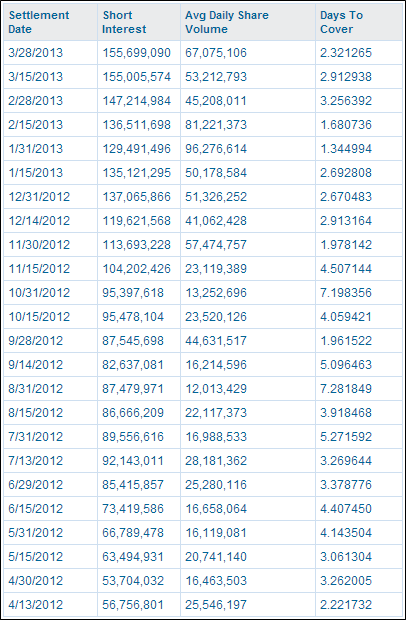 (Source: Nasdaq.com)
BlackBerry also trades on the Toronto Stock Exchange, where is has lower volume (see here). I am not sure of the short position in Canada.
The short interest data is only a snapshot at certain points in time, so its usefulness is limited. Also, the earnings report on March 28 may have impacted short positions. It will be interesting to see the next data point when it comes out.
Stock Price
The following is a snapshot of BlackBerry's stock price year-to-date. Point 1 marks the rally sparked by Morgan Stanley's upgrade of the stock. Point 2 is the sell-off that occurred when the WSJ reported that the reception of the new phone in the U.S. was weak. Point 3 was the last earnings announcement.
Q4 earnings seemed to be positively received by analysts and investors. However, the stock did not move much on the announcement of the results. If investors were expecting a short squeeze, then earnings could have been a catalyst. But, that did not play out.
Whenever there is an important event for a company, I like to look at the initial reaction and the reaction-to-the-reaction. So far, both have been subdued.
(Source: FreeStockCharts.com)
Q4 Earnings
Much has already been said about Q4 earnings, so I want to point out just two data points: one bullish and one bearish.
The most bullish data point was the fact that 55% of Z10 customers came to BlackBerry from a different platform. BlackBerry's CEO said on the conference call:
The excitement for BlackBerry 10 goes beyond our current local customers. Recent data shows that 55% of the Z10 customers globally are coming from platforms other than BlackBerry, more than half. With BES 10, customers will experience the BlackBerry 10 platform with continued confidence, and the comfort of the unmatched BlackBerry security. (Source: Seeking Alpha)
However, it is not clear what platforms they are coming from and in what countries. I would have liked to get more information about this.
The bearish data point was that BlackBerry lost 3 million customers and is down to 76 million. Most of the decline was in North America and EMEA, offset in part by APAC and Latin America. BlackBerry's CEO said:
"On the question regarding the subscriber number, one general comment I would like to make here is we've reported subscriber numbers for quite some time. I think actually what's really important for all of us to understand is what's the dollar value that we generate out of that subscriber base. And I talked in my speech about moving to a different business model on the services. And we're innovating and developing new services as we speak. So I just want everybody to have that in mind. At the end of the day, it's about the dollar number that's being created.

So the BlackBerry 10 introduction is very successful in those markets, but I think we discussed that in prior earnings calls, that there is a different business model for service revenue fees with BlackBerry 10 than it was for BB7. So the uptake is, in LatAm and other regions, on subscribers, it is actually really attributed mostly to the BlackBerry 7, so still selling strong in those regions. And on the BB10 side, you know, we see strong uptake both in consumers and in enterprises. But the split between what is registered as a subscriber or not is changing, and we know it's changing, and that's why we are adapting our business model.

But I also said in my speech that we are managing that service's gradual decline very, very thoughtfully with our carrier partners. That's why we only had a reduction of 2% in this quarter and we're expecting a decline of a maximum single digit [unintelligible] number in the coming quarter. (Source: Seeking Alpha)
Earnings Estimates
Since Q4 earnings, the trend has been for analysts to revise up their estimates. Although this is a bullish indicator it has not had much impact on the stock price.
(Source: Zacks.com)
The Real Test Is Yet To Come
Q4 earnings were generally received as surprising to the upside, though much of the strength was driven by the cost structure. Going forward, the real test will be sales of BlackBerry's new devices.
The Z10 was launched in the U.S. last month and the Q10 (with keyboard) will soon be launched. Press reports about the Z10 launch were not enthusiastic, though BlackBerry's management was optimistic on the earnings call. We will soon see how the Q10 is received.
However, the real test for BlackBerry will be over the coming quarters, not the coming days. There is probably a lot of pent up demand for the new BlackBerry devices from its loyal base, considering the long development cycle. The real test will be how the devices sell after the initial roll-out and if it can sustain momentum when Apple (NASDAQ:AAPL) and Samsung (OTC:SSNLF) come out with their next devices.
Outlook
From a long term perspective I have a negative outlook on the stock, as I explained in my previous article. It seems that BlackBerry is trying to be a distant #3 in the smartphone war and that is a challenging market position. My approach for this industry (and many others) is "buy the leader, or buy the cheaper" and I don't see BlackBerry achieving either.
However, there are some arguments for being bullish on BlackBerry. Currently, BlackBerry has a lot of cash (~$5 per share), which gives it time and options. Furthermore, it has a loyal subscriber base and a good reputation in the enterprise environment (though competition there is much more intense now). Its customer base and service business could be attractive to a potential acquirer, in addition to its patents. Bottom line, it has options as long as it has cash and may be able to regain the momentum it lost.
I don't view BlackBerry as a candidate for a long term investment (in fact, the consumer technology space is difficult for a long term investor). However, there may be shorter term trading opportunities.
The stock has been consolidating year-to-date and is sitting at the trendline going back to September low. It will be interesting to see if BlackBerry can break out of the consolidation pattern and what the catalyst would be (maybe the new device). Although it looks like BlackBerry is setting up for a big move up or down, it may continue to trade sideways for a while.
(Source: FreeStockCharts.com)
On the upside, $18 is an important level for the stock.
On the downside, BlackBerry has ~$5 per share of cash. Furthermore, it has patents and other assets that could have value in a sale. In my previous article I discussed Morgan Stanley's sum-of-the-parts valuation.
According to Zacks, the average analyst target price is $12.98 (see here). If the stock continues to trade above this level, there could be more upgrades. Although the recent upgrades have not been much of a catalyst, further upgrades could be.
It is very hard to value BlackBerry using traditional methods. According to Zacks, EPS is expected to be negative this fiscal year (see here). Some analysts, like Morgan Stanley, use a sum-of-the-parts valuation.
The stock may also benefit if the broader market continues to rally.
Conclusions
It is interesting to note that BlackBerry's short interest was basically flat at the end of March, but is still at peak levels. Q4 earnings was the big event since my last outlook on BlackBerry. Although the results surprised on the upside, I continue to have a bearish long term view. However, the company has some momentum and its cash position gives it time to try and regain market share. In the short term, I will look for trading opportunities. Since my last article I have not had a position, long or short, but may establish one at any time.
Everybody has a different investing style. I like to establish a long term outlook for a company and then invest using shorter timeframes. I may be bullish on a stock and still sell it if I think it went up too much or if have concerns about the overall market (and the opposite as well). I don't mind moving to the sidelines and getting back in at a later point (even at a less advantageous prices). I may invest in the opposite direction of my long term view if I think the market over-reacted one way or another. There is a difference between a good company and a good stock. I like to hold positions for the long term, but I use stops to cut my losses. Everybody has a different investing style, experience, tax status, risk tolerance, comfort range, etc.
Disclaimer: The opinions expressed above should not be construed as investment advice. This article is not tailored to specific investment objectives. Reliance on this information for the purpose of buying the securities to which this information relates may expose a person to significant risk. The information contained in this article is not intended to make any offer, inducement, invitation or commitment to purchase, subscribe to, provide or sell any securities, service or product or to provide any recommendations on which one should rely for financial, securities, investment or other advice or to take any decision. Readers are encouraged to seek individual advice from their personal, financial, legal and other advisers before making any investment or financial decisions or purchasing any financial, securities or investment related service or product.
Information provided, whether charts or any other statements regarding market, real estate or other financial information, is obtained from sources which we and our suppliers believe reliable, but we do not warrant or guarantee the timeliness or accuracy of this information. Nothing in this article should be interpreted to state or imply that past results are an indication of future performance.
THERE ARE NO WARRANTIES EXPRESSED OR IMPLIED AS TO ACCURACY, TIMELINESS, COMPLETENESS, OR RESULTS OBTAINED FROM ANY INFORMATION IN THIS ARTICLE OR ANY LINKED WEBSITE.
Disclosure: I have no positions in any stocks mentioned, but may initiate a long position in AAPL over the next 72 hours. I wrote this article myself, and it expresses my own opinions. I am not receiving compensation for it (other than from Seeking Alpha). I have no business relationship with any company whose stock is mentioned in this article. I may trade and of the stocks mentioned in this article at any time, including in the next 72 hours.