Three issues are currently afloat eliciting British Petroleum (NYSE:BP) investor concerns:
The Macondo trial
The company's buyback program
Cash cycle
The year 2013 will be another transitional year for BP, causing investors to have to wait for the strategic progress made in recent months in terms of the company's operational and financial performance. The earnings and operational impact of significant divestment continue, both upstream and downstream. Along with limited underlying growth, however, it is likely to leave the company with the weakest production momentum in the near term.
Analysts expect a similar picture downstream, with the downtime at Whiting exacerbating the impact of asset sales. Although owning the shares in advance of operational delivery worked (like in the case of Shell), it will offer BP more fluidity in cash flows.
BP Downstream: Additional cash is a MAJOR advantage relative to IOC peer and upstream funding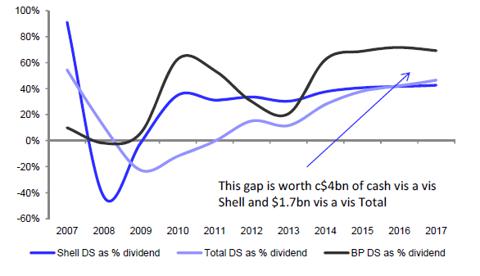 Source: Company Reports
Cash Flow Growth
With forecasted capex of $24 billion in 2014, and payments of $770 million to the Department of Justice relating to its criminal settlement, BP is estimated to have $5 billion to $6 billion of free cash left to return to shareholders. This free cash comes before divestment and any potential payments for civil fines, such as from the Clean Water Act. Thus, the cash equation is now fittingly balanced.
BP Cash Flows Move Back Into Balance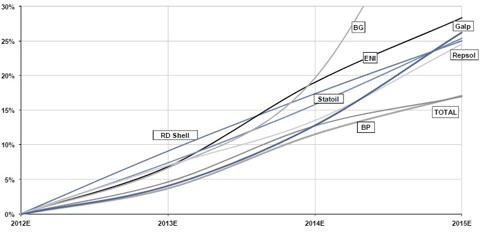 Source: Goldman Sachs
BP will need to continue with its divestment program given the 10% to 20% gearing ratio target. Apart from divestment, one area of flexibility however, will come from the sale of TNK-BP which will provide $12 billion in cash. BP will commence a buyback program later in 2013 once the Rosneft deal closes; with $1 billion being bought back this year and $2 billion from 2014 onwards.
Russian joint venture TNK-BP proved to be a very successful initiative for BP, which invested $8 billion in a combination of cash and shares in 2003. The decision to buy back shares follows the completion of the sale of BP's 50% stake in TNK-BP to Rosneft. With this transaction, BP received $12.48 billion in cash (including $0.71 billion in TNK-BP dividends) together with share capital representing 18.5% of Rosneft. As a result, BP now holds 19.75% stake in Rosneft.
Growth Estimates: Share Buyback vs. Capex Investments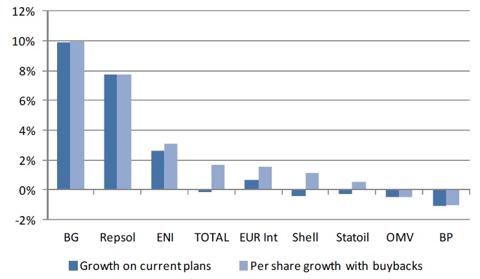 Source: Goldman Sachs
Goldman Sachs' forecasted cash flow in 2013 to 2014 will be marginally above the average for the sector. This will hinge on achieving operational efficiencies from the following:
(1) A recovery in Gulf of Mexico oil production
(2) The ramp-up of new projects in Norway and Angola
(3) The expansion of Whiting refinery
Most of the oil giant's expected growth this year is geared towards the second half. The first half will be impacted by the extended shut-down of Thunder Horse and Whiting, two of the most profitable assets in BP's portfolio. Like most of its peers, BP is fighting a high decline production base of legacy assets in the U.S. and increasing leverage.
Comparative Decline Rates of Oil Production from Legacy Assets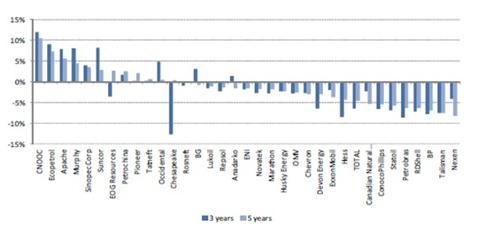 Source: Goldman Sachs
Having divested significant mature barrels and resolved its major issues in Russia, the oil portfolio is now better positioned to drive cash flow growth. With much of that growth expected to arise from projects that are now largely in start up mode or from a recovery at the company's existing facilities in the U.S. Gulf of Mexico, the improvement in cash flow appears relatively visible and well underpinned.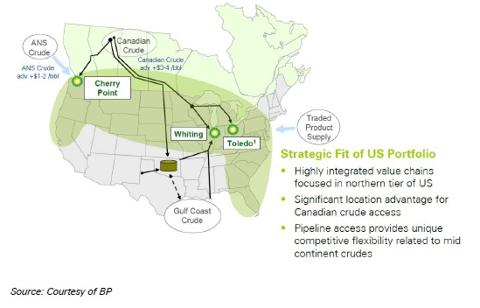 Valuation and Conclusion
BP stock is not demanding given the poor absolute and relative performance of the oil & gas sector over the past 12-18 months. Consequently, when comparing BP's valuation with that of the other oil players, the difference is relatively fair.
P/E Multiple Forecasts, 2012 - 2014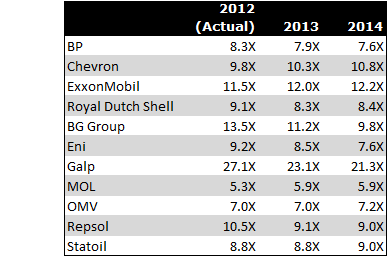 Source: Barclays
Meanwhile, BP is very modestly valued in both absolute and relative terms on a forecasted P/E of 8X based on Deutsche Bank's forecasted earnings of $15 billion. The P/E multiple will offer the opportunity for a re-rating if management delivers the improvements in cash returns, plant integrity and reliability. Cash flow and dividend growth should consequently follow. Deutsche Bank rated a "Buy."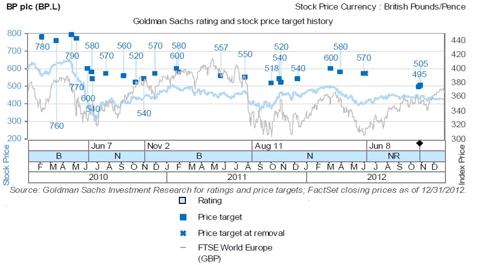 For more information on the industry outlook readers are advised to reader our article on ExxonMobil (NYSE:XOM) here.
Disclosure: I have no positions in any stocks mentioned, and no plans to initiate any positions within the next 72 hours.
Business relationship disclosure: Black Coral Research is a team of writers who provide unique perspective to help inspire investors. This article was written Hans Centena, one of our Senior Analysts. We did not receive compensation for this article (other than from Seeking Alpha), and we have no business relationship with any company whose stock is mentioned in this article.
Additional disclosure: Black Coral Research is not a registered investment advisor or broker/dealer. Readers are advised that the material contained herein should be used solely for informational purposes. Investing involves risk, including the loss of principal. Readers are solely responsible for their own investment decisions.