The S&P 500 index has rallied 10% reaching all-time high levels. Further, global economies seem to be stabilizing, which has driven crude oil and natural gas prices higher, with the West Texas crude oil trading at $93/barrel, a 3% increase YTD, and natural gas exchanging hands at $4.10/Mcf, a 27% increase YTD. In addition, natural gas prices have recovered from their all-time lows, which were seen in 2012. This manuscript describes two stocks that have received minimal attention, but they could provide growth to investors' capital (Figure 1). These companies have sound fundamentals; they have received investors' favor this year, and they may provide capital appreciation plus a modest dividend offer to shareholders.
| | | | | |
| --- | --- | --- | --- | --- |
| Underlying | P/E | Forward P/E | Performance YTD | Dividend |
| SPY | 14 | - | 10% | 2.03% |
| USO | - | - | 0.84% | - |
| UNG | - | - | 16.14% | - |
| NBR | 20.01 | 10.53 | 12.49% | 0.99% |
| MWE | 39.61 | 25.91 | 22.19% | 5.34% |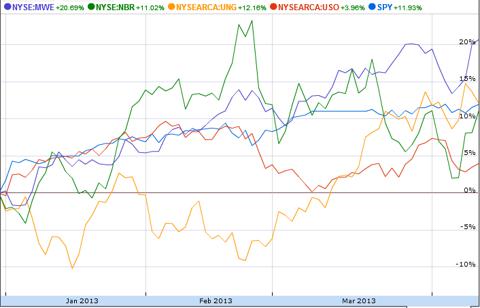 Figure 1. Performance of the S&P 500 (SPY, light blue), United States Oil (USO, red), United States Natural Gas (UNG, yellow), Nabors Industries (NBR, green), MarkWest Energy Partners (MWE, purple) on a year-to-date basis.
Nabors Industries (NYSE:NBR)
Nabors companies "own and operate approximately 474 land drilling digs." The company may be considered "somewhat" expensive because it is trading with a P/E of 20.01. However, its forward P/E is 10.53. It has rallied 12.49% year-to-date due to the following reasons:
According to its most recent earnings report, the company reported a decline in oil and natural gas revenue of 12% from $204.9 million in 2011 to $181.1 million in 2012 mostly due to lower natural gas prices. However, the company was well-hedged and due to gains on derivative instruments the total revenue increased modestly from $277.6 million in 2011 to $288.4 million in 2012. Since natural gas prices have doubled since mid-2012, its revenues should increase in the interim.
Further, on March 7th, 2013, its CEO, Anthony "Tony" Petrello, accepted to enter a new employment agreement to reduce his payment bonuses. The agreement sets Mr. Petrello's annual base salary at $1.7 million. It also sets a cap on his cash bonuses to twice his annual base salary. "The cash savings attributable to Mr. Petrello's benefits and compensations are significant over the term of the contract." Although a one-time stock grant, valued at $27 million, will be offered to him, the company will save a considerable amount of cash over the period of his employment agreement.
In addition, on February 27, 2013, the company announced the initiation of a quarterly cash dividend. A dividend of $0.04 per common share was paid on March 28, 2013. This gesture only reflects the company's solid business model and should provide investors with confidence about the company's growth potential.
MarkWest Energy Partners LP (NYSE:MWE)
MarkWest Energy Partners LP is a company that gathers, refines and transports natural gas, NGLs, and crude oil. It is trading with a P/E of 39.61, and a forward P/E of 25.91. Although it may be overvalued, its balance sheet reflects a solid business model that should bring capital appreciation and provide a juicy 5% dividend offer to its shareholders.
According to its most recent annual earnings report, its revenue due to natural gas and crude oil shrunk by 10% from $1.53 billion in 2011 to $1.39 billion in 2012. However, its net revenue declined 4%. In addition, its total operating expenses were reduced by 10% from $1.18 billion in 2011 to $1.07 billion in 2012. As a result, its diluted EPS increased from $0.75 in 2011 to $1.69 in 2012.
In addition, its dividend offer has been constantly raised over the last five years. The dividend payment increased 15% from $2.75 in 2011 to $3.16 in 2012. The rising dividend payments should put investors at ease because the company is confident in its cash generation ability.
Recently, the company announced that MarkWest Utica EMG expects to "begin gathering and processing the PDC Energy Corporation's (PCDE) liquids-rich gas facility" in Guernsey Country, Ohio by the end of the second quarter of 2013. Further, in 2014, MarkWest Utica EMG and MarkWest are expected to complete the installation of a 100,000 barrels per day of C2+ (ethane, propane, butane, etc.) fractionation facility.
Conclusion
Although these companies may look overvalued from a fundamental point of view, their balance sheets show strong business models. Nabors Industries has initiated a modest dividend payment, and we can expect future hikes in the dividend offers based on its solid balance sheet. On the other hand, MarkWest Energy Partners offer a juicy 5% dividend. Based on its net earnings increase in 2012, future dividend increases may also be expected. Moreover, as crude oil and natural gas prices rise, these companies should fare well in the future, and long positions may be considered in these stocks.
Disclosure: I have no positions in any stocks mentioned, and no plans to initiate any positions within the next 72 hours. I wrote this article myself, and it expresses my own opinions. I am not receiving compensation for it (other than from Seeking Alpha). I have no business relationship with any company whose stock is mentioned in this article.