According to Steven Russolillo at WSJ.com, Goldman Sachs advises investors to short gold. Granted, the yellow metal has experienced a brutal downtrend that has lasted six arduous months. What's more, you may not be able to find an uglier chart on a major asset class than the one for SPDR Gold Trust Shares (NYSEARCA:GLD).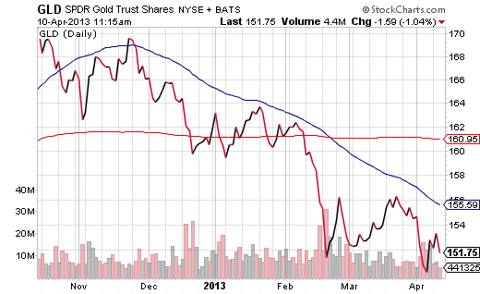 Click to enlarge
If there's irony in the recent turn of events, it's the fact that precious metals traditionally offer safe passage in times of unusual economic uncertainty. The eurozone's deepening recession coupled with backlashes against anti-austerity would qualify. Contraction concerns in Japan combined with unprecedented levels of money printing also add to the probability of economic stagnation. Moreover, the latest open-ended quantitative easing and subsequent bond-buying by the Federal Reserve had been predicated on the very weakness recently seen in the labor force participation rate and corporate earnings warnings.
So why has gold lost so much of its former glory? For that matter, how did other precious metals ETFs like iShares Silver Trust (NYSEARCA:SLV) fall so far out of favor?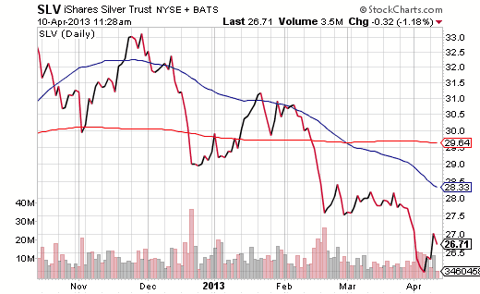 Click to enlarge
The answers that some are providing are unsatisfactory at best and misleading at worst. The chatter over a potential winding down of the Fed's trillion-dollar per year bond purchasing as early as the summertime has led folks to suggest that the dollar would strengthen at the expense of precious metals pricing.
For this answer to satisfy, one would have to believe Goldman's contention that our Fed-juiced economy was capable of moving from the wealth effect achieved through emergency measures to a self-sustaining second-half expansion. With due respect to the strategists at Goldman, investors shouldn't forget their high-profile misses. As recent as June 12, 2012, near the bottom of last year's May-June gloom, the same Steven Russolillo at WSJ.com reported that Goldman Sachs recommended that clients build S&P 500 short positions due to the weakening economy. The market surged higher shortly thereafter. Others should recall Goldman Sachs in May 2008 trumpeting $200 per barrel in oil; instead, it dropped nearly 80% from the $145-$150 per barrel level down around $30 per barrel in early 2009.
It's not that Goldman Sachs analysts fail to get it right. However, their predictions are just that -- predictions. You can decide for yourself whether a given market, asset class, or specific asset will move higher or lower based on a variety of indications. Yet make certain to insure against being wrong by employing stop-limit loss orders, trendlines, inversely-correlated positions and/or protective options (e.g., puts/calls).
Personally, my preference is to scale back on gold and silver to the extent that they are not adding value to client portfolios. I can always visit the precious metal asset class when the trend is more favorable. More specifically, it does not matter why the economic picture has failed to lift GLD and SLV; it does matter that the exchange-traded trackers are not working at the present time.
Should you be shorting the assets, though? I wouldn't. Nevertheless, here are several inverse investments designed to profit from precious metals misfortunes:
A Surprisingly Strong Start For ETFs/ETNs That Short Precious Metals
YTD %
ProShares UltraShort Silver 2x (NYSEARCA:ZSL)
14.3%
PowerShares DB Gold Double Short ETN (NYSEARCA:DZZ)
12.4%
ProShares UltraShort Gold 2x (NYSEARCA:GLL)
12.0%
PowerShares DB Gold Short ETN (NYSEARCA:DGZ)
6.2%
Disclosure: Gary Gordon, MS, CFP is the president of Pacific Park Financial, Inc., a Registered Investment Adviser with the SEC. Gary Gordon, Pacific Park Financial, Inc, and/or its clients may hold positions in the ETFs, mutual funds, and/or any investment asset mentioned above. The commentary does not constitute individualized investment advice. The opinions offered herein are not personalized recommendations to buy, sell or hold securities. At times, issuers of exchange-traded products compensate Pacific Park Financial, Inc. or its subsidiaries for advertising at the ETF Expert web site. ETF Expert content is created independently of any advertising relationships.