Since the Gulf of Mexico spill, a recovery in investor confidence for BP Inc. (NYSE:BP) is absent. Even with litigation against the company resolving, a high dividend yield of 5.17%, and shares trading 7% below a 52-week high reached just 2 months ago, investors remain unconvinced in investing in BP. Compared to other energy issues, BP is roughly flat over a 1 year time frame, Royal Dutch Shell (NYSE:RDS.A) is also flat, while Exxon Mobile (NYSE:XOM) is up 8%: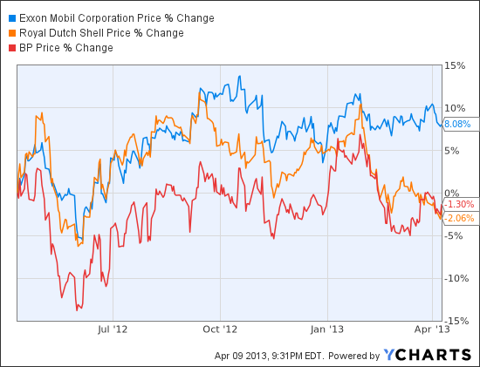 With BP little-changed, it is a good time for investors to ask when the company will start to move up.
1) Gulf of Mexico Overhang
BP sought, but failed, to stop the payouts for the Gulf of Mexico oil spill. The company said in a filing that the value of fictitious awards is growing daily, and could end up costing BP billions of dollars. The possibility of fraud is not new: there were at least 700 suspicious claims reported in August 2012.
Unless large shareholders in BP are able to complain successfully in having the court look at the fraudulent claims, an overhang will remain for BP shares.
2) Asset Sales
To help BP maintain a healthy balance sheet, the company is selling non-core businesses. Since selling $38 billion in assets so far, the company more recently put its wind-power business for sale. This could fetch $1.5 billion.
The sale weakens BP's "Beyond Petroleum" marketing initiative. In truth, the oil spill made it difficult for the company to effectively market this fresh image. As far back as the year 2000, BP spent $200 million to market the new slogan. Prior to the Gulf of Mexico spill, accidents and spills brought public focus away from the new slogan and towards BP's safety record.
If investing in renewable energy was motivated by creating a new brand, the spill undermined its effectiveness. Selling renewable energy properties makes sense for BP. The development of solar energy is best left with companies specializing in the field. For example, First Solar (NASDAQ:FSLR) reported solid guidance, causing shares to soar 45.5% on April 9 2013: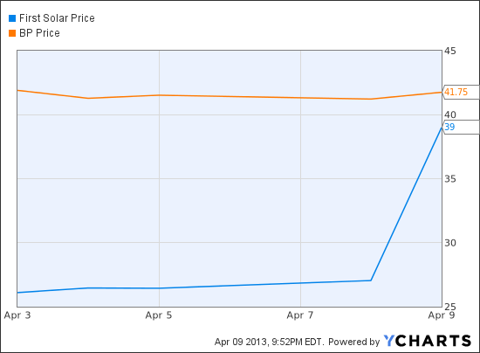 3) Share Buyback
BP bought back $8 billion of its shares, which represented 6% of its market value. The move makes sense for its shareholders. Dividends are already at a healthy yield of over 5%. By cancelling the shares, the company at least keeps its cash flow steady. The move will offset the lost cash flow generated from the TNK-BP partnership in Russia. In addition, as business continues to improve, the company is in a good position to increase dividends steadily.
Alternative Investments
Exxon Mobile and Royal Dutch Shell are comparable alternatives for investors wanting exposure to the energy industry. Exxon has a forward P/E of 11, while Royal Dutch Shell is similarly valued to that of BP with a forward P/E of 8. When plotting the market capitalization against the dividend yield, BP has an advantage. The company has a smaller market capitalization but provides income comparable to that of Royal Dutch: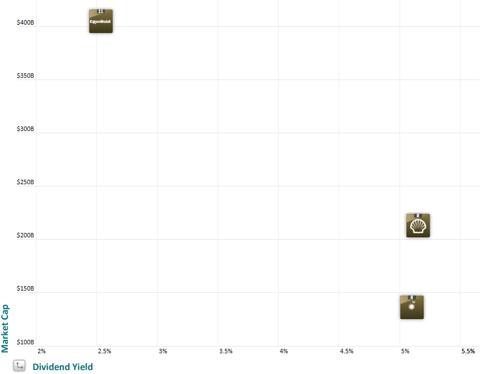 Image Source: Kapitall
Conversely, BP has a higher debt ratio.
The company is undergoing an asset sale program that should reduce its debt ratio
Conclusion
BP shares are still being held back by the negativity related to the Gulf of Mexico spill. Since selling assets, earnings per share for BP declined:
| | | | | |
| --- | --- | --- | --- | --- |
|   | 12/31/2009 | 12/31/2010 | 12/31/2011 | 12/31/2012 |
| Basic EPS | 5.28 | -1.57 | 8.16 | 3.78 |
| Diluted EPS | 5.28 | -1.57 | 8.06 | 3.78 |
| Diluted EPS Before Non Recurring Items | 5.76 | 9.17 | 7.36 | 5.56 |
Value in millions $
Data Source: Kapitall
Despite lower earnings, prospects for BP are improving. In the most recent fiscal year, net income for each quarter grew steadily. Cash levels are also improving:
| | | | |
| --- | --- | --- | --- |
|   | 6/30/2012 | 9/30/2012 | 12/31/2012 |
| Net Income | 7,108.00 | 15,347.00 | 18,809.00 |
| Net Change Cash Equivalents | 814 | 1,974.00 | 5,481.00 |
Value in millions $
Investors should not expect BP to move wildly in the short-term. This is a reason to be bullish on BP, because investors get rewarded with a dividend yielding over 5% while patiently waiting for the market to recognize the value of the oil giant.
Disclosure: I have no positions in any stocks mentioned, but may initiate a long position in BP over the next 72 hours. I wrote this article myself, and it expresses my own opinions. I am not receiving compensation for it (other than from Seeking Alpha). I have no business relationship with any company whose stock is mentioned in this article.