With the vast majority of corporate earnings yet to be reported, the stock market has taken its cue from recent macroeconomic events. In particular, U.S. markets have recently seen weakness emanating from economic concerns surrounding the eurozone and the general state of the U.S. economy.
Astute market observers will note that this isn't anything new. Since 2009, stocks, as represented by the S&P 500, have seen dips in the spring and summer months that have coincided with macro concerns coming from the euro area, whether relating to Greece, Spain, France or most recently, Cyprus.
The S&P500 From 2009 to 2013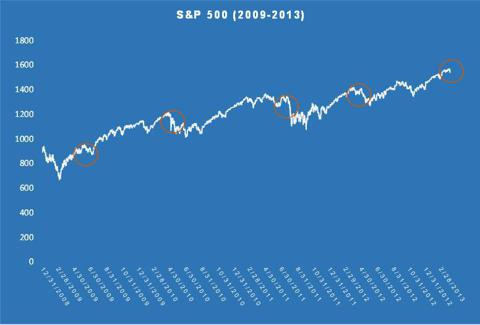 Click to enlarge
Source: S&P500 data from Bloomberg
As the orange circles in the graph above show, one might make the observation that the market's rallies have been book-ended by periods of market consolidation arising from summer events in Europe. Indeed, despite expectations that economic worries arising from the U.S. budget sequesters would curtail the record surge of U.S. stock indices, it was actually the negative turn of events in Cyprus, the world's 111th-largest economy, that interrupted the record climb of the Dow and the S&P 500.
The exact impact of these troubles is difficult to quantify. After all, Cyprus' annual GDP in current dollars is only $25 billion - equivalent to 1/6th of Apple's (NASDAQ:AAPL) earnings in its latest fiscal year. Greece, an economy 10 times larger, produces goods and services that are equivalent to the combined annual revenue of Apple and Exxon-Mobil (NYSE:XOM).
An argument can be made that the impact of the developments in Europe - and on the U.S. fiscal front - go far beyond the nominal value of GDP but also what these do for consumer and business confidence. Indeed, the recent pullback coincided with notable drops in both the U.S. ISM and German IFO indices, reminding investors that the world economy is still quite soft.
Cyprus is notable because it represents the first instance of a "bail-in" since the eurozone began experiencing its fiscal difficulties. Moreover, those who believe that the situation in Cyprus was a one-off were disabused by comments from Jeroen Dijsselbloem, the head of the Eurogroup Finance Ministers, who suggested that the haircut of Cypriot depositors ought to become a "template" for future crises. Although Dijsselbloem has since backed-off those comments - in typical European bureaucratic fashion, claiming he'd been 'misquoted,' - the fact remains that he merely voiced something that was already widely believed as forward policy among EU insiders.
This is troublesome for some larger Euroland economies, such as Spain and Portugal, which like Cyprus have large deposit bases. Indeed, Spain's deposits are roughly equivalent to its GDP and Portugal's is at 80%. A "bail-in" similar to Cyprus' would have devastating consequences for either economy, possibly causing their economies (as measured by GDP) to contract by anywhere from 6 to 8%.
So what does all this mean for investors in U.S. markets? We see three things:
1. Use the macro pullbacks to get into American banks. According to the Bank for International Settlements, American banks have US$633Bn worth of aggregate euro claims. While that appears small, it is actually equivalent to 1/6th of all American banks' claims - and doesn't count their share of claims not denominated in euros (i.e., debt or securities issued by entities from the eurozone denominated in U.S. dollars or non-euro currencies).
What's more, euros account for a third of all banks' claims (both American and non-American). As the 2008 financial crisis showed, banks are part of a larger inter-dependent ecosystem and systemic risk can expand geometrically from even relatively small exposures. From 2009 to 2012, U.S. banks as measured by the KBW Banking Index, have seen summer period corrections averaging 12%. This is despite the fact that banks have generally been healthier - and more profitable - since 2008 and the Fed's introduction of its stress tests in the early part of 2009.
Indeed, since its trough in 2009, the KBW Bank Index has nearly trebled - for a compound annual return of 17%. As such, the corrections brought on by macro worries should be used as opportunities to average down on bank shares or open new positions, not to abandon banks.
2. (Perversely) Cyprus could actually benefit American banks. Veterans of the Asian financial crisis of 1997 will recall that wealth shifted significantly into American financial institutions as Asian depositors, fearing the safety of their national banks, sought refuge in American and European institutions. This shift of wealth may have even contributed to the surge of liquidity that birthed the dot-com bubble.
That could be the case again, as European depositors, feeling uncertainty regarding their banks' exposure to Cyprus (European banks have an aggregate exposure to Cyprus worth US$39.2Bn) could seek refuge with American banks, which have little exposure to the island nation - in fact, no large American banks operate in Cyprus.
This would be a welcome development for American banks (and their offshore subsidiaries), which have seen deposit growth slow to levels last seen in 2009.
3. We're not out of the woods yet. The record rise of the Dow and S&P 500 had some pundits believing that the good times were back. This couldn't be further from the case - and Cyprus serves as a good reminder. In fact, even after their recent record-setting runs, both the Dow and the S&P 500 are trading at just around 13x to 14x their forward earnings - considerably lower than they were at the previous market peaks (when they traded as much as 22x to 30x forward earnings).
What this means is that investors have been more selective insofar as their investments are concerned; the market isn't seeing the broad-based rise among growth stocks that it witnessed in previous market run-ups. In fact, the NASDAQ composite, a proxy for many growth stocks, rose by just 8% in the first quarter, trailing both the Dow and S&P 500.
Final Thought
Going forward, we expect to see recurring instances of such macro-driven corrections. Investors would be best-served by using these periods to evaluate and rebalance their portfolios.
Disclosure: I have no positions in any stocks mentioned, and no plans to initiate any positions within the next 72 hours.
Business relationship disclosure: Black Coral Research is a team of writers who provide unique perspective to help inspire investors. This article was written Jonathan Lara, one of our Senior Analysts. We did not receive compensation for this article (other than from Seeking Alpha), and we have no business relationship with any company whose stock is mentioned in this article.
Disclaimer: Black Coral Research is not a registered investment advisor or broker/dealer. Readers are advised that the material contained herein should be used solely for informational purposes. Investing involves risk, including the loss of principal. Readers are solely responsible for their own investment decisions.