On Tuesday, First Solar (NASDAQ:FSLR) led the market with a with a surprising 45.53% gain as the company released an outlook that far exceeded analyst expectations. In effect, the company raised the bar for the solar industry as witnessed by the parallel gains for SunPower (NASDAQ:SPWR), LDK Solar (NYSE:LDK), and Yingli Green Energy (NYSE:YGE) to name a few. Respectively, these solar companies also gained 17.06%, 25.23%, and 21.08% over the same session. Accomplished on high volume, this sector jolt stands poised for an extended rally as investors digest the more than favorable outlook for solar demand.
Yet with confidence returning to the stricken solar industry, investors should begin to wonder if the bigger picture found in the market for "clean technology" is leading up to a forthcoming rally. The clean technology sector is largely understood as the body of companies aimed at harnessing renewable materials, reducing the use of natural resources, and eliminating emissions. For a large part, it was the steep decline in the solar industry that had largely hindered recent progress in sustainable technologies.
Epitomized with the collapse of Solyndra, there came a crash in cleantech financing, which left many investors also fleeing the market for technologies that have yet to prove themselves increasingly profitable. The advanced biofuels sector was even placed under political pressure as Congress intensely fought over the price the military should be spending on fuel, never mind that the military had long been using more expensive fuel for its various endeavors all along. Yet such instances like these typified the negative sentiment over various clean technologies, and none of it proved ideal for investment dollars.
But of late, several cleantech industries have begun to experience critical "wins" that suggest that investors may once again begin to flock towards green innovation. Along with increasing demand for solar technology as witnessed through First Solar, Tesla Motors (NASDAQ:TSLA) most recently noted that it exceeded sales targets thereby proving that demand for high-end electric vehicles may prove to be sustainable. Likewise, important tax credits for wind power and biofuel production both survived the fiscal cliff debates allowing for much needed financing to bolster private investment.
Where To Look Now?
Just as the spiraling downfall of the solar industry captured the fears of investors, its emerging return may also spill over into related green industries. With the possibility of a cleantech rally at hand, the following five companies remain my top five picks in this market space. Each was chosen in order to represent a distinct industry that could qualify as clean technology. As having a sound balance sheet typically remains the most crucial aspect of a developing companies, the following table places an emphasis on a company's financial position. All values were taken as of April 9, 2013.
| Name | Mkt Cap. | Total Cash | Price-to-Book Ratio | Current Ratio | Industry |
| --- | --- | --- | --- | --- | --- |
| First Solar Inc. | $3.43 Billion | $1.00 Billion | 0.65 | 2.57 | Solar Modules |
| Renewable Energy Group Inc. (REGI) | $285 Million | $68 Million | 0.80 | 3.74 | Biodiesel |
| Solazyme (SZYM) | $465 Million | $149 Million | 2.45 | 6.63 | Tailored Oils |
| Tesla Motors | $4.64 Billion | $202 Million | 38.31 | 0.97 | Electric Vehicles |
| EnerNOC (ENOC) | $447 Million | $117 Million | 1.85 | 2.12 | Energy Management |
An interesting look at the share statistics indicate that several of these companies are largely being shorted, as is to be expected with a negatively viewed market space. Upon a favorable event, this could allow for an intense rally as short investors attempt to cover their positions. The following table takes a look at these statistics taken as of March 15, 2013:
| Ticker | Float | Shares Short | %Float Short | Days To Cover |
| --- | --- | --- | --- | --- |
| FSLR | 60.32 Million | 18.42 Million | 36.70% | 2.80 |
| REGI | 21.41 Million | 0.53 Million | 2.50% | 1.40 |
| SZYM | 40.84 Million | 7.44 Million | 21.70% | 10.50 |
| TSLA | 114.52 Million | 32.32 Million | 64.90% | 13.90 |
| ENOC | 22.34 Million | 1.29 Million | 5.1% | 3.20 |
It's clear to see why First Solar was able to pop as high and as fast as it did on Tuesday with such a higher percentage of shares being shorted. The company's "all-clear" signal found in a prosperous outlook appeared to communicate loud and clear to those who were short. Such a message thereby introduced a short squeeze as investors competed for shares pushing the price higher. A look at the table above indicates that investors may wish to keep an eye on Solazyme and Tesla for the possibility of a similar result.
Some additional thoughts concerning the listed companies:
FSLR - By far, First Solar stands as the most abundantly funded public solar company on the market having exploited its early cost advantage as a manufacturer of modules utilizing cadmium telluride. However, concerns continue to rise as the company has lost its cost advantage and has been cornered into the utility power plant market. The company is aware that it needs to increase its technology's conversion efficiency in order to stay competitive. Yet with such a large cash advantage, First Solar has the ability to buy such capabilities, which is largely why it acquired TetraSun most recently. First Solar still continues to trade below book value with a P/B ratio of 0.65. The company also remains in the black with its 2014 EPS estimated at $4, rising to $4-$6 for 2015.
REGI - With biofuels under attack, Renewable Energy Group, Inc had largely taken a beating in 2012 due to uncertainty over the existing political environment. The company continues to remain heavily reliant on various forms of government subsidies for its profitability. However, as the largest biodiesel producer in the United States, the company is also the largest name to benefit from the latest support emerging out of Washington. As the company endeavors to make its operations sustainable, Renewable Energy Group remains the go-to name in this space. Trading below book value, the company also carries a forward price-to-earnings ratio of 9.76 and trades with a low PEG ratio of 0.39. With such growth expected looking forward, the company continues to appear undervalued.
SZYM - Solazyme continues to wrongly be associated with thus far unsustainable biofuels. Yet while it is true the company supplied the US Navy and United Airlines (NYSE:UAL) with fuel for their planes and vessels, the company actually retains a significant comparative advantage in tailoring unique oils for industry. These tailored oils can be used to replace oils derived from petroleum, plants and animals and have practical purpose for renewable chemicals, food and personal care. By the end of the year, Solazyme expects to bring online its first large scale commercial facility to allow the company to be cash flow positive in 2014. With the flexible ability to manufacture new oils useful for consumers and industrial clients alike, Solazyme remains poised for rapid growth that may soon catch the investment community by surprise. Solazyme remains well-capitalized for its expansion efforts as the company also raised $125 million (not shown in the table above) for future project opportunities in January. Analysts expect Solazyme to have revenues of $55.81 million in 2013 growing to $282.80 million in 2014.
TSLA - With its latest sales report proving the demand for high-end electric vehicles, Tesla continues to succeed where its competitor Fisker has failed to score. Tesla announced that it sold more than 4750 cars, which was 250 cars more than it had expected. With momentum on its side, the company continues to build upon its brand thereby justifying the enduring rise in share price. The large amount of short shares has also likely propelled the price forward. However, at these valuations investors should continue to exercise caution, especially should the company's momentum begin to wane. Tesla's excessive price-to-book ratio of 38.31 acknowledges premium currently baked into the market. But as a prospering company in a niche capital-intensive industry with high barriers to entry, Tesla appears to currently vindicate its worth.
ENOC - With energy efficiency as a national objective, EnerNOC continues to prosper off of the growing trend. The company provides solutions for companies in regards to monitoring their energy expenditures. It also relieves utility companies of excess energy through its vast client base of willing participants. The company is expected to be profitable for 2013 with analysts expecting earnings of $0.65. Their growth is expected to continue as the analysts foresee earnings of $1.08 in 2014.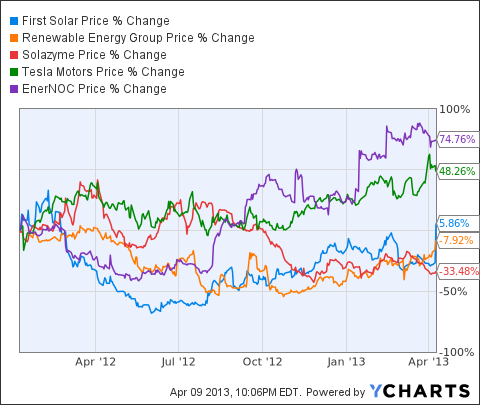 FSLR data by YCharts
Disclosure: I am long SZYM. I wrote this article myself, and it expresses my own opinions. I am not receiving compensation for it (other than from Seeking Alpha). I have no business relationship with any company whose stock is mentioned in this article.