Emerging markets are expected to post growth around 5.9% in 2013, compared with 2% for developed markets such as the U.S. Several exchange traded funds are available to tap into emerging market stocks which are showing cheap valuations.
In fact, emerging market ETFs have been badly lagging the S&P 500 and other developed market benchmarks so far in 2013.
"Many investors are attracted to emerging-markets equities, as they expect these countries' higher GDP growth rates to drive strong equity returns. It appears this has been the case, with the MSCI Emerging Markets Index returning an annualized 16% over the past 10 years to Nov. 30, 2012, far outpacing the S&P 500′s 6%. In hindsight, emerging-markets equities' higher-than-expected growth rates, followed by significant (price/earnings and price/book) valuation multiple expansion, were the main drivers of this performance," Patricia Oey wrote for Morningstar.
According to Zacks, emerging market ETFs have underperformed broad market ETFs such as the SPDR S&P 500 (NYSEARCA:SPY) and the Dow Jones Industrial Average (NYSEARCA:DIA). This is the first time in 10 years emerging market ETFs have underperformed during a global rally.
The iShares MSCI Emerging Markets ETF (NYSEARCA:EEM) is one of the largest emerging market funds with 837 stocks. Assets are at $45.5 billion, suggesting good liquidity, with an average daily trading volume of 50 million shares. The 0.66% expense ratio is on the more expensive side compared to other emerging market ETFs. BlackRock also launched the cheaper iShares Core MSCI Emerging Markets ETF (NYSEARCA:IEMG) last year. It has an expense ratio of 0.18% and nearly $1 billion in assets.
The Vanguard FTSE Emerging Markets ETF (NYSEARCA:VWO) is another more affordable alternative at 0.18%. There are 1,060 stocks within the index, with a tilt toward the financial sector. The top 10 holdings are heavily concentrated, making up almost 20% of the portfolio.
WisdomTree Emerging Markets Equity Income (NYSEARCA:DEM) is a fundamentally weighted ETF that selects the highest dividend yielding stocks. There are 237 stocks in the ETF, and the financial sector carries the most weighting. DEM costs 0.63%.
All three ETFs have posted losses after the first quarter of 2013.
Investors should bear in mind that most emerging economies rely heavily on the commodity sector and this makes them sensitive to economic cycles. Also, currency movements with the U.S. dollar have an impact upon both equity and debt markets in emerging markets.
iShares MSCI Emerging Markets ETF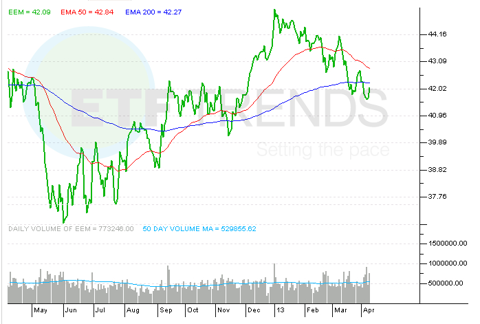 Click to enlarge
Tisha Guerrero contributed to this article.
Full disclosure: Tom Lydon's clients own EEM.
Disclosure: I am long EEM, SPY. I wrote this article myself, and it expresses my own opinions. I am not receiving compensation for it. I have no business relationship with any company whose stock is mentioned in this article.