VIX - Market Sentiment
On Wednesday, the S&P continued move up and through the key resistance level we have mentioned of 1574. Closing higher on the day 1.2%, futures continued to rip higher as those short the market continue to feel pain across the board. Just last month I highlighted this bull run with an article I wrote titled "Bulls Make Money, Bears Lose Money, And Currencies Get Slaughtered." Trading this week is a perfect example of this thesis continuing to play out. The bears had their chance to push shorts after the horrendous jobs numbers just last Friday and failed to do so as the market pushes to new highs. Because the trend is your friend, riding this will more than likely continue to work at least in the short term. I have serious concerns as 64% of companies guided down last quarter as to where earnings will be after this quarter.
The spot VIX or CBOE Volatility index continued to move lower along with futures today crushing volatility ETF's across the board. Volatility ETF (NYSEARCA:VXX) and 2x ETF (NYSEARCA:UVXY) continue to see put inflows as reported over the last 3 days but today had a significant change as May call buyers also stepped in. Today more than 59% of the calls traded were on the offer possibly as a hedge for those who are short volatility. Of course in today's market that means pretty much everyone and every hedge fund trading. The largest trades again today were put blocks going off but some are looking for the "Sell in May and go away" to be explosive as a large block order selling the May 16 strike puts 13.8K times and using the proceeds to buy the May 28 calls went off 10K plus times possibly looking for contango to end somewhere in May. Regardless the bulls continue to be clearly in control of this market but I would be using this time as a gift to hedge existing long positions or at least take some profits with markets at all time highs.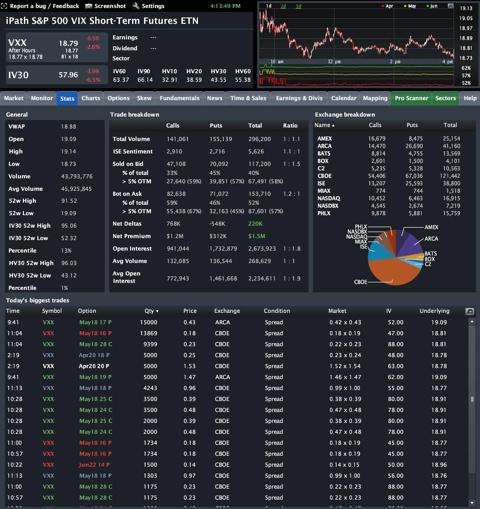 Statistics and Screenshot Provided By LiveVol
VIX futures are listed below.
Yesterday
· April VIX futures 13.55
· May VIX futures 14.90
· June VIX Futures 15.85
Today
· April VIX futures 13.00
· May VIX futures 14.50
· June VIX Futures 15.50
Options Paper
MBIA Inc. (NYSE:MBI) is no stranger to the sonar report and today the bulls were out in full force with the stock up almost 2% on the day. Specifically a large call spread buyer stepped up buying the August 13-16 call spread for .63 for a net debit of more than 1.5M in premium. This is a huge bet to the upside in a name, which has not seen a 16 print since 2008. This trader stands to make 6.5M in net profit if MBI is at or above 16.00 on August expiration. This name has been on a nasty pullback after the recent run-up so this is a name I'm adding to my radar to look to play on market weakness as the options continue to be bullish. Option activity was more than 4x average daily volume with calls outnumbering puts more than 18 to 1.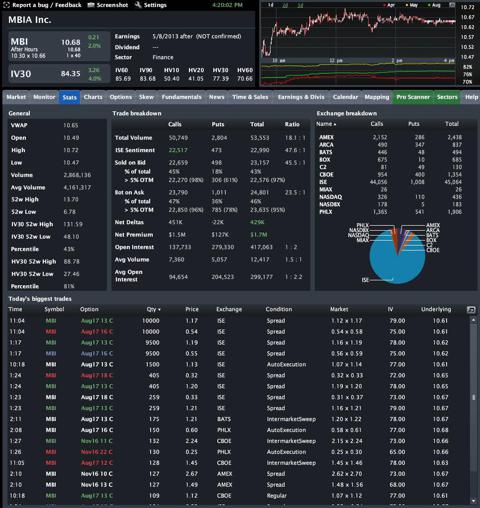 Statistics and Screenshot Provided By LiveVol
In yesterday's sonar (here) I mentioned a trade on Family Dollar (NYSE:FDO). This trade turned out to be a huge winner as FDO today after a rough start traded up on the day 1.1% and the 1:2 spread went from .17 to more than .60 today. Today another not so common name to the sonar showed up on my radar ADT Corporation (NYSE:ADT). This business services name today had more than 12x average daily volume with a large put roll dominating the tape. Specifically one bear sold 7K of his already in the money May 47 puts 7K times and used the proceeds to buy the October 43 puts 15K times. This bear is not only taking a larger position but actually adding to his position in terms of outright dollars. This trader already made some serious coin booking 600K in profit he's now looking for the stock to lose another 10% between now and October. For those looking for a possible short candidate add this one to your list as this name has already underperformed so a market correction would really cause some pain in this name.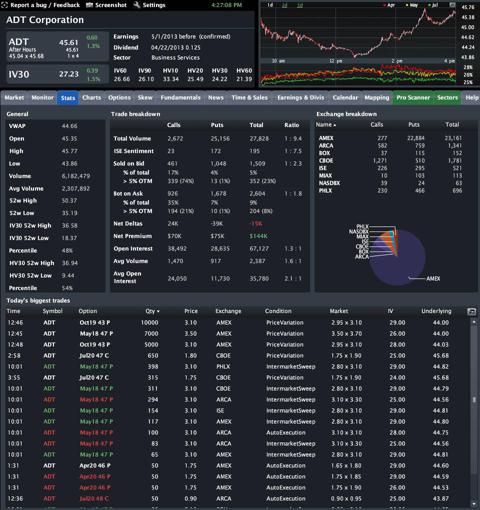 Statistics and Screenshot Provided By LiveVol
Popular ETFs and equity names with bullish / bearish paper:
Bullish Option Flows - ISE and % OTM calls bought on offer
Cablevision (NYSE:CVC) 96% - 4K OTM calls
Sprint Nextel (NYSE:S) 76% - 15K OTM calls
Tenet (NYSE:THC) 64% - 2K OTM calls dwarf the puts bought yesterday
Bearish Option Flows - ISE and % OTM puts bought on offer
Ctrip.com (NASDAQ:CTRP) 84% - 2.2K OTM puts
Cypress Semi (NASDAQ:CY) 79% - 3K OTM puts
LDK Solar (NYSE:LDK) 77% - 7K OTM puts bought on offer follows puts from yesterday
Disclosure: I am long AGNC, BA, BAX, CBB, CIM, CONE, DNDN, DRYS, HEK, IOC, LNG, NQ, TLM, and I am short ASH, BBBY, CF, EA, EMR, HPQ, LULU, and SPY.
Trades Today: Completed SPY hedge finishing SDS call purchase, short EA, and short CF.
Disclaimer: The opinions in this document are for informational and educational purposes only and should not be construed as a recommendation to buy or sell the stocks mentioned or to solicit transactions or clients. Past performance of the companies discussed may not continue and the companies may not achieve the earnings growth as predicted. The information in this document is believed to be accurate, but under no circumstances should a person act upon the information contained within. I do not recommend that anyone act upon any investment information without first consulting an investment professional as to the suitability of such investments for his or her specific situation.