One of the pleasant surprises of 2012 was the rapidity with which the housing market recovered. That trend has remained in place thus far this year. According to the S&P/Case-Shiller Home Price Index, U.S. home prices are now up more than 8% year over year, the fastest pace of growth since before the housing bubble burst. This jump in home prices has many investors asking: "Are we already back in another housing bubble?"
I believe the answer is "no" for home prices, but the prices of homebuilding stocks are another story. Consider the following:
While home prices have jumped from last year, they are still way below their peak. In 2005, the median price of a new home was nearly $230,000. Today it's less than $175,000.
Houses are not only cheaper on an absolute basis, they are also cheaper relative to what people earn. Back in 2005, a new home went for nearly 4.2x the median real income. Today the ratio is down to 3.25.
Thanks to low rates, home affordability is at the highest it has been since records began in 1989.
While homebuilding has rebounded, it's still well below peak levels. Over the past 50 years, U.S. housing starts have averaged roughly 1.46 million per month. In early 2006, the pace was more than 2.2 million. Today, housing starts are running at a rate of less than 1 million.
While the housing market seems on more stable ground, companies that build homes may not be. Enthusiasm for homebuilders has driven this sector's valuation up to bubble-like levels. Despite housing starts being less than half of last decade's peak, U.S. homebuilders are now trading at their highest valuation in 20 years. Back at their peak last decade, homebuilders traded at roughly 2.45x book value. Today, the sector trades at nearly 2.6x book value, as the following chart shows.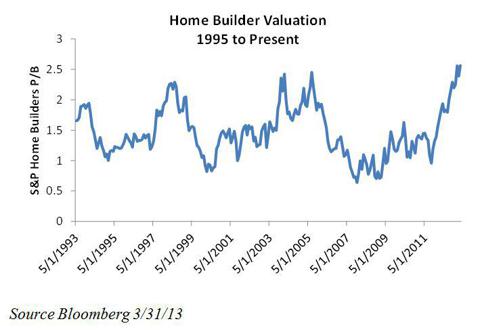 The same pattern appears when using price-to-earnings (P/E) measurements as well. As of the end of March, the S&P Home Builders Index was trading at more than 28x trailing earnings, vs. a long-term median of around 10x. Some of the premium may be justified as the sector, along with the broader U.S. market, is now extremely profitable. But while the sector's return on equity is high, at more than 20%, it's still below its peak of 27% in 2005.
What does this mean for investors? Going forward, I expect that housing will remain a tailwind for the U.S. economy, which I expect to grow, albeit slowly, this year. More housing starts will help spur employment and rising home prices will help support consumption. That said, a stronger housing market does not justify today's premium homebuilder valuations. While I like housing, I would be cautious on the homebuilders.
Source: Bloomberg.