The world's weather is again typifying some extraordinary, unparalleled weather extremes. Dozens of record low temperatures have blanketed the Midwest and Plains States this week, while balmy April eastern temperatures brought the birds and flowers out with some 80s along the east coast. In the past 7 days alone, there have been 64 record high temperatures across the U.S. and 319 record low minimum temperatures. Over the past year (see chart below), temperature, rainfall and snowfall records have been in the tens of thousands.

Recent weather extremes---Source: NOAA
The big weather news for the last half of April is going to be more extreme cold that will be dominating part of the Midwest and Plain States, resulting in unusual mid spring snows and potentially creating havoc for early spring planting procedures for spring wheat and corn.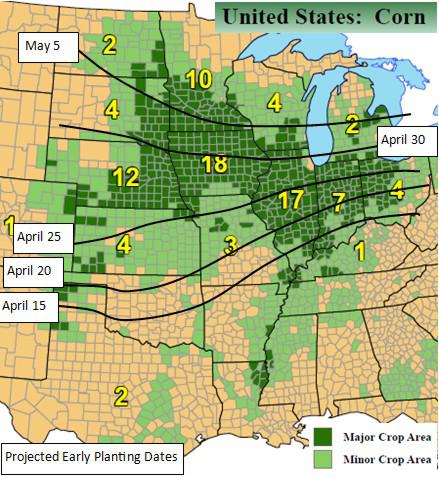 SOURCE: CWG
States like North Dakota have a deep snow cover and cold, stormy weather the next 2 weeks could mean that farmers will have a late planting season and be subject to some reduction in crop yields this summer, if crops are planted too late.
The unusual cold weather can be shown to be forming over the tundra of the Arctic again, but this time the driving force will be due to a blocking pattern called the Western Pacific Oscillation Index (WPO), and not the AO or NAO index. This feature will be key in whether or not the U.S. corn and spring wheat crops get planted on time. After my recent bearish attitude in corn for months, this feature (-WPO) could temporarily set a floor on corn prices. Look for the CORN ETF (NYSEARCA:CORN) to potentially rally in coming days. For the wheat market, areas of SW Kansas to the Texas Panhandle are in jeopardy of more drought and freeze damage to crops. My clients will be notified on just how this incredible block may or not break the drought in the Plains a bit later on. World wheat stocks are huge, but timely rains will be needed in the southern Plains the next 4-5 weeks, otherwise the Teucrium Wheat ETF (NYSEARCA:WEAT) has little downside at this point the next week or so.
Look for a potential additional frost in portions of SW Kansas to the Texas Panhandle later next week. The good news (if there is any) for Plains wheat farmers is that the cool weather will slow down development enough, so that if timely May rains fall, some easing in the terrible wheat crop prospects may occur from Nebraska to Kansas, Colorado, Oklahoma and Texas. For now, however, I am concerned. But some studies I have been working on paint an improving May weather pattern for the Plains. If this comes to fruition, given my forecast for good Russian and Australia wheat crops, any major long term bullish rally in wheat futures would be in unlikely. Bottom line? Lots of volatility coming in the grain market, making for some great short-medium term trading opportunities.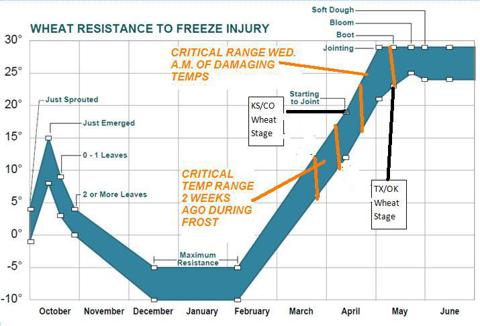 SOURCE: USDA/KANSAS
The map I posted below will also keep natural gas traders very nervous the next week or two. With big cold in the Midwest and Plains again, the ETF (NYSEARCA:UNG) will have a hard time falling very far. Since we discussed the cold late winter weather back in early February, natural gas prices have been on a 20-25% tear.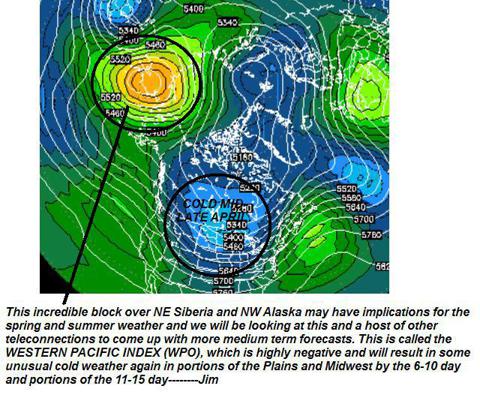 SOURCE: WSI
Disclosure: I have no positions in any stocks mentioned, and no plans to initiate any positions within the next 72 hours. I wrote this article myself, and it expresses my own opinions. I am not receiving compensation for it (other than from Seeking Alpha). I have no business relationship with any company whose stock is mentioned in this article.