Patterson Lake Update
In separate press releases dated April 1st and April 3rd, 50/50 JV partners Fission Energy (FSSIF.PK) and Alpha Minerals (ESOFD.PK) reported additional drill data from their ongoing drill program at the Patterson Lake uranium project. The drill holes reported included a 15-meter step-out on the 780E Zone that intersected 70 meters of mineralization and four holes from the 390E Zone that doubled the known mineralized strike length of that zone to 60 meters. In aggregate, Patterson Lake has now been shown to have proven mineralization over a total strike length of 155 meters in three separate zones (00E, 390E, and 780E) spanning 800 meters of strike. The intervals between these zones remain largely untested and are within a 2 kilometer-long prospective corridor. Mineralization remains open to expansion in all directions.
In my opinion, it is nothing short of amazing to see an exploration project to have a "hit ratio" like that, which we have seen to date at Patterson Lake from an initial drill program. Despite the recently released positive drill results, Fission's share price has dropped approximately 15% and Alpha's share price has dropped 23% from the highs as I write this. The rationale behind this drop is a mystery to me from a fundamental standpoint, but I believe it may have something to do with: 1) stock from Alpha's December 2012 private placement becoming free-trading (the stock had a 4-month hold period, expiring on April 6th), and 2) Alpha raised $12.28 million dollars on April 9th in an upsized financing. When that happens, some shorter-term investors have a tendency to take some money off the table and by association, Fission is being dragged down as a result. This may be a prime opportunity for those who felt they "missed the boat" on the way up, given that almost all of the assays from the drill program are pending, including what may be the two best holes of the program (PLS13-051 and PLS13-053).
The data released recently confirms exactly what investors should want to see: increased mineralized strike length in both zones on the lake with all zones being open to expansion. The hard part about being an investor in a speculative stock is that you actually have to understand and believe what the data is telling you. Typically, shorter-term investors are flushed out by market action like this while longer-term investors use these opportunities to accumulate stock. Given the inherent internal variability in uranium deposits, investors should not expect results to be exactly comparable from hole to hole (as discussed earlier in this series here). This tendency for internal deposit variability may be one thing that some investors are missing.
Now for a short digression. There's a saying in geology that every first-year student will know: "The present is the key to the past." Essentially, it is a principle used by geologists to understand past geological events by studying modern day processes. In terms of the market, I have found it useful from time to time to turn that principle upside-down to say, "The past is the key to the present." In prior articles, I have alluded to parallels between the valuation of the Patterson Lake project and the market cap history of Hathor Exploration (bought by Rio Tinto for ~$650 million in late 2011), which is arguably the only recent market comparable that investors can consider using as a reasonable valuation guide as the Patterson Lake drill program progresses. To illustrate this comparison with hard data, I have summarized the drill results from Hathor's initial drill program at Roughrider in the table below. The data is from a 29-hole drill program (totaling 10,654 meters) completed during Hathor's 2008 winter drill program 5 years ago.
Figure 1: Table of Historical Hathor Exploration Drill Results
(click to enlarge)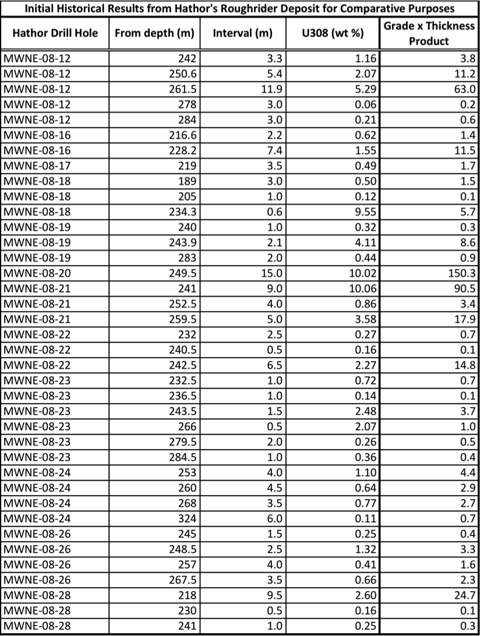 (Data source: Hathor Exploration Press Release May 21, 2008)
There are a few things worthy of note in the above table (look again at the data). First, the best grade-thickness product (calculated by multiplying U3O8 grade x thickness) from Hathor's initial program was 150.3. For comparison, the first hole assayed at the Fission Energy/Alpha Minerals Patterson Lake JV (PLS13-038) returned 12.5m of 12.38% U3O8, which yields a grade-thickness product of 154.8 (or 34m at 4.92% U3O8, which yields a grade thickness of 167.3). Additionally, a quick review of the balance of the initial Hathor results shows that most reported holes fell far short of the best hole in terms of grade and/or thickness. Lastly, the depths at which the mineralization was reported at Hathor was significantly deeper than the depths at which Patterson Lake mineralization is being encountered. All of these factors together should have investors thinking hard about the data that is being released at a rapid pace from Patterson Lake. Simply put, Patterson Lake appears on track to at least match the early Hathor data.
Additional assays from Patterson Lake were released on April 10th, which I have compiled into a table below for comparison to the historical Hathor data presented above for context. As you can see, the comparison is favorable thus far. Note that assays are still pending from what are likely to be some of the best holes from the winter program at Patterson Lake based on scintillometer readings.
Figure 2: Table of Currently Released PLS Assay Results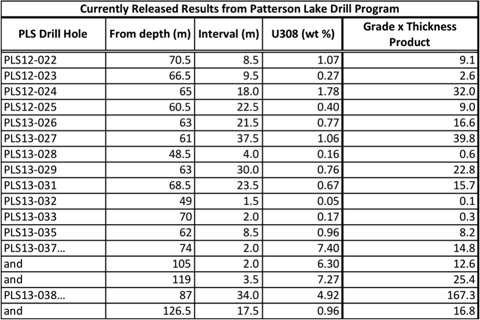 The market cap of Hathor two days after the above compiled winter drill program data was released (May 23, 2008) was $222 million (basic), which implies a project valuation of $245 million given that Hathor owned 90% of the project at the time. Using Alpha's current basic share count of roughly 23 million shares outstanding (post-financing), the implied project valuation for Patterson Lake is only $140 million (at $3.75 AMW) (on a fully diluted basis the project valuation would be in the $200 million range). This means that at $5-6/sh Alpha would be more in line with where Hathor was after its initial winter drill program (which would put Fission in the $1.20-1.35 range, all else being equal). I have detailed the early history of Hathor's market valuation for comparison in my prior article, which can be viewed here.
Summary
Some investors are likely puzzled by the recent trading in Fission and Alpha, and rightly so. Short-term market fluctuations create opportunities from time to time, and I believe that now is one of those times. Both Fission and Alpha are speculative by nature, which is why understanding the information is so important at this early stage. Those of you who have followed this series from the beginning will see that the story is developing in an almost textbook fashion. Until something about the project data changes, my view on the project will not.
I can certainly say that the results to date have exceeded all of my expectations. Given that high-grade, shallow uranium discoveries in jurisdictions like the Athabasca Basin are rare to say the least, I believe Patterson Lake is quickly turning into a premium asset. Set that against a backdrop of supportive long-term uranium fundamentals, a good balance sheet, proven management, pending assays with significant off-scale mineralization, and what I expect to be an aggressive summer drill program, and the stage is set for those who believe in the data to position themselves accordingly.
The thing about "discovery stories" is that the more data you have, the more the price of that data is reflected in the market. That's why I believe that it is critical for investors to take a hard look at the information, compare it to that of known analogues, make an interpretation, and see it for what it is -- an informed speculation. A lesson I learned from one of the best investors I know goes something like this, "Investors stand zero chance of outperforming the market by following it, so taking on risk when you feel you have an advantage is the only option for those who strive to outperform." It's a simple statement, but it takes confidence to implement it. Fortunately, the data coming out of Patterson Lake allows for rational evaluation by those with the patience and experience to interpret it.
Disclosure: I am long ESOFD.PK. I wrote this article myself, and it expresses my own opinions. I am not receiving compensation for it. I have no business relationship with any company whose stock is mentioned in this article.