The Gist
These five stocks have catalyst for upside and are trading at attractive valuations. These facts are subjective and taken alone carry little weight, but it's a good starting point when looking for buying opportunities.
Additionally, the five stocks are trading at or below $10. Stocks trading for $10 or less tend to be more volatile with frequent, large percentage moves in the stock price. This provides the opportunity for greater returns (or losses) relative to the market. These are stocks with market caps of $3 billion or greater. Stocks trading under $10 may provide more bang for your buck.
Finally, the companies have had some very positive developments occur recently. Now, simply selecting stocks trading for less than $10 and near book value is only the first step to finding winners that may provide alpha. We still need to perform further due diligence to determine if these dogs can hunt. Furthermore, we will review the technical state for each company to determine if this is an ideal time to start a position.
The Goods
In the following sections we will perform a review of the fundamental and technical state of each company to determine if this is the right time to buy. Additionally, we will discern if any upside potential exists based on sector, industry or company specific catalyst. The following table depicts summary statistics and Wednesday's performance for the stocks.

Groupon, Inc. (GRPN)
The company is trading 59% below its 52-week high and 10% above the consensus mean target price of $5.46 for the company. Groupon was trading Wednesday at $6.15, up over 3% for the day.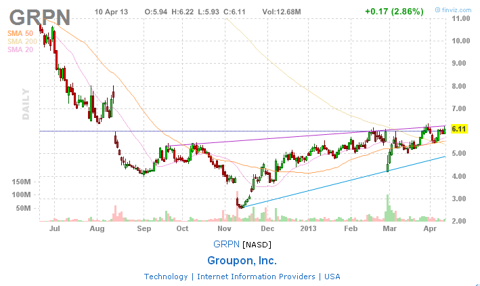 Fundamental Review
Fundamentally, the stock has positives. The stock has a forward P/E ratio of 19 and trades for 23 times free cash flow. Sales are up 30% quarter over quarter. EPS next year is expected to rise by 50% and by 22% for the next five years and is up 90% this year.
Technical Review
Technically, the stock has leveled off and began trending upward. The stock has rebounded 50% and broke through all three major resistance levels. The 50-day sma has turned up and the golden cross has come into play.
My Take
Groupon just hired Sri Viswanath to be its SVP of engineering and operations. The hiring comes as Groupon invests heavily in creating a broad assortment of local commerce tools and services for merchants.
Groupon is on the comeback trail so to speak. They recently announced a daily deal with Starbucks (NASDAQ:SBUX) that sold out in minutes and was most likely the catalyst for the recent pop in the stock.
Groupon has $1.2 billion of cash, no debt and expectations are low. This sparks my contrarian interest. I was bullish on the stock prior to these developments. GRPN has some good people on the case. I like the stock here for a long-term speculative play.
Micron Technology Inc. (MU)
The company is trading 2% below its 52-week high and 15% potential upside based on the consensus mean target price of $11.60 for the company. Micron was trading Wednesday for $10.07, up over 5% for the day.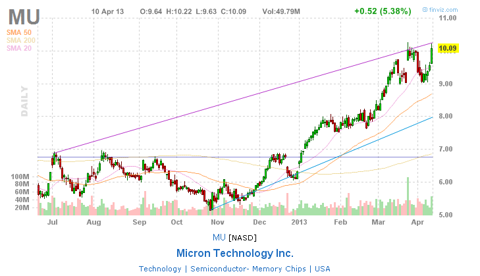 Fundamental Review
Fundamentally, Micron has some positives. Micron's forward P/E is 15. Micron is expecting EPS to be up 242% next year according to Finviz.com. Micron is trading 1.5 times book value and 1.28 times sales. Micron insider ownership has increased by nearly 40% over the past six months.
Technical Review
Technically, Micron is in an uptrend. The stock reversed trends at the beginning of November. The stock broke through major resistance at the 50-day and 200-day smas and kept on going. The gap up after earnings was just filled and the stock is trending upward once again. This is a very bullish development.
My Take
Micron's fiscal second quarter earnings beat expectations driven in part by 8% quarter over quarter NAND flash sales growth. Micron stated on its earnings call it sees "a favorable supply and demand balance" for NAND due to strong SSD and mobile device demand combined with slowing manufacturing process shifts. You can read the transcript here. I believe the risk/reward still favors longs. The stock is a buy here.
SandRidge Energy, Inc. (SD)
The company is trading 36% below its 52-week high and has 13% upside based on the consensus mean target price of $5.86 for the company. SandRidge was trading Wednesday for $5.20, up slightly for the day.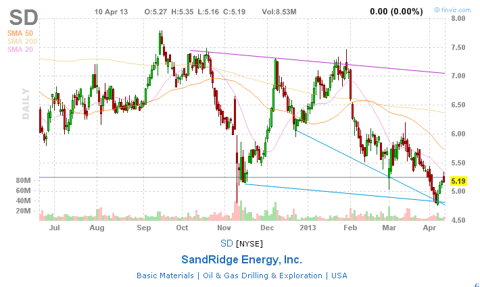 Fundamental Review
Fundamentally, SandRidge has some positives. SandRidge is trading for slightly over book value. SandRidge has a net profit margin of 9.03%. Quarter-over-quarter sales and EPS are up 258% and 35% respectively. Insider ownership is up over 28% in the last six months.
Technical Review
Technically, the stock has been in a bearish downtrend. Even so, as of late the stock has seemed to found a bottom. The stock bounced down to $4.76 for a short time prior to springing back up to $5.20.
My Take
SandRidge's new board just outlined the steps to be taken to reduce costs, including selling aircraft and cutting down on advertising and sponsorships. The news comes a month after a proxy battle ended with TPG-Axon. SandRidge says it engaged law firm Mayer Brown to review allegations against CEO Tom Ward. The review should be completed by June 15.
Regardless of the outcome, I posit the spotlight placed on management by the move will bring positive developments. I think all the weak hands were shaken out when the stock dropped below $5. The stock is a buy here.
Vringo, Inc. (VRNG)
The company is trading 44% below its 52-week high and has 148% upside potential based on the consensus mean target price of $8 for the company. Vringo was trading Wednesday for $3.20, up nearly 1% for the day.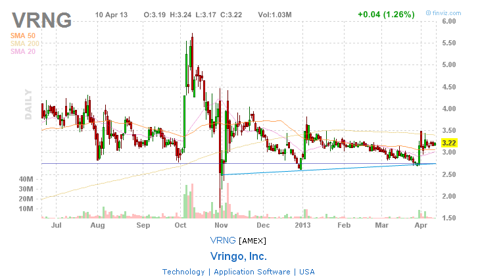 Fundamental Review
Fundamentally, Vringo has a few positives. EPS this year is up 41%. Vringo has $0.12 in cash per share. The stock trades for 2.3 times book value. Nevertheless, the reason investors may start a position in Vringo will most likely not be based on fundamentals but the patent lawsuit results.
Technical Review
Technically, the stock has been trading sideways at the low end of the channel for several months.
My Take
Recently, Maxim's John Tinker published a bullish report on Vringo. Tinker, who maintains a $10 price target, thinks Microsoft (NASDAQ:MSFT) could buy Vringo to help pursue an infringement case against Google (NASDAQ:GOOG). Tinker estimates the net proceeds from a legal win against Microsoft could amount to $0.73 per share. The Maxim Group recently reiterated its Buy rating and $10 price target on Vringo.
The ZTE Corporation lawsuit based on Nokia patents could generate surprising upside for VRNG as well. Tinker notes,
"The trial should be held in Mannheim, Germany in the fall (3Q13), and we believe proceeds of an estimated $129M, or $1.33 per share, could be realized shortly thereafter, ZTE represents only ~7% of the market."
If Vringo is successful in defending its patents and receives remuneration for them that exceeds expectations, the stock could spike significantly.
Vringo Inc. has won its patent suit against a handful of technology giants, including Google Inc. and AOL Inc. Now we are trying to figure out how much that is worth. I think it's more than $3.22 a share. We may see another run in the stock as more news of a deal leaks.
Xerox Corp. (NYSE:XRX)
The company is trading at its 52-week high and 6% above the consensus mean target price of $8.44 for the company. Xerox was trading Wednesday for $8.95, up 2% for the day.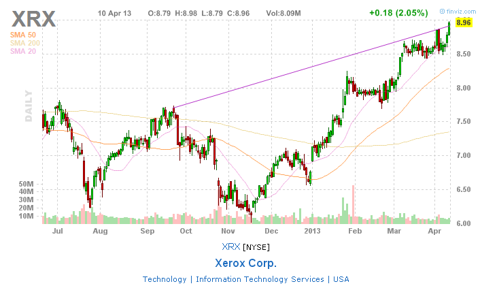 Fundamental Review
Fundamentally, Xerox is solid. The company has a forward P/E of 7.53. The company is trading for 92% of book value and has a PEG ratio of 1.80. Xerox is trading for 6.05 times free cash flow. The company pays a dividend with a yield of 2.57%.
Technical Review
The stock has been on a roll since the company's annual conference on November 13th. The stock has posted higher highs and higher lows since that date. The golden cross has occurred. The stock consolidated just above long-term support at the $8 mark and has begun to move higher.
My Take
Xerox was recently awarded a $14.9 million Defense contract under a previously awarded firm-fixed-price, indefinite-delivery/indefinite-quantity contract. The "modification" extends for six months Xerox's contract to supply and service copiers aboard Navy ships in port and at sea.
Xerox predicted its services business will expand to two-thirds of revenue by 2017 from about half this year. This should lead to significantly higher margins. The risk reward is favorable for long trades at this level. Nevertheless, I would wait for the stock to cool off some prior to starting a position.
The Bottom Line
I believe these stocks are buys that have major upside potential. I see these stocks continuing to move higher. With the market trading at all-time highs, I posit it is important to look for stocks with strong fundamentals and catalysts for upside. Always remember to maintain a well-balanced diversified portfolio containing several asset classes.
Use this information as a starting point for your own due diligence and research methods before determining whether or not to buy or sell a security. If you choose to start a position in any stock, I suggest layering in on a weekly basis at a minimum to reduce risk. Set a stop loss order to minimize losses even further if you wish.
Disclosure: I have no positions in any stocks mentioned, but may initiate a long position in MU, GRPN, XRX, VRNG, SD over the next 72 hours. I wrote this article myself, and it expresses my own opinions. I am not receiving compensation for it (other than from Seeking Alpha). I have no business relationship with any company whose stock is mentioned in this article.
Additional disclosure: This is not an endorsement to buy or sell securities. Investing in securities carries with it very high risks. The information contained within this article for informational purposes only and is subject to change at any time. Do your own due diligence and consult with a licensed professional before making any investment.