As someone who covers a lot of short ideas on this site, one of the most important items I follow is short interest data. One must always be aware of the short interest in a stock. A large short base could spark a short squeeze on good news, while low short interest could spark a huge drop on bad news. Every couple of weeks, we get an update from Nasdaq on short interest data, and I report on what I am seeing. Today, I'm here to discuss the end of March data. I will cover five names that have seen significant increases in their short interest numbers recently.
lululemon (NASDAQ:LULU):
The Canadian yoga and apparel retailer has a pants problem. The company was forced to warn for fiscal Q1 on the heels of a black luon pants shortage, which was due to certain products not meeting technical specifications. The pants problem gained national news attention, and not just in the financial media. The company was bashed from local news to late night talk shows.
It was on the heels of this warning that the stock went from the low $70s to the low $60s. The stock has come back a few dollars, and I think this company can definitely recover in the long-term. For the short term though, short interest has certainly spiked. Another 4 million shares were shorted in the final two weeks of March. As you can see from the chart below, the number of shares short has risen by 128% in the past ten months. Roughly 24% of the float and 17% of the outstanding shares are now short. If lululemon can get by with a decent Q1 and show that the pants problem wasn't as bad as feared, this stock could be set up for a nice short squeeze.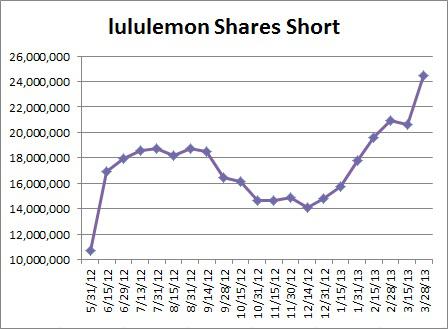 Facebook (NASDAQ:FB):
I recently discussed Facebook as a stock to be careful with during this earnings season. During last quarter's conference call, it was mentioned that expenses would likely rise 50% in 2013, outpacing revenue growth. That statement has caused analysts to cut their earnings forecast for Facebook. Non-GAAP analyst estimates (on average) have come down from $0.66 to $0.57 for the full year 2013 since that last report.
As estimates have been cut, so has the stock price. Additionally, short interest in Facebook is up nearly 90% over the past two months, as you can see below. While the roughly 39 million shares short is still only a portion of the high we saw in 2012 (roughly 95 million), we've seen shorts start to pile back in to this name. Facebook doesn't report earnings until May 1st, so we'll get another round of short interest data before then. It will be interesting to see if even more get bearish ahead of the company's quarterly report.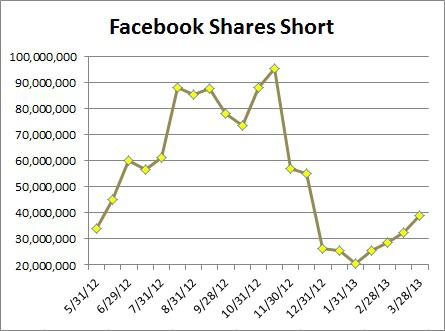 Molycorp (MCP):
The rare earth mineral producer has seen short interest continue to new highs after the company delayed its Q4 earnings release. The company has continued to struggle with its results, with Q4 seeing a huge revenue and earnings miss. In the beginning of April, shares hit a new all-time low of $4.87, but have rallied back to $5.50.
This is one name where short interest just keeps going higher and higher. Molycorp has been on my "short interest rising" list several times now, and for good reason. During the final two weeks of March, another 8.2 million shares were shorted, with the total now standing at nearly 45.5 million. Just eight months ago, short interest was around 17 million shares. With 188.5 million shares outstanding and a float of 134.5 million, this is a fairly significant number of shares short. If this name could ever hit its marks, we could see a tremendous short squeeze. However, this company has failed to execute, which is why shares have gone from $75 to $5 in less than two years.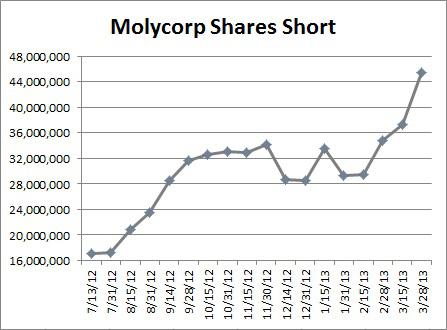 Intel (NASDAQ:INTC):
I must admit that for all of the writing I do on Intel, I never really paid attention to the short interest numbers. With almost 5 billion shares outstanding, you wouldn't think that about 240 million shares short would be a big deal. Well, to me, Intel's short interest is worth noting. As you can see from the chart below, the number of shares short in Intel has nearly tripled over the past year. That's a significant development, even if the percentage of shares short is still fairly low.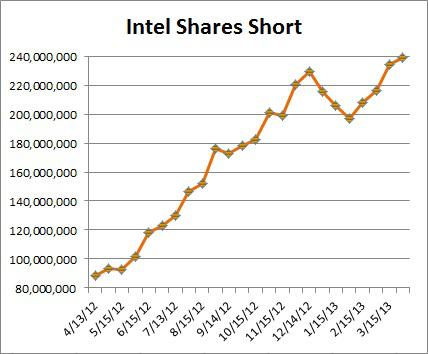 Bearishness regarding Intel has increased because of weakness in the PC industry. Intel, which originally guided to 2012 revenue growth of 7% to 9%, actually saw revenues decline by 1.22% for the year. Margins were also pressured, and earnings took a hit despite the company's large buyback program. That trend is likely to continue in 2013. Even though analyst currently project 0.9% revenue growth this year, earnings per share are forecasted to decline from $2.13 to $1.91.
Intel is expected to report earnings next Tuesday after the bell. The stock is starting to rise again, up almost 10% since late February. However, we did see a rise in shares prior to last quarter's report, only to see the stock get knocked down after the lackluster report. With a 4% plus dividend yield and large buyback, Intel is not a name that shorts like to be in, but short interest has certainly risen to new highs lately.
Green Mountain Coffee Roasters (NASDAQ:GMCR):
Green Mountain's short interest only rose slightly during the last few weeks of March, but there are a couple of other items this name makes the list for. First, short interest has risen four straight times, and over that time we've seen a rise of nearly 7.3 million shares short, about a 27% jump. As you can see in the chart below, short interest had nearly fell in half, but it is starting to rise again. That's probably not too much of a surprise to some, with a stock that's gone from $15 to the high $50s since August and is near 52-week highs.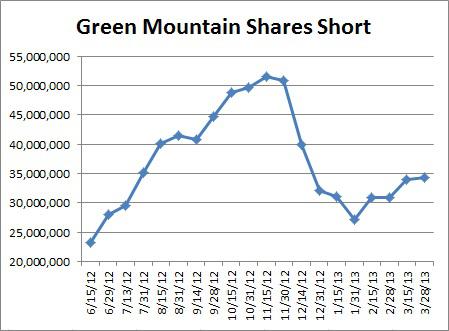 But the other item I wish to discuss here is the days to cover ratio. For those that don't know what this ratio is, it's the number of shares short divided by the average trading volume. So for instance, if a stock has 20 million shares short and the average volume is 5 million, the days to cover ratio would be 4.00. That's because it would take 4 full days to cover all the short positions, based on that average trading volume. With Green Mountain's trading volume on the way down, the days to cover ratio has now soared to 14, the second highest point in the past year. That means that if all the shorts needed to cover, it would take 14 full days based on the average volume. That's a high number, meaning a substantial short squeeze could occur.
When you combine the large short interest with the company's ongoing stock buyback plan, Green Mountain does have the potential for more upside. Of course, with a stock that's run from $15 to $57, you have to time your entry points. Recently, the stock pulled back from $59 to $53, and that was a decent opportunity to get in. Of course, Green Mountain's results will need to justify this rally, but remember, this company is only operating in the US and Canada currently. If they eventually start to build out their international business, you could be looking at tremendous potential for revenue and earnings growth.
Final Thoughts:
Investors in these five names are hoping that the recent increases in short interest are a one-time issue. If these names can produce good news going forward, the number of shares short will reverse, and for some of these names, a nice short squeeze could occur. One thing is certain. These names have all seen large increases in short interest, and we'll see if any make this list when we get the next update in a couple of weeks.
Disclosure: I have no positions in any stocks mentioned, but may initiate a long position in SOXS over the next 72 hours. I wrote this article myself, and it expresses my own opinions. I am not receiving compensation for it (other than from Seeking Alpha). I have no business relationship with any company whose stock is mentioned in this article.
Additional disclosure: Investors are always reminded that before making any investment, you should do your own proper due diligence on any name directly or indirectly mentioned in this article. Investors should also consider seeking advice from a broker or financial adviser before making any investment decisions. Any material in this article should be considered general information, and not relied on as a formal investment recommendation.