Both gold and bonds have traditionally served as safe havens, especially since 2007. But as the world economies are stabilizing both, unsurprisingly, have come under pressure. In this analysis we point out some key macro-economic and technical factors that have affected both these assets and why we believe that gold can retreat much further from here while bonds on the other hand are oversold.
Gold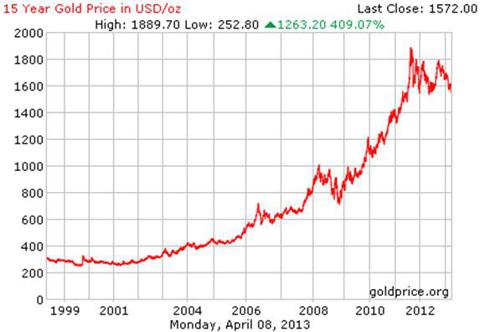 Since hitting nearly $1,800 back in September 2012, gold has fallen to $1,550 and more critically broken a couple of important support levels. The next key support level lies between $1,510 and $1,520.
The question in a lot of investor's minds is whether to buy gold here for a bounce towards $2,000 or is it headed to $1,000?
To determine the next path for gold, let us take a look at what has transpired in the macro-economic space. Gold has been hit due to multiple reasons:
1. Fiscal austerity is not good for gold
Europe has suffered its sovereign debt crisis and is not willing to embark on any new fiscal stimulus. Asia has been raising interest rates to slow growth and curb lending. Budget cuts in the US of $2.5 trillion to $4 trillion over the next decade point to fiscal austerity as well.
Gold's biggest allure is that it serves as a hedge against devaluing fiat currencies. That is why the pace of appreciation picked up sharply since the crisis of 2007. The global fiscal austerity is a major headwind for investor's appetite for gold.
2. India
Everybody knows that Indians love gold. But last year India imposed severe restrictions on loans to buy gold to protect the falling currency. A large current account deficit means that the Indian government would rather not spend its Rupees to import gold.
3. Financial market panic barometer reading is low
The measures taken by Europe last June to support the sovereign debt of weaker nations have effectively removed a major tail risk in the global financial systems. A lot of European money went into the safety of gold and it is now coming out.
Remember, gold pays no dividends or interest. In fact there is a cost to holding gold in the form of storage and insurance cost. So if the macro-economic conditions are not supportive of gold, it can fall pretty sharply.
While in the short term we are gold bears, our longer-term forecast for gold is higher, in fact much higher than $2,000 or even $4,000. Just not in 2013!
Bonds
Yields on the 10 year US Treasury notes have jumped from a low of 1.43% in July of 2012 to 1.80% of late.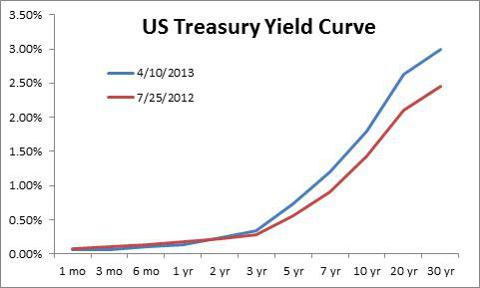 Source: US Treasury Department
There are several reasons given for this jump in yields, but in our opinion this jump in yields is premature. While the popular opinion is that US bond yields are headed higher over the next few years, we have presented a contrarian viewpoint here:
1. Fed rate hikes coming
The jump in yields and the subsequent bear steepening of the yield curve is being attributed to the upcoming Fed hikes in the short rates. We know that the Fed has made it very clear that they will not start raising rates until the jobless rate drops to 6.5%.
Here is a look at the trend of the current jobless rate which shows that we will reach 6.5% unemployment rate by December 2014.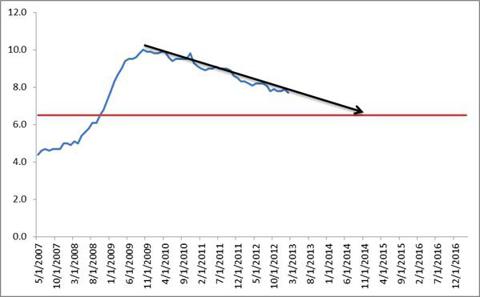 Source: Bureau of Labor Statistics
So, there is no surprise that the euro-dollar futures strip is also pointing to start in rate hikes by the end of 2014 as well.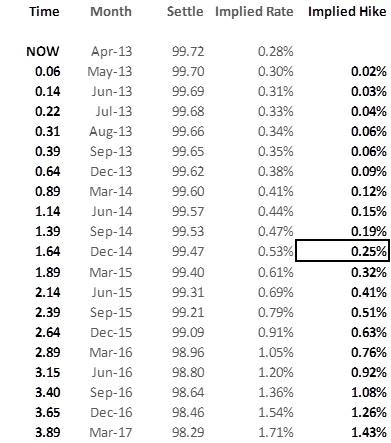 But that's where the problem lies. The market is priced for perfection. The assumption is that the job gains will continue at the same pace we have seen for the past six months (125,000 per month) in the face of reducing stimulus, budget cuts and austerity. The first warning shot was fired in March when we saw the jobs report show a gain of measly 88,000.
The other factor that the Fed will look at is the number of jobs gained and not just the drop in the unemployment rate, which can happen due to perverse reasons as well, such as people giving up looking for a job or settling for temporary jobs. This in fact has been the case and a major contributing factor for the drop in the jobless rate.
2. Inflation coming
The other reason for a jump in US bond yields being cited is the prospect of inflation. What inflation? Jobs gains are slow and wage gains are low. CPI for 2012 ran at an average rate of 2.1% which does not signal any inflation as far as the Fed is concerned.
Yes, we have had asset price inflation in stocks and real estate. But this is by design. The Fed's QE program was designed just for this purpose.
3. Quantitative Easing:
QE has also been removing Treasuries from the system and supply/demand equation means lower yields for Treasuries. For that to reverse, QE will have to stop and then reverse. No sign of it as the Fed is continuing with its rapid pace of bond purchases.
4. World will start dumping Treasuries
Currently there are no signs of sovereign wealth funds dumping treasuries and switching their reserves out of US Dollars. Long as they are holding US Dollar reserves, they have to hold Treasuries as the most liquid form of interest bearing securities on their Dollar reserves. The biggest threat to the US Dollar's reserve status is the RMB (Chinese Renminbi). But the RMB is a few years away from full convertibility and probably a decade away from when it starts to show up in world reserves in a meaningful manner.
Therefore, is summation, our view is that gold is most likely headed lower along with US bond yields.
Disclosure: I have no positions in any stocks mentioned, and no plans to initiate any positions within the next 72 hours. I wrote this article myself, and it expresses my own opinions. I am not receiving compensation for it (other than from Seeking Alpha). I have no business relationship with any company whose stock is mentioned in this article.