On November 17, 2008, the share price of Turquoise Hill Resources (NYSE:TRQ), then known as Ivanhoe Mines, plummeted to $1.72 a share, dropping from the $11.12 share price it had reached on August 25 of the same year. Not too long afterwards, as news of the resources at its Oyu Tolgoi mine in Mongolia became known, the share price gained momentum, soaring to a high of $28.55 on February 28, 2011.
click to enlarge image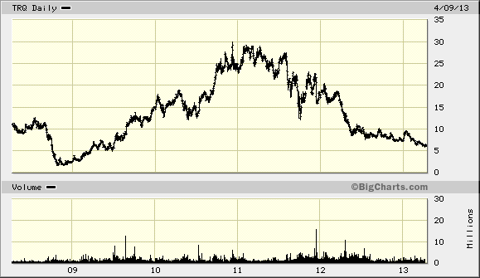 Since that time it had gradually dropped in share price, taking a big dive in early March of 2012, when it stood at $18.30 a share. About two months later, on May 14, it had fallen to $8.60 a share. As of this writing is trading at $6.44 a share.
In this article, we'll look at what the probable future share price of Turquoise Hill could look like once production at the mine begins in earnest. Based upon the current share price of the miner, my expectations are it could be a three-bagger, although it will certainly struggle to reach higher than that based upon the all-time high of $28.55 it climbed to in response to the targeted media coverage of the magnificent Oyu Tolgoi and its enormous mineral deposits.
Rio Tinto And Turquoise Hill
One major factor in the probability it will be difficult to reach the $28 share price again is Turquoise Hill has since had major partner Rio Tinto (NYSE:RIO) acquire a majority stake in it, which now stands at 51 percent. That occurred in January 2012.
While not necessarily a bad thing, it does take some of the luster off of the company, which had fought to maintain independence and control from Rio Tinto. That won't affect the share price in a big way, but I think psychologically it does lower the value of the company in the minds of some investors. That could shave some off of the price willing to be paid for Turquoise, although admittedly not a lot.
Nonetheless, all factors need to be considered when considering how high the share price of a company could go. In this case, it's the management that has basically been taken over, with Rio now calling the shots.
Oyu Tolgoi Mineral Resources
There are numerous minerals included in the Oyu Tolgoi location, with most investors focusing primarily on copper and gold. According to Turquoise Hill Resources, "independently verified estimates indicate that Oyu Tolgoi contains approximately 46 billion pounds of copper and 25 million ounces of gold in measured and indicated resources and an additional 55 billion pounds of copper and 36 million ounces of gold in inferred resources."
Additional resources at the mine include ore, silver and molybdenum. A March 2010 feasibility study shows the mine holds 380 million tons of ore, 7,601 tons of silver and 81,600 tons of molybdenum.
Long term, Rio Tinto estimates that Oyu Tolgoi will produce over $8 billion a year for up to 50 years.
Is Turquoise Hill Resources Ltd. Oversold?
Based upon the Relative Strength Index, or RSI, Turquoise Hill should definitely be considered oversold.
Recently, shares in Turquoise have been trading from a little under $6.00 a share up to around $6.50 a share. That brings the RSI reading from a little under 28 to a little over 28.
When compared to other metals, the RSI readings in many of those cases are mostly from 42 to a little over 50, to give an idea of the type of opportunity the Turquoise represents at this time.
The point is, it appears sellers could be reaching an inflexion point, and a rebound in the share price of Turquoise could be imminent. In other words, it's time to closely look at buy entry points at these levels.
Rising Costs At Oyu Tolgoi
In the overall scheme of things, the rising costs at Oyu Tolgoi will have a minimum effect on Turquoise Hill.
When including property, plant, development and equipment, final costs for Oyu Tolgoi will come to $6.2 billion. That's not too bad considering it's within about three percent of the budget.
It's the second phase of the project which has caused problems between Rio Tinto, Turquoise Hill and the government of Mongolia.
Even after cutting back, the project has already more than doubled in size, jumping from an estimate of $2.5 billion to about $5.1 billion.
The reason that is a problem is the Mongolian government may have to wait longer for its portion of profits from the deal. Capital costs are specifically worrisome to Mongolian authorities.
Mongolian Government
Speaking of the Mongolian government, this is an interesting and important part of the Oyu Tolgoi and Turquoise Hill story.
This isn't the case so much because it's the government entity ruling Mongolia, but rather because of the extreme inexperience it has in business matters in general, and mining matters in particular.
Consequently, it knows it's over its head, as evidenced by some of the decisions it is making that is detrimental to the country, and which reveals the inexperience and relative cluelessness those making decisions concerning the project represent.
One of the most obvious was the decision by the Mongolian government to ignore the current investment agreement which says the royalty rate will be 5 percent over the life of the agreement.
In its latest budget, the government included a progressive royalty plan, creating it out of thin air, seemingly disregarding the existing agreement in place.
What that does is give the appearance of a 3rd-world dictatorship rather than a government that could be considered low-risk by potential investors of all types.
That, included with the apparent inability to understand the concept of rising costs that can blow past projections, points to ignorant leadership at important levels. It also shows how Turquoise Hills understands this, as they responded by saying they're in no hurry to boost production to projected levels.
Turquoise Hills announced it will keep the expansion in the second phase to about 100k metric tons a day of ore for now. It was thought it would boost capacity to 160k metric tons. Now the question is whether or not this is a bluff or if the company really plans on keeping expansion on hold.
The mistake the government made was in showing its hand in a way that revealed it was desperate for revenue, while at the same time seemingly ignoring or not understanding the reality of business and capital costs. And as mentioned, putting together a budget that make it look petty and unreliable has hurt the government, raising doubts about the country as a predictable place to do business.
Why This Is Great for Turquoise Hills Investors
All of this almost meaningless hoopla is terrific for those interested in investing in Turquoise Hills, because in reality it is being overplayed in the media, and the chance of Mongolia ending the deal is miniscule at best.
In the end, it could cause some delays and result in a little bit smaller of a cut for Turquoise. When considering the larger scheme of things, it won't have much effect on Turquoise unless Oyu Tolgoi was to be nationalized.
Although a possibility, it's not considered to be a legitimate alternative for the country, as it would put the project on hold for even longer; something the government of Mongolia has no interest in happening.
It seems the worst that could happen is a short delay in commercial production. The reason I see this as terrific for investors is it has resulted in Turquoise Hills being oversold on the news, with many investors not understanding there isn't that much risk involved, even though the headlines and coverage give the appearance there is.
Earlier I had mentioned the idea that Turquoise shares could result in being a three-bagger. That is probably on the low end of the scale, and assumes someone entering at the $6.00 to $7.00 range.
Past Performance
Turquoise Hills soared when news of the resources of the mine were discovered and revealed. I don't think that same exuberance exists, now that more knowledge of the mine has emerged.
So taking into account the share price of Turquoise rising to a high of $28.55, it's doubtful that will happen again; at least in the next two or three years. I think once production begins, Turquoise could double in a fairly short time. It of course depends on whether or not there will be a delay in commencing commercial production as to the when of that.
Another factor is the global economy is still considered fragile, and while Turquoise will get a good boost, if China continues to slow, it could put downward pressure on commodity prices, which could cause Turquoise to grow slower than if it was in a more robust economic atmosphere. The result would be that it will take longer to reach the dizzying heights of the past when investors found out the size of the mine and the accompanying resources held in it.
This is the reason I say three-bagger. If the economy were better and the Mongolian government more reliable, we may have seen a four- or even five-bagger. I mean by that in a relatively quick period of time. There is nothing to suggest the global economy will recover any time soon, so the slowing growth will offset some the production that will increase at the mine.
Having said that, production itself will ensure Turquoise has a terrific future ahead of it, and at today's share price, it's a no-brainer to look at this being a terrific entry point for those looking at a long-term view.
For those wanting to make fast money, investing at this level almost ensures it. If commercial production begins in July or soon afterwards, there will be a nice, quick profit to be made.
There is more risk in shorting the stock at this time, and some uncertainty as to whether or not the stock will drop even further or if the Mongolian government has another surprise awaiting investors.
At this price, it's not that important for those looking for a nice upwards move in the share price, which will happen when commercial production begins. The reason that's almost a certainty is because it isn't being priced into the shares at this time, with the negative news driving the stock down.
Conclusion
Turquoise Hills Resources' share price is being driven by the news. The news makes it seem there are enormous problems and challenges concerning the Oyu Tolgoi deal, when in fact they aren't really that difficult to overcome. It also appears there really isn't as big a rift between Turquoise Hills, Rio Tinto, and the Mongolian government than the news stories insinuate.
This is important because the share price of Turquoise has fallen to levels where it may be difficult to enter again going forward. That doesn't mean it can't fall further, but at these levels, it's a great place to get in rather than try to time the lowest entry point. Once Turquoise begins to take off, those wanting to get in will find themselves chasing the share price up.
It could drop further in share price if another negative news story appears which causes even more concern from those not familiar with Turquoise Hills. Barring that, we are at a very good entry point.
What is different now than with the share price high in February 2011 is there is a little cloud hanging over the stock now. For those looking to invest in Turquoise, this is terrific, as it was difficult to measure the company back then because it had taken off based upon the resources financial news outlets continually reported to be in the mine.
Most investors understand that now, and the fact that none of that has changed and the stock is priced at between $6.00 and $7.00 per share, points to the reality that there may not be a better time to acquire some shares of the company.
Once the news is reported about the Mongolian government and Turquoise working out their differences, along with the start of commercial production, the share price is going to get a nice boost.
For long-term investors, even as production costs rise, the overwhelming amount of resource in the mine will overcome that. It wouldn't surprise me to see Turquoise hit $18 a share, or even a little more, within a couple of years. That's probable with or without a strong global economy.
Turquoise Hill Resources Ltd. holds a 66 percent stake in the mining project. The Mongolian government owns the other 34 percent. Rio Tinto owns 51 percent of Turquoise Hill.
Disclosure: I have no positions in any stocks mentioned, and no plans to initiate any positions within the next 72 hours. I wrote this article myself, and it expresses my own opinions. I am not receiving compensation for it (other than from Seeking Alpha). I have no business relationship with any company whose stock is mentioned in this article.