The recent resignation by KPMG as auditor for Herbalife (NYSE:HLF) for reasons beyond HLF's control seems to us as the biggest non-event for HLF this year. The risks of de-listing and not being able to find a replacement firm are very much overblown and in our mind represent a tremendous opportunity for longs to buy more shares and for shorts to cover their positions. We researched accounting firms that are considered by accountingtoday.com to be considered in the top 100.
Here is a snapshot of the top 25: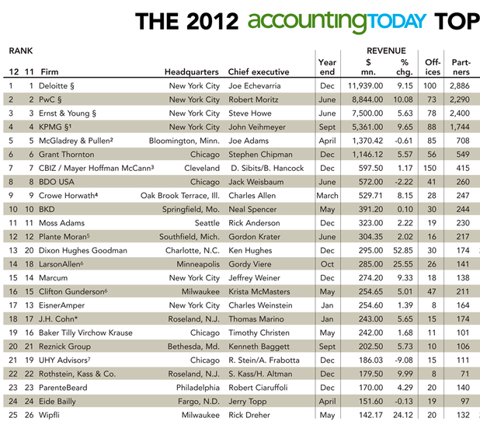 Click to enlarge
We have worked with seven of these firms other than KPMG over the last 25 years and believe that any of them would be eager to become the auditor for HLF. Any opinion to the contrary is inexperienced conjecture. We urge investors to call any contacts they have in public accounting firms on this list and ask them if what we are stating is correct. We are highly confidant that the answers you will receive will support our opinion presented here.
Many investors are lured into the false premise that public companies must use a "Big 4" accounting firm. That clearly is not true as reported in a recent article published by the U.K.'s Competition Commission. Here are some excerpts:
The CC states that because companies find it difficult to compare alternatives with their existing auditor, prefer continuity and face significant costs in switching, they are reluctant to change auditor and so lack bargaining power. Audit firms outside the 'Big 4', which dominate the market, find it difficult to show that they have sufficient experience and reputation to win the audit engagements of FTSE 350 companies.
We believe that the same facts apply here in the U.S. In fact, the resignation of KPMG gives management the impetus to make a change and explore options otherwise not a priority for them. The result very well can be a smaller firm with lower costs for the company and more tailored service for the client as well. Ultimately, the shareholders benefit from the change as we get a fresh set of eyes providing guidance to our management.
Also, here is an update information on the most recent short position report from NASDAQ:

This show a small drop in the overall short position outstanding, but more than a 60% increase in the days to cover ratio because of the drop in volume of trading in the name. In our opinion this makes a short term squeeze more probable should there be a quick resolution to the auditor saga, about which we are optimistic.
We also encourage investors to read our article regarding the possible pluses which HLF may be working on in the area of hiring a or several celebrity "professionals" which could greatly enhance product appeal. It seems the company is moving in that direction with this recent announcement: "Herbalife Appoints New Nutrition and Fitness Experts".
Disclosure: I am long HLF. I wrote this article myself, and it expresses my own opinions. I am not receiving compensation for it. I have no business relationship with any company whose stock is mentioned in this article.