In optimizing the relationship of risk and return, many would argue there's not a better investment right now than U.S. residential real estate, especially in various geographic regions of the country. Aside from directly investing in U.S. real estate, some other strong investment options are homebuilders such as KB Homes (NYSE:KBH), Lennar (NYSE:LEN), Toll Brothers (NYSE:TOL), and Taylor Morrison (NYSE:TMHC). Silver Bay (NYSE:SBY) and Blackstone (NYSE:BX) have also been extremely active in acquiring distressed real estate in various markets and leasing the properties. Last, but not least, one could also go the route of exchange traded funds with iShares Dow Jones US Real Estate ETF (NYSEARCA:IYR) and the SPDR Homebuilders ETF (NYSEARCA:XHB).
While the risk / return of U.S. real estate looks extremely attractive right now, the resurgence of residential real estate in the U.S. has been somewhat bifurcated. By applying four filters, this article identifies the best regions in the country for potential appreciation in home prices.
There are many variables that can impact real estate and prices, but one of the more significant variables that has impacted the recent resurgence of U.S. real estate is how various states conduct their foreclosure process. All U.S. states subscribe to either "Title Theory" or "Lien Theory" in how they go about the foreclosure process. "Title Theory" states basically process foreclosures in a more expedited manner using non-judicial proceedings, while "Lien Theory" states tend to have a much more protracted foreclosure process using judicial proceedings. With the Great Recession resulting in so many foreclosures across the country, "Title Theory" states have been able to process these foreclosures much faster than "Lien Theory" states. This has essentially allowed "Title Theory" states to clear their delinquent loans and reduce "shadow" inventory to an insignificant supply. As a function of the free market in these states, supply has been significantly reduced to a point well below equilibrium and thus the basic economic fundamentals of supply & demand have kicked in and prices have and continue to move up. Consequently, most "Lien Theory" states have not been able to process their foreclosures expediently, and hence they still have many delinquent loans and a higher potential for "shadow" inventory. Lender Processing Services provides a very thorough analysis of these differences as well as a state by state analysis, here's their most recent report.
Secondly, if we add the filter of the country's demographics and anticipated migration patterns, it becomes more apparent as to which areas of the country are likely better investments for residential real estate. Migration patterns have shown and continue to forecast more people moving to the sunbelt and coastal regions of the U.S.
Thirdly, let's pick out the states most impacted by the Great Recession (i.e. most distressed real estate by highest number of delinquent loans) These areas are, in theory, where the best "deals" should be found.
Lastly, while Case-Shiller data is a lagging indicator, it's interesting to look at performance of various markets by benchmarking against the Case Shiller Composite 20 Index. We specifically focused on performance since 2011 and developed trendlines. Again, while past performance is no indicator of future performance, it's readily apparent as to which markets have pricing momentum as compared to the Composite 20 Index. Here's the chart we developed. We haven't seen anyone else analyze Case Shiller Index Spreads and we're hoping we're the first.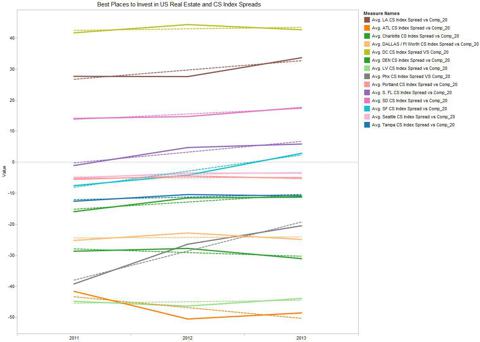 Click to enlarge
When we combine these four filters (Title Theory states, sun belt / coastal states, states most negatively impacted by the Great Recession, and Case Shiller Index Spread momentum) - there are several markets that clearly stand out of the crowd, specifically Phoenix, San Francisco, Los Angeles, San Diego, and Denver.
The Phoenix market has been on fire since bottoming in mid 2011. In accordance with our 4 filters, Phoenix is a Title Theory state, it's a sun belt state that typically sees strong population growth, it was one of the hardest hit markets during the recession, and the supply / demand fundamentals set the stage for strong price performance (as seen in the Case Shiller Index Spread and the forecast is for more appreciation in the near term.
The California markets of San Francisco, Los Angeles and San Diego exhibit many similar characteristics and the driving force in pricing is again, low supply and high demand. Being a Title theory state has helped California markets to clear delinquent loans - which has reduced supply dramatically. Additionally, California real estate took a strong blow during the recession and it's easy to see strong price increases when the lion's share of distressed assets have been absorbed by investors or owner occupants and the available supply is predominantly traditional resales.
While some may not see Denver as a sun belt or coastal state, it does get nearly 300 days of sunshine each year - which happens to be more than San Diego or South Florida. So that debate aside, it does meet all the other parameters of our 4 filters - it's a Title theory state, real estate took a solid hit during the recession there, and it exhibits strong real estate fundamentals that have and should continue to push prices.
There are some other attractive markets - specifically, South Florida, Las Vegas, Tampa, and Seattle. We'd anticipate that these markets will perform above average, but there are a few things that are disconcerting about these markets. Since Florida is a Lien theory state, it has not successfully cleared a large number of non current loans - Loan Processing Services measures Florida's % of non current loans at 18.5%. Compare that against Phoenix at 6.7% and there's definitely less risk in Phoenix for the boogie man known as "shadow inventory". Las Vegas should be in a similar position to it's close neighbor, Phoenix, but while the state is Title theory, it enacted laws during the recession that basically slowed down the foreclosure process, ultimately leaving Las Vegas with a backlog of delinquent loans that will need to be cleared - it's non current loan % is 14%. Lastly, we have nothing significantly against Seattle, we just didn't see strong enough price performance to lump it in with the likes of Phoenix, San Francisco, etc. Seattle is a fascinating market as a corporate incubator, has strong employment, and solid wage growth - which makes it a very attractive market.
Investing in real estate in the five markets identified by our 4 filters should be a great strategy. These markets have little downside risk, solid and improving market fundamentals, and are poised for further price increases as a basic function of short supply and strong demand.
Disclosure: I have no positions in any stocks mentioned, and no plans to initiate any positions within the next 72 hours. I wrote this article myself, and it expresses my own opinions. I am not receiving compensation for it (other than from Seeking Alpha). I have no business relationship with any company whose stock is mentioned in this article.