There is no more intriguing instance of insider purchasing currently occurring on the market than that being conducted by Opko Health's (NYSEMKT:OPK) CEO, Dr. Phillip Allen Gamma Frost. Dr. Frost's conviction in his company's future has been witnessed through his large insider purchases of common stock made almost daily over the past few years. With a track record of investing into his own success, Dr. Frost had previously made his large fortune by forming his own companies and allowing them to get acquired. Most recently in 2006, Dr. Frost sold his company Ivax Corp to Teva Pharmaceutical (NASDAQ:TEVA), the $33.45 billion company at which he now serves as the Chairman of the Board. Now it appears that with the most atypical regularity, Dr. Frost has been purchasing unusually large amounts of Opko's common stock.
Why this matters in both the short- and long-term is largely due to the symbolic nature of Frost's purchases. As I described in my article written here on October 1, 2012, Dr. Frost's ongoing buying represents a very unique situation for investors. The CEO carries a net worth of $2.4 billion as of September 2012, a valuation larger than the current $2.30 billion market capitalization of Opko Health. His excessive purchasing power combined with an incessant will for the last 5 years to buy large tracts of shares has enabled the company with a driving market force-- regardless of whether the current valuation is reflective of current operational performance.
For as it stands now, OPKO remains far from justifying its current market capitalization based on its operational performance alone. Despite raising its revenues from $27.98 million in 2011 to $47.04 million in 2012, the company's operational losses rose from a loss of $23.19 million to $37.27 million. Much of this was in part to a balloon in SG&A expenses along with an increase in research development. However, it remains much too early to expect the company to be profitable as it continues to develop its novel diagnostics and pharmaceutical products.
Nevertheless, with the company's current market capitalization at $2.30 billion and a book value per share of $0.59 as of December 2012, this gives Opko a rather large price-to-book ratio of 11.74. With such a vast premium to the company's book value, it's clear that investors continue to look forward as to the addressable markets Opko is currently targeting. Perhaps this is why fellow Seeking Alpha contributor Robert Mohle suggests that Opko may be worth $14.88 in the present.
Regardless of the actual valuation of the company (which may very well remain subjective through a lack of product demand clarity and the company's ability to execute) the one thing that does remain clear is that Dr. Frost continues to set the bar as to how investors should look at his company. Through his unusual consistency in purchasing, the CEO has laid a firm historical basis as to his own confidence in the company. More importantly, his own convictions have lately been leaving a few cues for investors to take note of as seen in the chart below: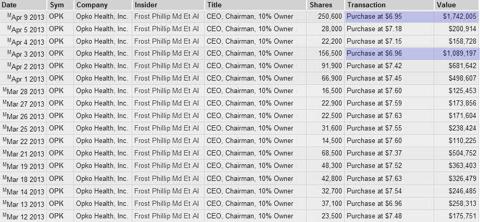 Click to enlarge
What's interesting to note about his most recent purchases is that Dr. Frost has gone out of his way to indicate that the $7 mark remains the current line at which he is willing to buy heavily. The $1.74 million purchase on April 9 and the $1.08 million purchase on April 3 were two separate instances in which the CEO fervently purchased shares as the company's overall price began to slip. What remains interesting is that a look further back when company was progressively trading in the $6 range showed no such out-of-the-ordinary transactions as those seen here.
Concluding Thoughts:
With Opko Health, I believe it remains far from clear as to whether the company remains undervalued, properly valued, or even overvalued. The company's products remain very promising and yet far from proven. At the same time, the company's performance remains far from progressive while its valuation simultaneously remains far from reasonable. Yet the one decisive factor that continues to drive this stock price forward is the consistent insider purchasing of common stock by the company's CEO, Dr. Phillip Frost.
As long as the CEO continues to place his overwhelming confidence into this company's common stock, it should remain difficult for any investor to hold a short position in Opko. This is ironic as the percentage of the float that was short was a high 20% as of March 15, 2013. This amounts to a total of 27.36 million shares short. Considering that the CEO is essentially providing an ongoing share buyback for investors over multiple years with his purchasing, their need to cover these shares may eventually prove to be inevitable.
Contrary to Seeking Alpha contributor Richard Pearson's assertions in his article, the overall effect of Dr. Frost's enduring purchases remains very stimulating for the company's growing valuation. According to the last Form 4 filed here, Dr. Frost now controls roughly 140.38 million shares of common stock - a significant portion of the 324.26 million shares outstanding. His latest intentional efforts to buy heavily upon seeing weakness in the price should stand as a warning to those betting against the company. At least thus far, it has managed to prop the stock up by those investors betting alongside his purchasing power.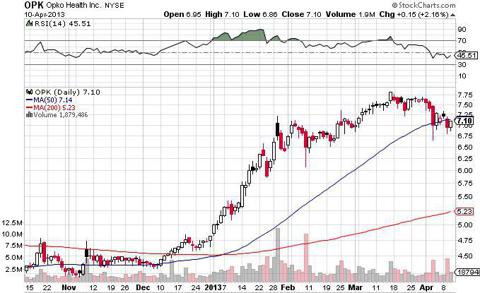 Click to enlarge
Disclosure: I am long OPK. I wrote this article myself, and it expresses my own opinions. I am not receiving compensation for it (other than from Seeking Alpha). I have no business relationship with any company whose stock is mentioned in this article.