On Wednesday, April 10th, Jamie Dimon called the London Whale fiasco "the stupidest and most embarrassing situation I have ever been a part of," in his annual letter to shareholders, which was a far cry from calling the incident "a tempest in a teapot."
In the wake of Mr. Dimon's change of pace with regard to the London Whale scandal, I wanted to take a look at a few of near-term catalysts that are fueling my decision to avoid JPMorgan Chase (NYSE:JPM) over the next 6-12 months.
Shares of JPM, which currently possess a market cap of $187.44 billion, a P/E ratio of 9.36 and a PEG ratio of 1.33, settled at $49.34/share on Wednesday. One of the things to point out for growth investors is the fact that shares of JPM are actually 10.29% higher since January 1st of this year. For those of you who may be considering a position in JPMorgan Chase, from an income perspective, shares of JPM currently possess a yield of 3.12% ($1.52) and a fairly low payout ratio of 22.00%.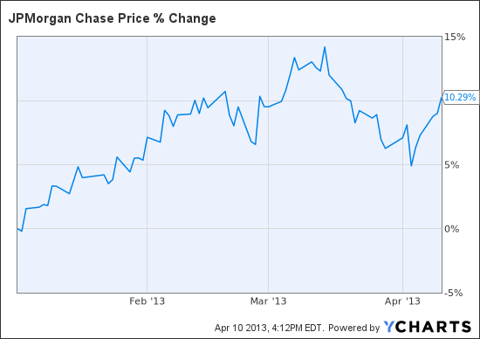 JPM data by YCharts
In my opinion, there are two near-term catalysts to keep in mind when it comes to JPMorgan Chase, and they are the Federal Reserve's request for a revised 2013 Capital plan and the potential fate of the company's Chairman and CEO, Jamie Dimon.
2013 Capital Plan: When JPMorgan Chase noted the acceptance of its 2013 Capital Plan, by the Federal Reserve, there were three key points with regard to dividend distributions and share repurchase plans. According to the terms of the company's 2013 Capital Plan, shareholders of common stock will receive a first quarter dividend of $0.30/share, shareholders of preferred stock will receive a second quarter dividend of $0.38/share, and JP Morgan Chase will initiate a share buyback program between April 1st 2013 and March 31st 2014 valued at $6 billion dollars.
In a perfect world, the Federal Reserve would have gone ahead and given JPMorgan Chase its proverbial green light for the next 12 months. Unfortunately for JPM's sake, we do not live in a perfect world and the banks' ability to be prepared for anything and everything has once again come into question. Why? According to a recent article by Peter Eavis, "Although the Fed has allowed JPMorgan and Goldman Sachs (NYSE:GS) to move forward with their respected capital plans, regulators have said that the proposals contain "exhibited weaknesses" which were "significant enough to require immediate attention".
Is it safe to say JPMorgan Chase can handle a fallout similar to the one it had faced during both the U.S. financial crisis of 2008 and the London Whale scandal of 2012? No it's certainly not safe to say, and as a result the Fed is calling on JPMorgan Chase to "forecast how much capital would be eaten away by losses in hypothetical economic situations and market turbulence".
Although it's very tough to try and predict how much capital would be lost in the wake of another financial crisis-- or for that matter another London Whale scandal, I think investors need to seriously question the capital reserves, and better yet the preservation mechanisms JPMorgan Chase has in place to protect itself against such types of crisis.
The Fate of Jamie Dimon: After reading his annual letter to shareholders, it seemed as though Jamie Dimon was sealing his own fate when he discussed how the bank would handle the next financial crisis.
According to Halah Touryalai of Forbes, "In a single sentence, Dimon, who said "I make this promise: We will be a port of safety in the next storm", is telling not just shareholders, but the world really, that another financial disaster is inevitable and when it arrives, his bank will be "a source of strength, not weakness, for the global economy" much like it was in 2007 and 2008 when it acquired both Bear Stearns and Washington Mutual".
Has Jamie Dimon gone mad, or is this a last ditch effort to retain his position as Chairman and CEO of JPMorgan Chase? I wouldn't go so far as to call to the man mad but I do think his motives need to be questioned. It seems as though he's forgotten about the current sensitivity surrounding the fragile state of the U.S. economy and attempted to jump head first into the role of hero. Something at this point, the bank may not be entirely cut out for.
In my opinion, you can't just go around saying that your bank is going to be the port which weathers all storms especially after the Federal Reserve has questioned the strength and fortitude of your bulkhead. Capital preparedness isn't the only thing Jamie Dimon needs to worry about, his tenure at the top of one of the country's largest banks may be coming to an abrupt halt considering the fact his reputation, of all things, has been tarnished over the last year, due largely in part to the way the bank handled the London Whale scandal.
Conclusion: When it comes to those who may be looking to establish a long-term position in JP Morgan Chase, I'd actually look for a pullback of at least 10% - 12% before establishing a long-term position. Although shares of JPMorgan Chase have performed well over the last 12 months, I'd remain cautious on the stock as both the fate of the bank's Chairman and CEO Jamie Dimon and Federal Reserve's reaction to its revised capital plan for 2013 cold play vital roles in the performance of the stock throughout the course of the next 6-12 months.
Disclosure: I have no positions in any stocks mentioned, and no plans to initiate any positions within the next 72 hours. I wrote this article myself, and it expresses my own opinions. I am not receiving compensation for it (other than from Seeking Alpha). I have no business relationship with any company whose stock is mentioned in this article.