Five years have passed since the start of the global financial crisis with less scope for a meaningful recovery. There has been a sharp fall in real yields since 2000 (typically over 4%). Real bond yields are low, but real cash returns are even lower. Treasury bill yields are currently close to zero in most developed markets, and real rates are (mostly) even lower. Over 2012, the real return on Treasury bills was −1.7% (NYSE:USA), −2.7% (NASDAQ:UK), and −2.0% (Germany and France); it was (just) positive at 0.4% in Switzerland and 0.3% in Japan, but only because both experienced mild deflation.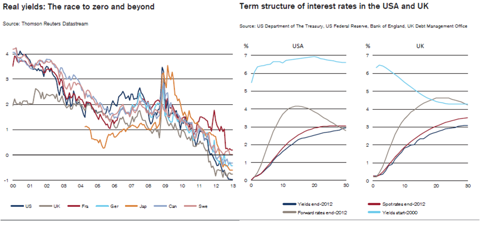 Source: Credit Suisse Global Investment Returns Yearbook 2013
The current market consensus, portrayed in the yield curve (see above chart), is that nominal interest rates will remain very low for the next few years before rising steadily, but not to the levels seen in 2000 or even pre-financial crisis. It could take another 6-8 years for short-term real interest rates to turn positive, and markets are not expecting a return to the high levels experienced since 1980 (2.7% averaged across countries). Instead, markets suggest a drift in the direction of the long-run average of 0.9% for the USA and UK. In this article, we assess the factors that affect growth in the developed world.
Deleveraging ... Still a long way to go:
The current economic scenario is dominated by deleveraging along with the central bank's monetary and fiscal responses to the slow economic growth. There is a lot of flab to be lost when it comes to deleveraging. Developed countries are awash in debt, while their emerging counterparts are a lot better.

Source: Black Rock Institute
This implies that we could be in for a extended period of subpar economic growth. Empirical research work done by Reinhart and Rogoff on the history of financial crises and the relationship between growth and public liabilities supports the view that current debt trajectories are a risk to long-term growth and stability. Many developed countries have already have debt greater than 90% of GDP. Burdens above 90% are associated with 1% lower median growth.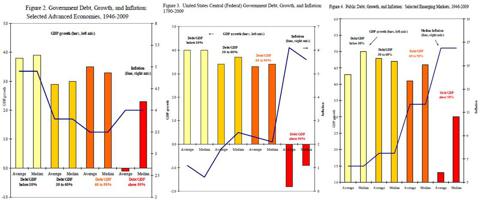 Source: Growth in time of debt,
With growth difficult to achieve, inflation is other major tool to extinguish debt for these developed case. However historical results show that it has often been the case for Emerging Markets, but for advanced economies, the historical correlation is weaker.
Demography: No more driving growth
Increases in human capital coupled with productivity are the two major driving factors of economic growth. Any shortfall in working age population not offset by improvement in productivity gains would hurt growth negatively. The ageing process, represented by a fall in the working age population, an increase in the elderly population and the shrinking or stagnation of the child population, is set to affect the developed regions of the world.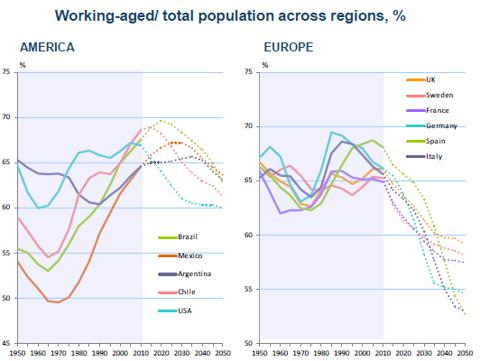 Source: SG Cross Asset
The effects of an increase in the number of elderly people in a population relative to working-aged people are twofold: i) an increase in the dependency ratio and ii) loss of growth potential.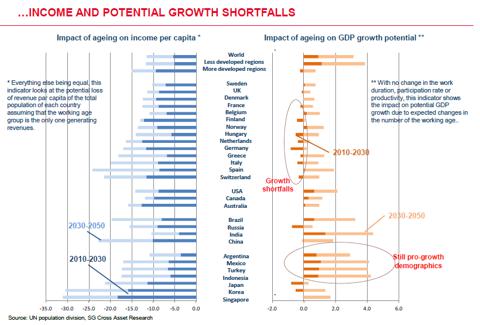 Source: SG Cross Asset
Investment Implications: Large output gap, anaemic growth and zero bound interest rates have led central banks of developed economies to resort to unconventional methods to stimulate growth. The world's monetary authorities have been forced to ditch their inherent conservatism and embrace extreme measures on an unprecedented scale to stave off financial and economic collapse. Though the end-game of central bank's interventional policies to stimulate growth are not clear, the outcome and investment of these ultra-loose monetary policies could be quite significant for the next decade:
Huge deficits with less scope for fiscal discipline
Negative interest rates for the next decade:

Deleveraging of private economic sectors and financial institutions
Asset price inflation especially in emerging markets, commodities and other risk assets
Emerging Market: EM have attained critical mass and are a bigger source of global economic growth. They are in much better shape than the developed world, with a better fiscal position and lower debt. In my previous article, "Emerging Markets: In Search Of Sustainable Growth For The Next Decade, I have written about the need for increasing allocation towards EM. Southeast Asia is also home to an expanding middle class, creating investment opportunities in industries such as organized retail, consumer products, healthcare, education, transportation, and telecommunications. Companies that get significant share of income from emerging markets include Vodafone (NASDAQ:VOD), Sanofi (NYSE:SNY), Philip Morris (NYSE:PM), Colgate-Palmolive (NYSE:CL), Novartis (NYSE:NVS), Yum Brands Inc (NYSE:YUM), Glaxosmithkline (NYSE:GSK) and Procter & Gamble Co (NYSE:PG). Investors can use any of the following options:
Country Specific ETFs: iShares MSCI BRIC (NYSEARCA:BKF), Market Vectors Brazil Small-Cap (NYSEARCA:BRF), iShares MSCI Brazil (NYSEARCA:EWZ), Market Vectors Russia (NYSEARCA:RSX),iShares MSCI Turkey Investable Market (NYSEARCA:TUR), Market Vectors Vietnam (NYSEARCA:VNM). iShares MSCI Thailand (NYSEARCA:THD), iShares FTSE China 25 , iShares MSCI All Peru (NYSEARCA:EPU), Global X FTSE Colombia 20 (NYSEARCA:GXG), PowerShares India Portfolio (NYSEARCA:PIN), iShares MSCI Malaysia Index (NYSEARCA:EWM), iShares MSCI South Korea Index (NYSEARCA:EWY), iShares S&P India Nifty 50 Index (NASDAQ:INDY), iShares MSCI South Africa Index (NYSEARCA:EZA) and iShares MSCI Russia Capped Index (NYSEARCA:ERUS)
High-quality Dividend payers: Institutional investors in need of immediate cash payouts have limited product offerings that could offer meaningful earnings gains. Companies with stable dividends profile and investment grade look attractive under this scenario. Potential MLP income plays include Kinder Morgan Energy Partners LP (NYSE:KMP), Energy Transfer Partners LP (NYSE:ETP), Enterprise Product Partners LP (NYSE:EPD) and Williams Partners LP (NYSE:WPZ).
Small luxuries are attractive as consumers strive to buy the best with their limited purchasing power. With limited budget, consumers buy the best of what they can afford even in the value category. Top picks in the retail segment include Michael Kors (NYSE:KORS), Fossil (NASDAQ:FOSL), Coach (NYSE:COH), Lululemon (NASDAQ:LULU), True Religion (NASDAQ:TRLG), Nordstrom (NYSE:JWN), Tiffany (NYSE:TIF) and Movado (NYSE:MOV). In the restaurant sector investors could invest in Darden Restaurants's (NYSE:DRI), Din Equity's (NYSE:DIN), Starbucks (NASDAQ:SBUX) and McDonald's (NYSE:MCD).
Productivity enhancers: Cost pressure to lower cost should help productivity enhancers. Labor cost-cutting has been in vogue in recent years, but does have its limits. So anything - high tech, low tech, no tech - that helps customers reduce costs and promote productivity will be in demand. Readers can refer to my previous article "The Rise Of Robot: Is Industrial Automation The Next Big Secular Growth Driver?", to know more about Industrial automation theme. Top picks to play the theme include Rockwell Automation (NYSE:ROK), 3D Systems (NYSE:DDD) , Abb Limited (NYSE:ABB), Emerson Electric (NYSE:EMR), Stratasys Inc (NASDAQ:SSYS) and Siemens (SI)
Health care providers (NYSEARCA:IHF) and medical office buildings: Demand for medical services is set to balloon since the population is aging rapidly; technological advances are increasing demand for more medical services. Around 32 million more Americans will be covered under the 2010 health care law by 2019. Medical office buildings also offer good investment opportunity after demand was projected to increase 19% by 2019, some of it because of the new law and the rest because of population growth. Investors could invest in the following stocks:
Health care providers: Aetna (NYSE:AET), Cigna (NYSE:CI), UnitedHealth Group (NYSE:UNH), Humana (NYSE:HUM) and WellPoint (WLP),
Gold: Readers can refer to my previous article "How Gold Can Help Stabilize The Balance Sheets Of Central Banks" to understand how Gold could be the ultimate bet to play the Central Bank stabilization theme. Further I have also written on the reason as to why gold could gain importance as a reserve asset and a FX hedge against global currency war in "3 Reasons To Be Bullish On Gold". Investors can get exposure to gold using the following ETFs: SPDR Gold Shares (NYSEARCA:GLD), Market Vectors Gold Miners ETF (NYSEARCA:GDX) and Market Vectors Junior Gold Miners ETF (NYSEARCA:GDXJ)
Japan Reflation Game: I have written about how the new Japanese government is taking measures to reflate itself in my previous article "Asia And Japan's Reflation Game." The two major outcomes of Japan's (NYSEARCA:DXJ) reflation game are: Yen (NYSEARCA:FXY) depreciation and growth in Japan's domestic demand. Countries like Indonesia (NYSEARCA:EIDO), Thailand and Malaysia would be the major beneficiaries of Japan's robust demand growth and its complementary trade association. Korea will be the biggest loser as it competes directly with Japan in the export market. Japanese companies like Toyota (NYSE:TM), Honda (NYSE:HMC), Toshiba and Mazda (OTCPK:MZDAY) would be the biggest winners at the expense of U.S. companies like Ford (NYSE:F), General Motors, Caterpillar (NYSE:CAT), General Electric (NYSE:GE) and Deere (NYSE:DE) from yen devaluation.
Disclosure: I have no positions in any stocks mentioned, and no plans to initiate any positions within the next 72 hours. I wrote this article myself, and it expresses my own opinions. I am not receiving compensation for it (other than from Seeking Alpha). I have no business relationship with any company whose stock is mentioned in this article.