Other than original equipment manufacturers, Heico Corporation (NYSE:HEI) is the world's largest manufacturer of FAA-approved jet engine and aircraft component replacement parts. The company also believes it is a leading manufacturer in various types of electronic equipment for the aviation, defense, electronics, industrial, medical, space, and telecommunications sectors. So why has this $2.3 billion company, which was organized in 1957, not come across investors' radar? Many small-cap stocks are not covered by Wall Street analysts and thus don't make mainstream headlines and news feeds. This opens a door for potentially finding undervalued securities and creating the alpha we all desire in our portfolios. Throughout this article, I will take a deep dive into Heico's operating components and make my case for why this undervalued industry leader may make sense for your portfolio. Many investors who want exposure to the airline industry may blindly buy shares of Boeing (NYSE:BA), Delta (NYSE:DAL) or United Continental Holdings (NYSE:UAL) to help satisfy their diversification needs. While these stocks may offer upside potential, they are the most widely followed in the world, and if you subscribe to the efficient market hypothesis, should be priced the closest to their fair value. Spending time evaluating companies that stay out of the media's headlines can lead to uncovering niche market companies like Heico.
Brief Overview
I mentioned above that Heico was organized in 1957; however, the company we see today which has grown tremendously through acquisitions, really began its new phase in the early 90's. Since that time period, the company has completed more than 45 acquisitions in various niche aviation markets. We often see a common theme of corporations going on a buying spree when earnings begin to slow; however, Heico takes a different approach. Management has proven its ability to select prime targets which offer strong cash flow potential and trade at reasonable valuations to complement its existing product mix. Management isn't just making quick purchases to meet quarterly expectations, their interests are aligned with shareholders. A metric I favor when looking at smaller companies is executive and board ownership. Heico's executive officers and board of directors own 21% of common stock and 6% of Class A stock outstanding (class A has 1/10 voting rights of common). This is a big plus and shows continued confidence in the growth of their company.
Heico generates revenue from two main operating segments, The Flight Support Group (FSG) and The Electronic Technologies Group (ETG). FSG is the larger of the two components accounting for 63% of revenue in FY12, 70% in FY11 and 67% in FY10 (ETG accounting for the remaining portion). In order to offer a replacement part approved for use and sale, the FAA needs to issue you a PMA (Parts Manufacturer Approval). The PMA process is rather intricate and is based on some subjective factors including the FAA's "confidence level in the applicant." Heico offers customers over 6,000 unique parts, for all of which PMAs have been received. I think their history and industry wide recognition give them a competitive advantage, especially in niche markets, when it comes to getting new parts approved.
The Flight Support Group sells jet engine and aircraft component replacement parts in addition to repairing and overhauling jet engines. The main competitors in this space are OEM jet engine makers which include General Electric (NYSE:GE), Pratt & Whitney, and Rolls Royce. Heico estimates they currently supply less than 2% of the market for jet engine replacement parts. This alone is a staggering statistic and provides a compelling case for the market share which is up for grabs in my opinion. The company adds new products at a rate of approximately 300 to 500 per year.
The Electronics Technologies Group, although smaller, offers tremendous growth potential in the years ahead I believe. Research and Development expenditures in this group were $17.7 million in FY12 compared to $12.7 million for the much larger Flight Support Group. Management has reiterated that these R&D capabilities are a significant component and integral part of the corporate growth strategy (in addition to offering a substantial tax credit). While ETG does offer numerous products, some of the more noteworthy include infrared simulation, electro optical laser products, underwater locator beacons, surgical lasers, RF/microwave amplifiers, transmitters and receivers. The products from ETG are used in aircraft, satellites, spacecrafts, ships and handheld devices.
My estimates on the future
As I begin to model out fiscal-year 2013 for the company, there are many variables that come into play. One of the biggest question marks is acquisitions. Depending on how much management spends during the course of the year could have a significant impact on my estimates listed below. I will highlight some critical assumptions and then build out a projected income statement for Heico. Please note that the estimates below are not guaranteeing any of the results will be met. These estimates are strictly based upon management's guidance, the company's SEC filings, press releases, historical data, and my estimates.
Management recently increased their guidance on revenue from 5.5%-7% to 6%-8%. My estimates fall slightly above the median at 7.25%. Neither of these estimates include potential acquisitions.
No change in gross margins year-over-year and a slight drop in operating margins year-over-year.
Higher interest expense due to increased borrowing under the revolving line of credit.
Tax rate of 33% (provided my management).
Management estimates net income growth of 9%-11%, my estimates are roughly 10% growth year-over-year.
| | | | | | | |
| --- | --- | --- | --- | --- | --- | --- |
| | 2012 | | | 2013 | | |
| | Full Year | Common Size | YOY Growth | Full Year Estimate | Common Size | YOY Growth |
| Revenue | $897,347,000 | 100.00% | 17.32% | $962,404,658 | 100.00% | 7.25% |
| Cost of Goods Sold | $569,911,000 | 63.51% | 16.20% | $611,126,958 | 63.50% | 7.23% |
| Gross Profit | $327,436,000 | 36.49% | 19.31% | $351,277,700 | 36.50% | 7.28% |
| Selling, general and admin exp | $164,142,000 | 18.29% | 20.68% | $177,563,659 | 18.45% | 8.18% |
| Operating Income | $163,294,000 | 18.20% | 17.96% | $173,714,041 | 18.05% | 6.38% |
| Interest expense | $2,432,000 | 0.27% | 1612.68% | $3,000,000 | 0.31% | 23.36% |
| Other income (expense) | $313,000 | 0.03% | 389.06% | $300,000 | 0.03% | -4.15% |
| Pretax Income | $161,175,000 | 17.96% | 16.50% | $171,014,041 | 17.77% | 6.10% |
| Income tax expense | $54,500,000 | 6.07% | 27.04% | $56,434,633 | 5.86% | 3.55% |
| Net Income | $106,675,000 | 11.89% | 11.76% | $114,579,407 | 11.91% | 7.41% |
| Less: NI attributable to noncontrolling interests | $21,528,000 | 2.40% | -4.88% | $21,000,000 | 2.18% | -2.45% |
| Net Income attributable to Heico | $85,147,000 | 9.49% | 16.93% | $93,579,407 | 9.72% | 9.90% |
| | | | | | | |
| Basic Shares Outstanding | 52,689,000 | | | 53,400,000 | | |
| Basic EPS | $1.62 | | | $1.75 | | |
| Diluted Shares Outstanding | 53,299,000 | | | 54,000,000 | | |
| Diluted EPS | $1.60 | | | $1.73 | | |
Source: Heico SEC Filings, Heico Management Guidance, and my estimates based upon historical data and future expectations. Estimates given above are no guarantee of future results, please evaluate the company in greater detail before making investment decisions.
Valuation
Assuming the estimated results above are met, we can begin to value shares of Heico. The first and quickest form of valuation is done using historic price-to-earnings multiples. As the chart below shows, Heico has traded as high as 38x TTM earnings and as low as 13x TTM earnings during the recession. A more normalized trading range seems to be in the 25x-30x earnings range. We are currently sitting towards the lower end of this range and given management's estimate for slower earnings growth this year, it appears justifiable. However, if major acquisitions are made or sales pick up during the back half of the year, we could see our EPS estimate move higher, and the market may very well award shares of HEI with a higher multiple.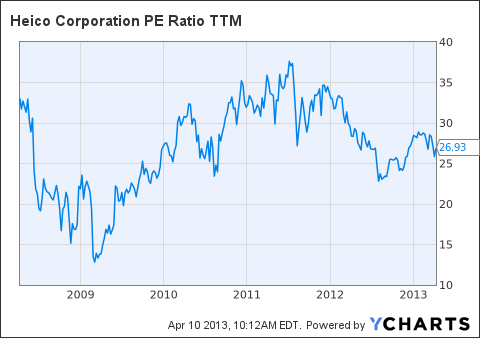 HEI PE Ratio TTM data by YCharts
Assuming my estimates above lean towards the conservative side, if Heico earnings $1.73 per diluted share, then at the end of FY13 shares could be worth roughly (note my estimates do not include the quarterly dividend):
-$1.73 per diluted share X 25x TMM earnings = $43.25
-$1.73 per diluted share X 30x TTM earnings = $51.90
Another valuation technique is the discounted free cash flow analysis. Heico has consistently been able to generate cash flow from operations and free cash flow. This has been a major factor as to why they have continued to operate and acquire new companies. This rapid cash flow generation immediately following an acquisition generally leads to the debt issued being quickly paid down. Below is a table of operating cash flow minus capital expenditures which equals free cash flow. Given that acquisitions may be lighter than normal during FY13 and defense spending projections are weaker than anticipated, cash flow from operations is expected to be $140,000,000.
| | | | | | | | |
| --- | --- | --- | --- | --- | --- | --- | --- |
| | 2007 | 2008 | 2009 | 2010 | 2011 | 2012 | 2013 (estimate) |
| Cash Flow From Operations | $57,450,000 | $73,162,000 | $75,817,000 | $101,717,000 | $125,518,000 | $138,585,000 | $140,000,000 |
| Capital Expenditures | $12,886,000 | $13,455,000 | $10,253,000 | $8,877,000 | $9,446,000 | $15,262,000 | $20,000,000 |
| Free Cash Flow | $44,564,000 | $59,707,000 | $65,564,000 | $92,840,000 | $116,072,000 | $123,323,000 | $120,000,000 |
| Growth Rate | | 33.98% | 9.81% | 41.60% | 25.02% | 6.25% | -2.69% |
Source: Heico SEC Filings
I will caution you to remember that the inputs assumed for a discounted cash flow analysis can have dramatic changes on the share price if altered. I have run two hypothetical scenarios which I feel are conservative measures of future free cash flow growth:
Assumption #1 - Beginning in 2014, free cash flow growth of 5% for two years and then growing at 3% in perpetuity. Discount rate used is 9%. Expected share price today would be $47.04.
Assumption #2 - Beginning in 2013, free cash flow growth of 7% for two years and then growing at 4% in perpetuity. Discount rate used is 9%. Expected share price today would be $56.06.
Blending together the scenarios listed above (discounting the P/E valuation at 9%) and finding a simple average gives us an expected value of Heico at $47.90, roughly 15% below current levels. Again, my assumptions do not factor in any potential acquisitions or other catalysts (explained later on) which could significantly alter results.
Concerns/Risks
As with any investment, there are always risks involved. I would urge investors to read the recent 10-k filing to familiarize themselves with Heico's company-specific risk before investing in the stock. Of course, this is not a recommendation to buy or sell any security. The main concerns I have are the excessive amounts of goodwill and intangible assets on the balance sheet and increased level of debt, which includes off-balance sheet items.
Goodwill and intangible assets are always a concern when substantial amounts exist on the balance sheet. As of the recent quarter-end, Heico has total assets of $1.192 billion. Of this amount, over 58% was allocated to these two categories, $544 million for Goodwill and $151 million for intangible assets. While I am not throwing up a cause for concern regarding management's calculation of these line items, investors should note that any major impairment charges would have significant effects on corporate health and the stock price. The recent 10-k filing specifically says "Assumptions utilized to determine fair value in the goodwill and intangible assets impairment tests are highly judgmental" (emphasis added).
Debt is another possible risk to keep on your radar. Historically, the company has proven itself to be a creditworthy borrower, so I am not immediately concerned about this issue. And given the incredibly low interest rate environment (1.2% on the revolving credit facility as of the most recent quarter end), I would prefer for Heico to borrow so long as the benefits outweighed the costs. However, if goodwill is impaired to a large degree, debt covenants may be in violation. Additionally, the company utilizes operating leases which I include in debt calculations:
Long-Term Debt:
Borrowings under revolving credit facility $250,000,000
Capital leases and notes payable $4,881,000
Off-Balance Sheet Items:
Operating leases: $35,101,000
Guarantees: Workers Comp claims $1,500,000
Total Adjusted Debt: $291,482,000
The table below shows the debt-to-equity ratio as it stands on the balance sheet as of January 31, 2013. The next column shows that same ratio factoring in my adjustments mentioned above. The following two columns show net debt, which is simply debt minus cash and cash equivalents. Although not factored into my calculations, it is worth noting that in December of 2012, the existing credit facility was extended until December 2017 and has the capacity to lend $800 million to Heico if needed.
| | | | | |
| --- | --- | --- | --- | --- |
| | Debt-to-Equity | Adjusted Debt-to-Equity | Net Debt-to-Equity | Adjusted Net Debt-to-Equity |
| As of 1/31/13 | 40.29% | 46.10% | 37.28% | 43.10% |
Source: Heico SEC Filings
Other Current Developments
On the recent quarterly earnings call, a major concern from numerous analysts was the impact of defense spending cuts in the United States. During FQ1, the company had a reduction in sales to the electronic technology group due to uncertainty surrounding the sequestration. Management is expecting another light quarter during FQ2, but sales are anticipated to pick up during the back half of the year. Seasonally sales are weak towards the end of calendar years and tend to pick up during the middle of the calendar year. Another concern lies in Europe. Although not a significant contributor to revenue, the slowdown and uncertainty is weighing on Heico's customers. A turnaround or further clarity from US defense spending or European customers has the potential to be a positive catalyst which could boost earnings this year.
Heico also has a total backlog of $252 million (as of October 31, 2012), this is up from $224 million a year prior. Order backlog continues to grow and shows a pocket of strength from customers. This number should be watched carefully as it will show the strength of Heico's existing relationships overtime.
Conclusion
Shares of HEI have taken a breather following the 40% rally since last September. Given the weak first fiscal quarter, a period of consolidation may be warranted. Investors looking to gain exposure to this niche market may have an opportunity to begin building a position at current levels. Keep in mind the various catalysts which could provide a boost to the share price. Those include but are not limited to; more immediately accretive acquisitions, a rebound in US defense spending, turnaround story in Europe, better-than-expected turnaround in the second half of the year or further consolidation in the airline industry. The latter provides Heico with an opportunity to create larger contracts with better pricing power and better customer relationships.
There are a number of small competitors which may give you exposure to specific niche markets in the airline industry. However, I believe Heico has created a more diversified portfolio of products which may offer less product-specific risk. Consider evaluating the following companies if you wish to find a more pure-play company:
AAR Corp (NYSE:AIR)
GenCorp (GY)
Kratos Defense & Security (NASDAQ:KTOS)
Crane Co (NYSE:CR)
Parker-Hannifin (NYSE:PH)
Curtiss-Wright Corp (NYSE:CW)
Exelis (NYSE:XLS)
Textron (NYSE:TXT)
Ducommun (NYSE:DCO)
Kaman Corp (NASDAQ:KAMN)
Woodward Inc (NASDAQ:WWD)
Consider your investment goals and objectives before initiating a position in Heico and please remember that the value of investments in equity securities, like HEI, will fluctuate in response to general economic conditions and to changes in the prospects of particular companies and/or sectors in the economy.
*Note: All data reported and graphed is pulled directly from Heico's SEC filings, conference calls, and press releases.
Disclosure: I am long HEI. I wrote this article myself, and it expresses my own opinions. I am not receiving compensation for it (other than from Seeking Alpha). I have no business relationship with any company whose stock is mentioned in this article.