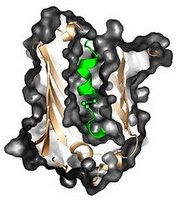 When I initially posted about swine flu stocks and investments likely to benefit from the worsening news out of Mexico and the US this past weekend, I anticipated some additional follow through from Friday, but nothing like what we saw at the open Monday. Some of the shares mentioned continued to rally over 100% in pre-market trading, seemingly reaching a peak right at the open, then slowly drifting back toward a still impressive but much muted gain.

Vaccine Player is Dominant

One of the most prominent players was Novavax (NVAX) on claims that they can turn around a vaccine in adequate supply more so than seemingly any other outfit. As evidenced in this 2 day candlestick chart, toward the close Friday, shares rocketed up close to 100% at the end of Friday's trading session and followed through more in after-hours. With all the buzz and anticipation of Monday's open, shares opened at an astounding $3.88 from an open of $0.80 at Friday's open for a return of close to 600% for those savvy enough to sell at the open Monday.
click to enlarge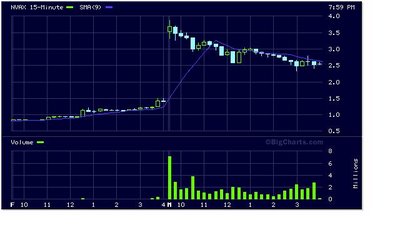 But what a disappointment for those of us buying in the AM pre-market session or worse, at the open. Shares gradually fell to $2.50 per share, resulting in a decline of over 30% during the actual trading session. Paradoxically, shares rallied again in After Hours Monday another 16% to $2.95.

Other Swine Flu Investments

Aside from my thoughts on non-stock swine flu investment plays, tickerspy did a pretty neat job of pulling together an index of companies rallying on the news. They've dubbed this list the Swine Flu and Bird Flu Stocks Index. Here's a screen shot of Monday's trades in the 16 stock index: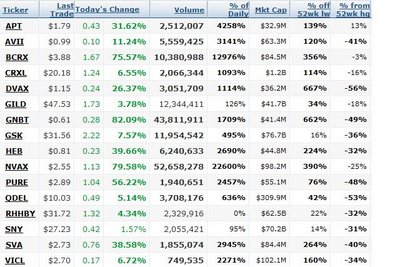 Other Sectors

As evidenced by this neat graphical representation of Monday's sector behavior via the Map of the Market, while the overall indices were only down nominally at less than 1%, there was a major divergence between health shares (up big) and many other sectors, namely airlines, casino and entertainment stocks (for obvious reasons). For instance, Carnival (CCL) was down 13.5% on the day. Presumably, investors are trading on the notion that the prospect of 3000 passengers stuck in a confined vessel for a week during a pandemic flu outbreak may not be palatable.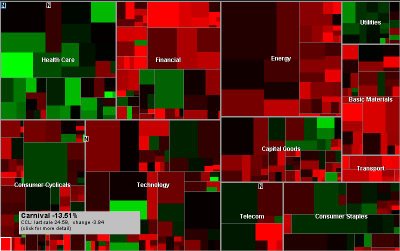 In overseas trading Monday night, while travel shares continued to decline, major indices were actually back up. Since this situation will take weeks or months to evolve (no pun intended), you'll likely see spurts up and down as news trickles in. For instance, the fact that existing antivirals are effective against the flu is a welcome sign. The fact that no deaths have occurred in healthy individuals in the US yet makes one question whether this was one of the largest overreactions in recent history. However, counter that with the first news (should it hit) that existing therapies are no longer effective, the strain has mutated enough that it's now more virulent and contagious than the strain we're seeing now, and we may be in for more major swings just like we saw Friday and Monday.

What does Monday's session show? Everybody thought they could make some quick easy money on this trade (myself included) and it's likely that a select few made a 1 day windfall which was subsidized by the retail investor.

Disclosure: Long NVAX with May 2.50 puts.