It appears that stock analysts have faith in a US employment recovery, as evidenced by their ratings on Robert Half International (NYSE:RHI), Korn/Ferry International (NYSE:KFY) and Kelly Services (NASDAQ:KELYA).
These names are currently seen as timely for the year ahead by each of three rating services (Reuters StarMine, Standard & Poor's and ValueLine). There are only 43 stocks on which those rating services all agree at this time, and these 3 are among them.
These staffing agencies fortunes rise and fall with the level of employment activity (not total employment levels, but employment activity levels).
We don't own them and do not intend to do so, but we think it is an interesting note about economic expectations by analysts that these staffing stocks are consensus stock picks for year ahead performance.
Revenue, Profits Growth and Leverage:
These charts from Y-Charts, compare how their revenues and EBITDA have grown and how their leverage has changed over the past 10 years: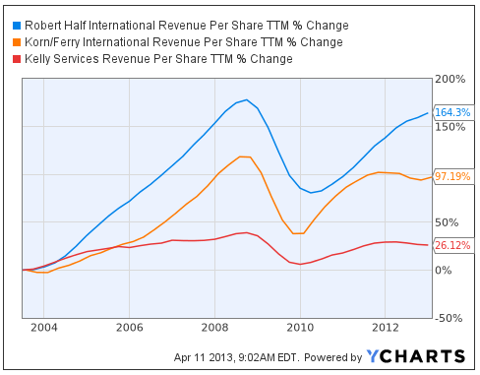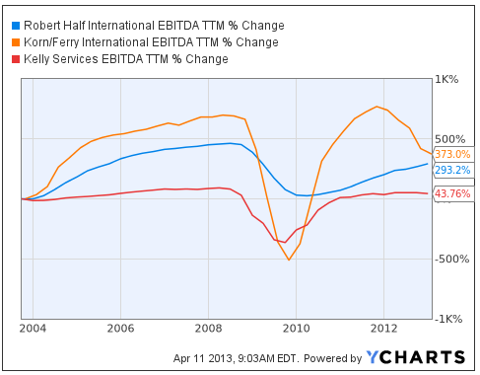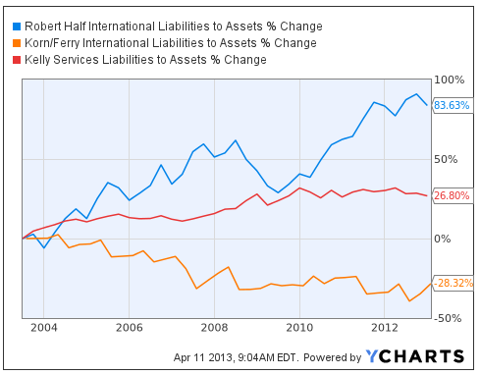 Dividends:
Robert Half and Kelly each pay a dividend, but Korn/Ferry does not.
Robert Half has a forward yield of 1.80% and has paid and increased dividends since 2004. Kelly has a forward yield of 1.10% and has paid dividends since 1992, but with both increases and decreases. They cut their dividend by more than half in August 2011.
Valuation:
Here are valuation metrics for each from Yahoo Finance:
Robert Half

Korn/Ferry

Kelly

Street Year Ahead Price Projections:
Here are the "Street" views on these 3 stocks as found at 4-traders.com. There are not very many analysts contributing to these forecasts (only 13 for RHI, 6 for KFY and 4 for KELYA).
Robert Half International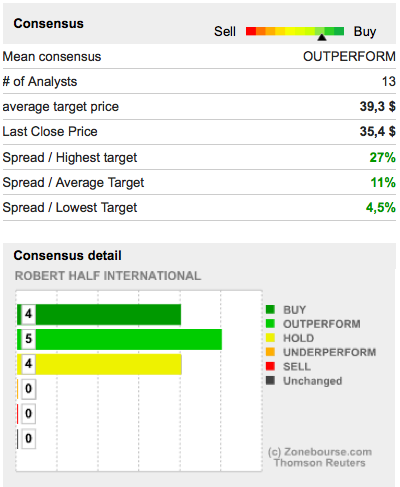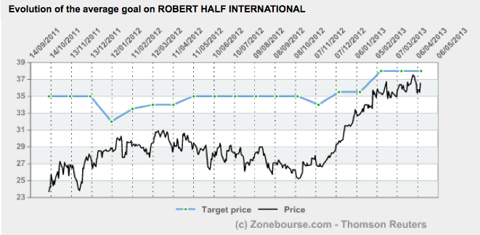 Korn/Ferry International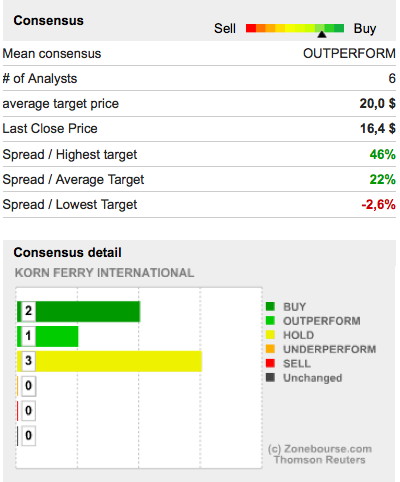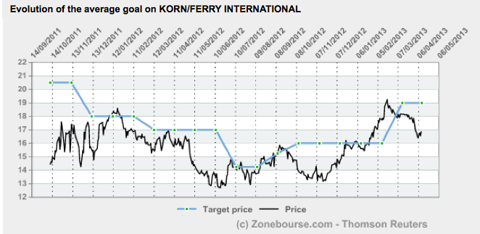 Kelly Services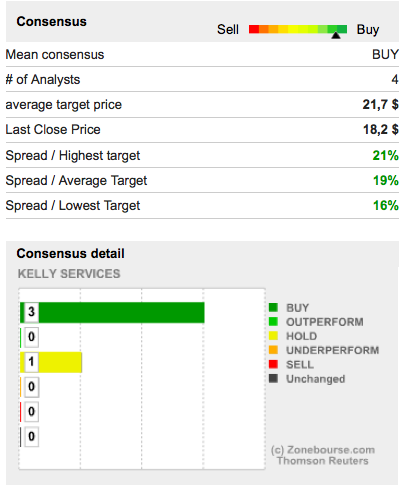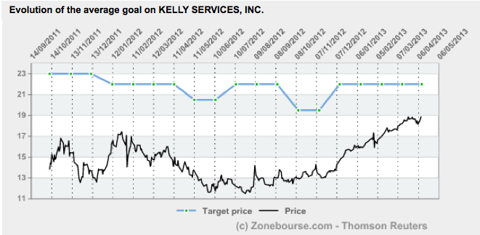 Disclosure: QVM has no positions in mentioned stocks as of the creation date of this article (April 11, 2013). We certify that except as cited herein, this is our work product. We received no compensation or other inducement from any party to produce this article, but are compensated retroactively by Seeking Alpha based on readership of this specific article.
General Disclaimer: This article provides opinions and information, but does not contain recommendations or personal investment advice to any specific person for any particular purpose. Do your own research or obtain suitable personal advice. You are responsible for your own investment decisions. This article is presented subject to our full disclaimer found on the QVM site available here.