Groupon Inc. (NASDAQ:GRPN) is a stock that I have been accumulating recently. GRPN's stock price has plummeted from $30 in late 2011 to the current price of around $6. Recently, a change in trend has been seen and I like the potential of the company going forward. Most of my friends and co-workers use GRPN on a daily basis and the recent coupon with Starbucks (NASDAQ:SBUX) created a lot of hype on GRPN.
The company
GRPN operates as a local commerce marketplace that connects merchants to consumers by offering goods and services at a discount. It serves over 150 markets in the U.S. and over 100 markets in Europe. Unlike advertising, the merchant pays nothing to advertise the ad. GRPN takes 50% of the cost to buy the coupon, whilst the company keeps the rest. For example, if a coupon is selling for $50, Groupon will keep $25 of the cost.
Fundamentals
The company has a valuation of $4 billion. What excites me is the fact that GRPN has $1.2 billion in cash and $0 debt. This negates the need of any secondary offering of shares. Also this huge cash position will create an ideal scenario of buying back shares, as the float is huge at 300 million shares. I expect that the new management will take this into consideration in the next earnings call in early May. The cash position can also be used to buy any small and upcoming companies.
One should also note that GRPN has 41.7million shares short. This is approximately 21% of the float, which is huge, and one can expect a short squeeze to take GRPN higher eventually.
The company also has 11000 employees. I believe this number is too big considering this is an online marketplace. It would be nice if management does something about this too.
CEO's departure
In March, GRPN announced that management had fired the CEO. I believe the company is now turning around. I am hoping that the new management that is brought in can turn things around, and whilst this can take a few earnings reports, I like the chances here.
Earnings analysis
The last earnings report by GRPN was impressive. Q4 provided the best evidence yet that customers love groupons. Firstly GRPN announced that it had its strongest sequential increase in absolute billing dollars in its history, growing more than $300 million, stronger than its previous record by over $40 million, and growth re-accelerated to 25% quarter over quarter. There was a reduction in local margins in the last quarter and more top merchants were attracted to do business with GRPN. Mobile accounted for 40% of the company's overall revenue, up from 33% in the previous quarter
As more and more people start using GRPN, I expect big numbers in 2013. The company is forecasting $56 billion in revenue for 2013, and with a market capital of $4 billion, I think this is a very cheap price at around $6.
Technical analysis
Let's have a look at the daily chart. Once can see that the price is now over the 4-, 8- and 50-day moving averages, indicators I use that show that institutions are loading and supporting the price. Note that the break of the descending trend line is taking shape, something that will create higher prices. The next resistance is the gap fill at around $6.60. Also note that a golden cross just occurred recently, where the 50-day and 200-day moving average crossed over. Another bullish sign.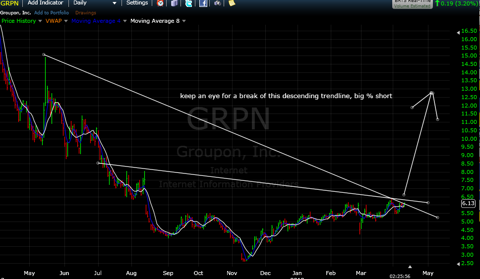 The weekly chart is also an interesting one. One can observe how there is resistance at the 50-day moving average at $6.27. I expect this to clear it shortly. Also two nice hammers in the last two weeks.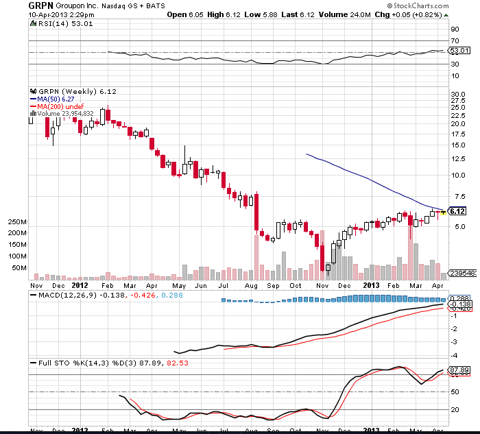 Conclusion
The bears will come out in full force to tell you that GRPN faces big competition with Facebook (NASDAQ:FB) and Google (NASDAQ:GOOG) coming up with their ideas. Others will tell you that Amazon (NASDAQ:AMZN) is where buyers usually shop. I beg to differ.
I remain a buyer in GRPN both in stock and May calls and leaps. I like this stock for 2013 and will be adding on any dips. The recent management changes, the return to profitability for 2013, the huge cash position and the big percentage of float being short are enough reasons to believe in the company and to stay long for the upcoming year.
Disclosure: I am long GRPN. I wrote this article myself, and it expresses my own opinions. I am not receiving compensation for it (other than from Seeking Alpha). I have no business relationship with any company whose stock is mentioned in this article.