The recent insider selling action has been much in focus for Dollar General (NYSE:DG). While around 30 million shares were predetermined to be sold for a total of over $1.5 billion on April 3rd this year (as was already reported in this press release), further selling action can follow, resulting in a drop of stock price.
Kohlberg Kravis Roberts & Co (NYSE:KKR) sold more than 15 million shares, reducing its direct holdings to around 24.65 million shares (or a 7.4% stake, down from 16.4%). And KKR is not done with it. Buck Holdings LP, which is a limited partnership venture controlled by KKR again, sold more around 29.5 million shares on the same day. Just for the record, KKR Holdings, Buck Holdings and Goldman Sachs held around 85% of the shares of the company, which was brought to public in 2009.
Even the company's CEO, along with a couple of senior vice presidents, sold over 300,000 shares to the public. If the insiders are leaving the company, it can be for two reasons, viz. no further expectation and no future potential. No further expectation means that they do not want to invest in it anymore, moving on to better alternatives. That's what private equity businesses do. However, does company's senior management do that? I doubt. No future growth potential means that the company cannot go up from here onward. While the former is not that important, the latter does make me worry.
At present, KKR still remains the largest shareholder of the company, followed by Goldman Sachs Group (NYSE:GS), which owns around 15.7 million shares, or roughly 4.7%. Goldman Sachs first invested around $605 million during the $7.3 billion worth private equity buyout of Dollar General, and then had made billions through stock sales, investment banking and management fees. Nonetheless, it still is a part owner of Dollar General. What if it sells a part of its ownership too?
Here is a glimpse of the insider transaction on the eventful day.
As an investor, let us dig a bit deeper into the present disposition of the stock.
Recently, Dollar General announced the pricing of an offering of $400 million of its 1.875% senior notes due 2018 and $900 million of its 3.25% senior notes due 2023. In addition to the $1.3 billion worth senior notes offering, the company also expects to enter into another $1.85 billion worth revolving credit facility on both term loan and cash flow bases.
With current interest rates probably at their lowest, most companies are looking to refinance the debt portion. Recently, Target Corp (NYSE:TGT) announced cash tender offerings to for up to $1.2 billion in several series of notes due 2028 and 2031. In case of Dollar General, the notes alone would result in a yearly interest expense of around 36.5 million. Although the revolver credit facilities might come with higher interest rates, the drawing of credit solely depends on the company's performance. Thus, it might save another hundred or so million dollars in interest payments in the coming year or so.
While long term debt (with present quarterly interest expense being around $27.5 million) continually slid downward in the past couple of years, it must be noted that Dollar General is doing a great job managing its external liabilities.
With revenue increasing by over 185% in the last 5 years, the company has expanded considerably with annual sales worth $16.02 billion. And that is not going to decline either, as Morgan Stanley's (recent survey on 1200 consumers says that the 2% payroll tax increase did not affect shopping. "Lower income shoppers were least aware of the tax change," analyst Mark Wiltamuth said. "This removes much of the bear case risk of a collapse of the lower income consumer." If that was the reason of an upgrade of Dollar Tree (NASDAQ:DLTR), then it should result in an upgrade of Dollar General as well.
Not only that, the company's gross margin of 31.74% and operating margin of 10.33% is better than or in par with most other retail giants, except Dollar Tree's 35.87% and 12.44% respectively. And above all, it has been rising steadily along the last few years, and is expected to continue so.
And to top it, free cash flow seems to have ratcheted up over the last couple of years. Cash is mostly needed to amortize debt obligations and indulge in research and development in an easy entry industry like this.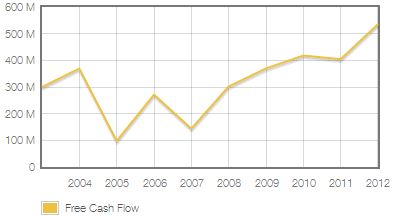 And with a LT obligations-to-EBITDA ratio of 1.33x, the company is financially secure at the moment.
In terms of valuation, the company is trading in par with its immediate peers. The company's PE ratio of 17.6x is in line with Family Dollar Stores' (NYSE:FDO) 16.82x and Dollar Tree's 17.13x. Moreover, it seems that the PE ratio (TTM) has become more aligned with the EV/EBIT ratio from the graph below. With the steady P/BV ratio, the stock is trading at a steady level right now.
Unless dividend payout is being initiated with the $140 million sitting on the balance sheet (which sounds impossible to me), or the company buys more stocks back with the money, the price should depend solely on the financial performance of the company.
Having said that, according to the U.S. Census Bureau, the U.S. retail and food services revenue for February this year climbed 1.1% from the previous month and 4.6% from February last year to $421.4 billion. It might be the 4th consecutive rise on a monthly basis as well as the first highest YoY monthly rate since Sept 2012. And this is mainly due to an improving job market and stronger household finances that helped consumers, which helped the economy overcome higher taxes and gasoline prices.
Yet, the U.S. retail industry has not reached the much-needed stability, and with changes in consumer shopping patterns, it might take some time to reinvent full-fledged sales growth. Shifting of operations and transitioning to online shopping platforms, just like Macy's (NYSE:M) and Nordstrom Inc. (NYSE:JWN) are doing at the moment, might take some time, coupled with the economic sluggishness. In short, much work needs to be done.
As Alison Kenney Paul, vice chairman and U.S. retail and distribution leader with Deloitte LLP, said:
"Developing profitable growth strategies will remain challenging in sluggish economies such as North America and Europe. Discerning shoppers equipped with Internet-friendly devices will likely continue searching for value in the products they desire. Engaging and enticing them to spend more may not be easy. Topline growth is likely to result for those retailers able to drive customer loyalty through innovative products and service offerings, and by expanding into untapped international markets."
To sum it up, while Dollar General looks financially steady, the global economic conditions, along with the Internet revolution, might take a toll on the company's performance. The decision depends on you. The company looks fine while the industry looks hazy. Moreover, with "big money" leaving the company, I doubt how fired up the management would be. I would wait a couple of quarters to see how things evolve and then make a judgment. What would you do? Weigh in with your comments.
Disclosure: I have no positions in any stocks mentioned, and no plans to initiate any positions within the next 72 hours. I wrote this article myself, and it expresses my own opinions. I am not receiving compensation for it (other than from Seeking Alpha). I have no business relationship with any company whose stock is mentioned in this article. Numerical data vary according to sources and are best for comparisons only.