| | | | |
| --- | --- | --- | --- |
| | | | |
| | | | |
| | Basic Materials | | |
| | | | |
| | Consumer Services | | |
| | | Financials | |
| Health Care | | | |
| | Industrials (+) | | |
| | | Oil & Gas | |
| Technology | | | |
| | Telecommunication (-) | | |
| | | Utilities (-) | |
Where have all the reasonable people gone?
A few weeks ago, we mentioned how we were spending quite a bit of time looking over the data we've compiled over the past two years and understanding how it has actually performed. Here at First Coverage, as you might know, we provide the tools that allow the opinions of the sell-side to reach their buy-side clients in an efficient, organized fashion. Because we do this, we're able to aggregate the thousands of ideas each week that are being communicated and get a real understanding of how the sell-side feels about the market place in real time.
Anecdotally, we knew we had something predictive based on the movements we had captured and wrote about in these weekly columns. However, when everything was said and done, while the market was imploding and most were losing their heads (and their bank accounts), investing based strictly on how our 'Sentiment' calculation was changing would have managed to dramatically outperform the market benchmarks. (See graph below)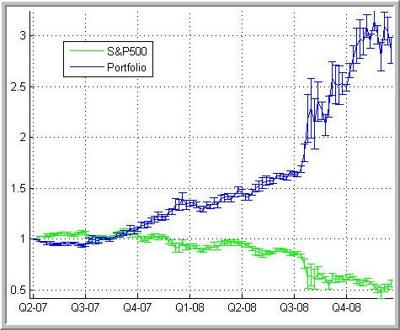 What's more, the aggregate wisdom of the sell-side (which is the whole basis of the sentiment index) would have helped an investor make a profit in each of the last seven quarters and surprisingly would have managed to generate this return by holding positions for an average of three to four weeks and being long for almost half of the two-year period.
Most important of all is an understanding we now have that the greatest returns were generated by focusing not on the absolute level of sentiment, not on whether the number was up or down from the previous week, but simply by identifying the moments in time when there was a 'meaningful' move in sentiment opposite from the way the market had felt previously (e.g., a bullish trend turned bearish or a bearish trend turned bullish).
All that being said, it's more important to understand why this is happening than the returns that were historically made in a theoretical portfolio.
There are two types of investors in the marketplace…always have been, always will be. The first type is you, me and everybody else who are politely referred to as the 'emotional' investor. We buy stocks, we fall in love with them, we look for bargains, and we hold them. We cause bubbles like tech in 2000 and real estate in 2007…we do this, and we do it well.
That being said, in most market conditions, 'We' are opposed by the 'rational' investor, or the 'arbitrageurs.&r... These are investors that don't let the emotions enter into their investment process. They are institutionalized, run based on algorithms, have quantitative backgrounds, have spent their careers (and processing power) looking for market inefficiencies, hammering them back to efficient pricing levels and making sure that the market place stayed efficient…so what's changed?
Well…in a nut shell, a lot of the arbitrageurs aren't around anymore. Their capital has been depleted, pulled or the balance sheets that remain are a mess. In addition, even the ones that are around don't currently have the risk appetite (or permission) to take advantage of inefficiencies where they exist. In short, without as much arbitrage capital, emotions are able to run wild over this market place and will continue to be the driving force for short-term market direction until a balance has been re-established over a multi-year cycle of replenishing the coffers of the arbitrageurs.
So, with a greater understanding of the importance of sentiment in a market like this, we've identified below (and will continue to identify going forward) the three stocks with the most bullish and bearish changes in sentiment over the last week.