Apple (NASDAQ:AAPL) continues to be one of the most discussed stocks in the market. Buying shares has been like trying to catch a falling knife over the past seven months. However, it feels as if the tenor and sentiment is starting to change on the shares and a significant positive move up lies ahead. Here are a few of my current reflections on the stock.
The $420 technical support level that I spoke about a few weeks ago held for a second time recently (see chart). Having a formed bottom should provide confidence for value and technical investors to come into the shares.
Click to enlarge image.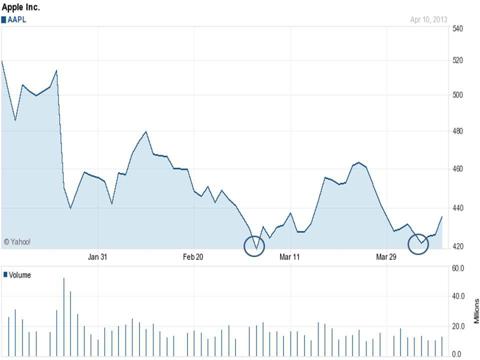 After underperforming badly in the first quarter, money is starting to rotate back into the technology sector over the past few trading sessions. The Nasdaq just completed its best three-day rally since August on Wednesday. Given Apple has a higher market capitalization than any other tech stock in the market, this rotation would be significantly supportive for the shares. The shares rallied 2% yesterday, one of the few times it has outperformed the market on large up days in months. Even Jim Cramer gave the shares a positive shout out yesterday, which has not happened in awhile. He had called Apple "the JC Penney of tech" just over a week ago.
A new report was released recently that had many positives for Apple shareholders. The company gained market share in the U.S. smartphone market in the period measured, and its share now stands at almost 39%. Important to future demand, it is even more popular in the teen segment where its market share stands at 48%. Furthermore, 62% of teens report they will make an iPhone their next mobile device purchase vs. 23% who will purchase an Android device. This report should provide some reassurance that Apple is not losing its "cool factor."
Another report came out yesterday showing PCs had the biggest sales drop on record. This confirms more and more people are moving to mobile computing devices, which is another significant positive for Apple and its dominant iPad franchise. One of the remaining impediments for Apple to move higher is a much anticipated dividend hike announcement. Investors had been looking for this to occur in March, but now it is looking likely that it will be announced with earnings on April 23. Personally, if I was Tim Cook I would take out the frustration of the last seven months as CEO by crushing the shorts in my stock. I would announce a 50% increase in the dividend, a $5 per share special dividend, a $10 billion stock buyback, and that the company planned to split the stock 10-to-1 effective immediately. All of which would be easily doable given the company's massive cash hoard and robust cash flow. The panic among short sellers would be epic. That said, I think a more reasonable expectation is for at least a 50% dividend hike that will take AAPL's yield to above 3.5%, as well as a significant stock repurchase authorization.
I think investors have been extremely focused on the increasing competition in the smartphone market or hoping for the latest new innovation from Apple (iTV, iWatch, iRing, etc.). They are missing how powerful some of revenues/profits from Apple's ecosystem are. In a recent TechCrunch report, it was estimated that Apple is going to get almost $5 billion in revenue this year from app purchases and that the market is growing more than 30% annually. This is a high-margin business (80% margins would be my guess) that should produce some $4 billion in profits this year.
Think about it this way: What would a business growing 30% a year and throwing off $4 billion in earnings be worth as a standalone company? I would say the business would be worth a minimum of a 15 P/E or a $60 billion market capitalization. Add that to the over $140 billion in cash and marketable securities the company has on its books, and you cut Apple's market capitalization by half. An investor is getting the rest of the company for approximately $200 billion. This places a value the rest of the enterprise (iPhone, iPad, iTunes, Macbook, etc.) at 5x this year's earnings and about 1.1x sales. This for a company that is growing revenues at around 15% annually and will soon yield over 3.5%.
Is there a cheaper stock in this market? In my opinion, AAPL is insanely undervalued and patient investors will be richly rewarded in the months and years ahead. Stay long.
Disclosure: I am long AAPL. I wrote this article myself, and it expresses my own opinions. I am not receiving compensation for it (other than from Seeking Alpha). I have no business relationship with any company whose stock is mentioned in this article.