Lululemon (NASDAQ:LULU) is having a hell of a year. Their stock and market cap continue to be impressive, they're trading at a well deserved high P/E ratio and they have arguably one of the biggest and most popular emerging brand in the realm of yoga, fitness and exercise. I recently wrote an article on Lululemon, where I paid homage to everything from the layout of their stores, to the generally great looking crowd that dons their apparel.
I made a couple of points, namely
The recent see-through clothing mess was a buying opportunity
The company could double in market cap
The brand has staying power
I argued against the company being overvalued:
To say that Lululemon is overvalued is to not consider fully its potential market for growth. With a P/E of about 30 and a $9.20 billion market cap, LULU looks like a healthy juggernaut of a growing company that should be able to continue at or beyond the rate of growth it was sustaining before its recent PR folly. This investor is betting that the ensuing yields from LULU will be as sexy as the fine men and woman that wear their brand.
...and presented my arguments in an aesthetically pleasing article laden with young, good looking models in flexible poses that make Olympic gymnasts look like Regis Philbin trying to do yoga. See the custom-made "technical indicator" below: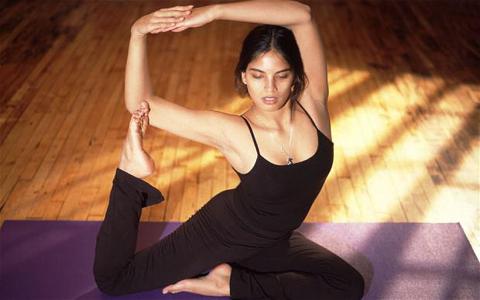 Alright, in all seriousness though, here's 3 new reasons to buy Lululemon that are subsequent to my last article.
1. Their PR Team Hit a Home Run in Covering the "See-Through" Scandal
The recent "scandal" reported about Lululemon's Luan pants was that they were a bit see through and had to be recalled. Subsequent to that, Lululemon restated some of their guidance for the quarter, pointing out that it was going to negatively affect their bottom line.
Bloomberg reported:
Lululemon has been probing how the shipments of pants that didn't meet its standards -- they became too sheer when wearers bent over -- passed through its testing procedures. The recall of the black Luon pants, which accounted for about 17 percent of all the women's pants it sells, caused the company to forecast profit this year that was less than analysts estimated, sending the shares to the biggest drop in two months.

The company said yesterday that while the fabric, a combination of nylon and Lycra spandex fibers, met the low end of its standards, the company's testing protocols were incomplete. Lululemon said it also was assessing all of its Luon garments that are in production and stationing company employees in factories to monitor manufacturing.

The company reiterated the March 21 profit forecast that it gave when it announced the pants would be removed from shelves.
What was great about this "mess" was that Lululemon were the first to promptly bring it to the markets attention, before anyone else could put a spin on it. Lululemon took full accountability of the issue, was upfront and honest with both customers and investors, restated their guidance in a professional manner, and recently put the last nail the coffin by holding their Chief Product Officer accountable and firing them.
This is textbook on exactly how you should handle bad news. Get it to market first, position it, hold someone accountable, adjust accordingly, don't repeat the mistake and move on from it.
The Luan pants case is closed.
2. There is Serious Short Squeeze Potential
A short squeeze when you're long a company is like having your cake and eating it too. Not only do you usually watch some catalyst driven run on a stock that you've loaded up on, but at the same point you get to watch the people that bet against you (those fools!) get absolutely crushed. You get to watch them run violently for the exits, covering their positions, and subsequently driving the price of the stock further up.
Because squeezes can add tons of value (although sometimes not fundamentally-based sound value, they often propel stocks into overbought scenarios), they are a great place to exit a position and scrape some profit off the top. This is why pro traders love to identify sound companies with healthy balance sheets that appear to have a larger than normal short position. Lululemon is one of these companies.
According to Yahoo:
| | |
| --- | --- |
| Shares Short (as of Mar 15, 2013)3: | 20.58M |
| Short Ratio (as of Mar 15, 2013)3: | 10.60 |
| Short % of Float (as of Mar 15, 2013)3: | 28.70% |
As you can see here, almost 29% of the entire float is held short. If Lululemon runs into some unexpected good news, or if this holds through earnings and Lululemon posts great numbers, investors are going to have a serious chance to take advantage of a short squeeze on top of a price run.
3. Financial Fundamentals are Gorgeous & There's Plenty of Room to Keep Growing
I have roughly the same amount of experience with making charts in Excel as I do in building and engineering nuclear powered submarines, but I set aside several hours of my schedule recently to come up with this chart; it was sourced by LULU's latest 10-K, and boy is it nice to look at.
(All numbers in thousands)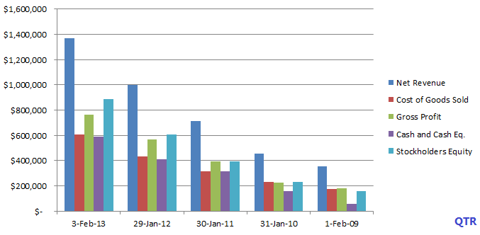 That, my friends, is a lovely picture of a company growing in a very healthy fashion. Over the past four years, as net revenue continues to grow, gross profit, cash on hand, and stockholders equity does the same. This is a great chart of a company that is growing the right way and doing an outstanding job of managing their cost of goods sold.
The one question you'd ask here is whether or not there's room to keep growing this way. I contend that there is tons of room to grow. In my last article, I stated why:
There is tons of room for growth for Lululemon. To get things started, its important to note that the company's primary focus, to this point, has been targeted at women and yoga. The company has 201 locations. Compared to a company like Gap (NYSE:GPS) with over 3,000 total locations, you can see the retail layout for growth is significant.

Something that I notice every once in a small while, is men wearing Lululemon. While I have several of their products myself, it hasn't even come close to catching on yet with men. Once this company expands and decides they want to throw money and resources into a campaign to target some of these clothes to men, they're going to find an entire avenue of success that they haven't even BEGUN to tap into yet.
Furthermore, in that respect, Lululemon is eventually going to start branching out into general athletic wear, not just yoga-based clothing for women. This is a very natural progression for companies that get their start making athletic wear of sorts. They will capitalize on running and tennis clothing, then other sports. Eventually, that will lead to bolstering of general activewear, which can then [like Under Armour (NYSE:UA), Adidas (OTCQX:ADDYY), Puma, Nike (NYSE:NKE)] move straight up into retail clothing.

If there's something that we could learn from Adidas and Puma, it's that moving the line from activewear to everyday wear is possible. Furthermore, it's possible by the way both of these companies did it:they slapped a bit of a higher price tag on their merchandise, and bolstered their image to give the appearance of it being a premium brand. Then, they engaged in serious sportswear sponsorships that got their name, image and logo everywhere.

Lululemon already has that with its price points. The sponsorship thing could be forthcoming in the future. It would be prudent to start with sponsoring gymnastics, tennis, and other female-orientedsports; then from there, move forward. Like other crossover retail/activewear companies such as Under Armour, Columbia Sportswear (NASDAQ:COLM) and North Face, Lululemon has serious potential here. The market for people wearing these brands as everyday fashion and not just for exercise purposes has never been bigger.

Lululemon "gets it". Its style is not unlike their logo or store layout:it's simple, modest, not gaudy, but still hip and extremely stylish. Ultimately, this is going to yield it big growth with the "retail" crowd as well as the "exercise" crowd.
Conclusion
So, in that respect, we have some serious long-term potential for Lululemon. People argue that their P/E is too aggressive, but if you look at how the company has grown the last 4 years and the amount of open market share they can still tackle, the truth is it may not be aggressive enough.
With the see-through pants issue behind them, this company can focus on what it does best: great retail, superior products backed by a great branding job, and growing aggressively. They command their $9 billion market cap and have plenty of room to continue to grow their business.
Lululemon continues to be a great choice to go long with for years to come.
Disclosure: I have no positions in any stocks mentioned, and no plans to initiate any positions within the next 72 hours. I wrote this article myself, and it expresses my own opinions. I am not receiving compensation for it (other than from Seeking Alpha). I have no business relationship with any company whose stock is mentioned in this article.