Hewlett-Packard (NYSE:HPQ) has been on a tear lately, both from optimism regarding its turnaround and general monetary-induced giddiness in the markets. From late November 2012, the stock has basically doubled.
However, a few clouds seem to be gathering which might soon put an end to the optimism. This article will explain why it's likely that Hewlett-Packard will miss estimates come May 21, when it reports.
The estimates
The present earnings consensus estimates for Hewlett-Packard are as follows: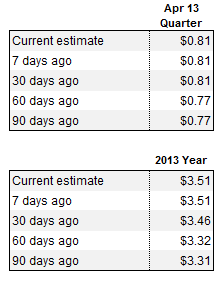 As we can see, estimates haven't moved much, and when they did, it was up.
The reason why it will probably miss
The reason why ultimately Hewlett-Packard runs the risk of missing these estimates has to do with the PC market's behavior. IDC has just reported how the market fared in Q1 2013, and the numbers aren't pretty. Of consequence for us here are the following data:

First, worldwide PC shipments fell 13.9% to 76.3 million units. This is relevant because it shows it's a market-wide phenomenon. And one that's sustained, as well, with the U.S. in its 10th quarter showing year-on-year losses. This is also relevant because the drop was much worse than expected;
Second, Hewlett-Packard itself did much worse than the market, with a 23.7% drop in shipments.

PCs were still 28.9% of HPQ's revenues in the quarter ended in January 2013, and although the segment was already showing -7.7% year-on-year drop, it seems that things have gotten quite a bit worse, if IDC's numbers are to be believed. This is the basis to say that HPQ likely missed.
Valuation
HPQ's valuation is not at all demanding. The stock trades at 4 times EV/EBITDA and just 6.3 times forward 2013 earnings. However, the company does carry significant debt and the story about PC weakness will not go away instantly. Additionally, the earnings estimates on which these multiples are based are likely to come down from their present levels.
Conclusion
Although Hewlett-Packard's valuation is not demanding, having one segment go strongly against it might lead to downside risk in the stock after its huge recent run.
Disclosure: I have no positions in any stocks mentioned, and no plans to initiate any positions within the next 72 hours. I wrote this article myself, and it expresses my own opinions. I am not receiving compensation for it (other than from Seeking Alpha). I have no business relationship with any company whose stock is mentioned in this article.