A great deal of buzz has been surrounding the dynamic automotive industry with the emergence of electric vehicles (EVs) and hybrid electric vehicles (HEVs), specifically referring to plug-ins. The slow but evident evolution has consumers now demanding fuel efficiency and low emission features for their automobiles. These characteristics have instantly become a competitive segment in the automotive industry with almost all manufacturers focusing on maximizing efficiency and minimizing emission levels. To date, Toyota (NYSE:TM) has been reaping the benefits of being an early innovator in this field through the game changing Prius. However, another trend has been emerging with the recent surge of EVs in the market. The EV field, still an infant stage market, will experience traction in the near term and potentially achieve the same growth hybrids witnessed in the last 15 years.
Early Performance Comparison
Toyota introduced the Prius to the American consumer at the start of the new millennium to fill the void that had developed with rising gas prices and, as a direct result, the fuel consumption of automobiles. Over a decade later and 2+ million vehicles sold, the innovatory Prius has matured from its niche status into a leader in the automotive industry as its annual 2012 US sales figures were over 236,000. The next shift of innovation in the automotive industry is underway with the budding demand of plug-in electric vehicles such as General Motors' (NYSE:GM) cross Chevy Volt and Nissan's (OTCPK:NSANY) all electric Leaf.
Since their launch in late 2010, both brands have received criticism for their disappointing sales, and supposed ineffective technology. GM had unrealistically high expectations for the Volt in 2012, expecting to sell around 60,000 worldwide. Though the company has not disclosed global sales, US figures came in at just under 23,500 for the year. That being said, both the Volt and Lead have only been in markets for two years. To expect great traction in such a highly competitive field will take time. As a comparison, US sales figures for the first two years of the Volt are greater than the Prius' while the Leaf's came up just short.
| | | |
| --- | --- | --- |
| Model | First Year Sales* | Second Year Sales** |
| Toyota Prius | 5,800 | 16,000 |
| Chevy Volt | 7,671 | 23,461 |
| Nissan Leaf | 9,674 | 9,819 |
*2000 for Prius and 2011 for Volt/Leaf **2001 for Prius and 2012 for Volt/Leaf
These absolute figures are not meant to be decisive in the comparison of each car's ability to penetrate the broad automotive market. Times were different in the early part of the new millennium and so were consumer preferences. Instead, the sale numbers are validation that it will take time for EVs to break through markets and validate their technological advancements. The Prius had an equally difficult time in their introduction to the American market as the Volt and Leaf seem to be having recently. This, however, did not prevent the original hybrid from becoming revolutionary in the automotive industry more than a decade later. The figures above, therefore, indicate that EVs could be on the same path in the upcoming years.
Market Outlook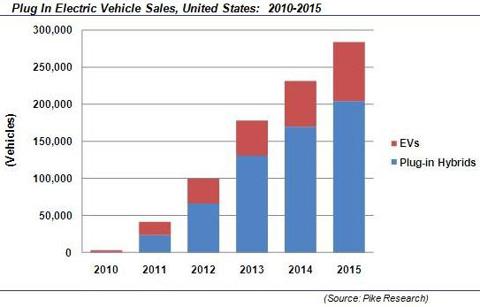 Click to enlarge
As the (above) report forecasts, plug-in electric vehicle sales are expected to continue the exponential growth pattern for the next three years. Even if these predictions are on the optimistic side, deviations of 30-50% will still represent an industry that is expected to double within three years. Existing values and forecasts both point to plug-in EVs following the same growing demand that hybrids experienced about a decade ago (see below).
For comparison sake, hybrid sales in the US took off in 2005 (from above); that is six full years after the initial launch of Prius in the market. Till now, plug-in EV sales have followed the same exponential growth pattern as hybrids, at an even greater accelerated rate. If history repeats itself, the next three years will be quite compelling for EV fanatics. Early investors should be excited for the future by taking advantage of this opportunity through investments in leading car manufacturers that are expected to lead the plug-in revolution such as GM, Nissan and Tesla Motora (NASDAQ:TSLA).
Criticism
Skeptics are criticizing similar features nowadays with EVs that the Prius was faced with when it first launched 13 years ago. Questions arise about the vehicle not being meant for the masses, battery longevity, car costs and small size. In hindsight, the sales figures displayed above were able to quiet the critics as demand for the Prius and other hybrids surged in the midst of a new millennium. Similarly, the largest barriers EVs face are with their battery cost, range and limited availability of infrastructure.
Battery Cost
A report released last summer by Mckinsey priced automotive lithium-ion battery packs at ~$500-$600kWh. Assuming these are actual costs, the Volt's 16kWh battery would cost at least $8000 and the Leaf's 24kWh battery would run Nissan $12,000. Respectively, these expenses would be 20% and 40% of the vehicle sale price. Clearly, in order for the price of the Volt (approx. $40,000) and Leaf (approx 30,000) to fall, the battery costs will need to significantly drop. The good news is that compared to 2009, prices are down roughly 30%. In addition, Mckinsey projects prices to fall to about $200 per kWh by 2020. If this 60% drop in battery prices holds and assuming all other costs are equal, the overhead to construct each corresponding car would fall by $4800 and $7200. Suddenly, a $35,200 Volt and $22,800 Leaf don't seem as pricey.
Range
Currently, the range of electric vehicles is an issue commonly mentioned as the lithium-ion battery is not advanced enough to keep the car going as long as traditional vehicles. On average, the Leaf can last about 73 miles before a recharge is required whereas the Volt has a 38 mile range on battery and 360 in total. This restriction has limited EVs to a niche market.
A study claims that the average daily distance in the US is 40 miles. Going by this simplified figure, the Volt and Leaf, on average, would satisfy the daily distance driven. However, there are many factors at hand that distinguish individual consumers. For those who travel greater distances, EVs are limited and may only be utilized in small to average sized commutes. Simply put, a battery breakthrough is required for EVs to recognize full potential with regards to range. If history serves us right, technology will be discovered that will advance lithium ion batteries (could this be it?), however the time window for this is speculative.
Availability of Infrastructure
In line with the growth of plug-in EVs, charging stations are expected to triple in units within the next three years and quadruple by 2017.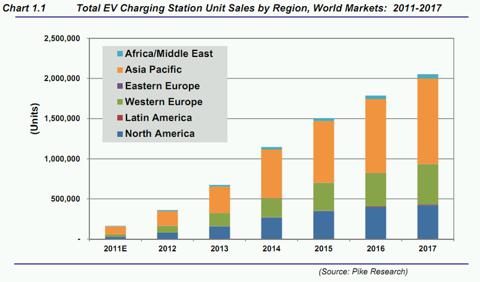 Click to enlarge
This rapid expansion will provide lucrative opportunities for companies involved in the infrastructure of the automotive revolution. For EV consumers, convenience will be magnified as charging stations will be a common feature for businesses in the future. Plug-in electric vehicles will be charging while we are grocery shopping, sleeping or even at work.
The Car Charging Group Inc. (OTCPK:CCGI) is a nationwide company providing public EV charging stations aimed at offering a robust, feature-rich network that delivers charging convenience all in one. Their business model is formulated around locating strategic locations to install charging stations both commercially and residentially (parking garages, retail stores and malls, hotels, etc) and collecting fees from them periodically. The company currently has more than 50 strategic partnerships across various business sectors with their partners managing or owning a total of 6.5 million parking spaces which include Walgreen, Ace Parking, Central Parking, Equity One, Equity Residential, Pennsylvania Department of Environmental Protection, and the City of Miami Beach, just naming a few.
Unique to their competition, CarCharging outsources and purchases the charging stations manufactured by ChargePoint. The benefit of doing so leaves them in a position in the future to harness technological advancements in EV charging stations. A potential transition into wireless charging is emerging as people react positively to the idea of not having to plug in their vehicle to charge. Pads interfering with the accessibility of the parking space and issues with installing the pad under the concrete have led CarCharging to file a utility patent for embedding an inductive charging apparatus into a parking bumper (more here). With relatively low operating costs, solid business model and the potential to grow exponentially with up-scaling of the developing market, short-term fluctuations can be hedged by CCGI's long-term objectives of adding more stations every month to sustain the demands of more EVs on the road.
CCGI provides investors with an alternative approach to directly isolating investment into the growth of the EV. As more automotive manufacturers begin innovating EV technology and existing market sales rise, the industry demand for charging stations and infrastructure development will grow in sequence. Businesses such as retailers and restaurants will use charging stations as a marketing tool to attract consumers to their location, similar to what coffee shops have done with WiFi. Soon after, charging stations will become the norm. Future EV market saturation will be directly dependent in the development of necessary infrastructure. Companies already involved in the field will be rewarding investors with first mover advantage status as the EV market continues its exponential growth.
Conclusion
With the growth experienced thus far and potential trends imitating those of hybrids a decade ago, it stands as no surprise that leaders like GM and Nissan are pushing the envelope in developing and innovating EV technology to be the future breakthrough of the automotive industry. As battery restrictions diminish and the amount of charging stations increase, the industry will be provided with proper support to propel beyond its barriers. This undeniable potential will not be recognized overnight, but it will not surprise me to see an EV become a best-selling automobile in the next 10 years.
Disclosure: I have no positions in any stocks mentioned, and no plans to initiate any positions within the next 72 hours. I wrote this article myself, and it expresses my own opinions. I am not receiving compensation for it. I have no business relationship with any company whose stock is mentioned in this article.