BlackBerry (NASDAQ:BBRY) shareholders received some pretty bad news today that confirms my prior held belief that shareholders should hold off on buying into the rally that began last summer.
As I've mentioned before, BBRY has not shown any positive operating trends to make people believe the rebound is for real. Not only have margins weakened substantially over the past 4 years but operating income has also not shown any signs of recovering. See the chart below for margins.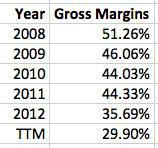 What's worse is the past three quarters' average gross margins is 28.1%, even lower than the trailing twelve-months margin. While margins in Q4 of 2012 did pick up from 26% to 30.4%, it is not enough evidence for me to believe in a potential turnaround. I would need to see another 2 to 3 quarters of stabilizing or improving margins to believe things have gotten better.
What is disturbing is that when you take a look at the 10k to comb through the details of the margin improvement, you see that this improved margin in Q4 was actually the result of lower amortization costs instead of better margins on their phones. This is very worrisome and I doubt it will get better. I previously wrote about how their new phone, the Z10, actually shows higher input costs than the iPhone from Apple (NASDAQ:AAPL) and worse features than some of the older models that were on the market from Samsung, despite the Z10 being a "new" phone:
Anyway, getting back to the Z10, UBM Techinsights in Canada did an estimate of the cost to build the Z10 by tearing it apart and adding up the costs of its components. UBM estimates that the cost of the Z10 is $154 per unit, which is about 10% higher than the iPhone 5 at $139.20. Why is this important? Consider that Apple has been able to consistently charge premium prices for its products while its competitors including Samsung (OTC:SSNLF) have been competing more on price, making it vital to operate at lowest cost. If BBRY is forced to compete on price then it's at a huge disadvantage if it is not the lowest cost producer.
More on Amortization Costs
Credit Suisse's Kulbinder Garcha came out with an excellent explanation for the lower amortization costs, per Barron's:
From the recent annual filing, we note that BlackBerry's intangible amortization declined from $340mn in FY3Q13 to $207mn in 4Q, which was split by $136mn and $71mn between COGS and OPEX. In addition, we also note that both acquisition of intangibles and amortization has now declined sizably from the previous quarter [...] We believe that BlackBerry has historically purchased "Prepaid Licenses" over a fixed period of time, which the company subsequently amortized over a short period of time around 3 years. Partly because some of these licenses were agreed at much higher levels of volume (when previous management view was more optimistic) this presented a fixed commitment of spend and subsequent amortization. As shown in Exhibit 3, when hardware revenues started declining, the amortization cost was relatively fixed and thus translated to much higher cost as % of devices ASP, which can partly explain hardware gross margins (NYSE:GM) turned negative briefly last year. We now believe that management have recently renegotiated a certain number of these prepaid licenses and hence the cash acquisition of such intangibles and subsequent amortization is declining. In essence this presents a permanent and one time reduction in COGS for the hardware business of BlackBerry [...] Within BlackBerry's $3.4bn intangible assets, we note that $3.1bn is actually intellectual property (90%). Unlike some other handset vendors such as Nokia and Apple, BlackBerry have been continuously acquiring IPR. We believe that these intangible assets acquisitions are essentially longer term license arrangements that BlackBerry are committed to pay to various industry players. This shows that the continuous level of cash spent on acquiring IPR, is in fact not IPR that BlackBerry may own, but rather a long term license arrangement. We presented the breakdown of IP in licenses and patents below.

In Q4′s result, BBRY's GM improved by 840bps q-o-q to 40%, driving the company to be above break-even. However we note that of ~$130mn this improvement or 510bps in GM terms came from lower amortization [...] If we remove the impact of amortization, then the "cash GM" of hardware was likely in the 21% level. Assuming that BB7 cash GMs were essentially flat suggests that BB10′s cash GMs were around 35%. However, after subtracting the amortization impact, we get implied BB10 GM at the level of 26%, which is much lower than people think. This is significant to our (and probably the market's) assertions that all the improvement came from mix shift towards BB10 devices.
Z10 Launch Disappoints
Today shareholders received news that not only did the Z10 launch start off poorly but it got weaker as time went on. According to Detwiler research analyst Jeff Johnston and ITG analyst Joe Fersedi, sales of the Z10 were about as weak as the older BlackBerry models and the Nokia (NYSE:NOK) Lumia 822. Additionally, Johnston pointed out that stores have seen a significant increase in returns to the point where they exceeded sales. Not good, especially when your company's lifeblood is almost entirely dependent upon phones.
I would still recommend that shareholders avoid this stock as it has shown no signs of turnaround and from recent reports, there is no glimmer of hope that phone sales are improving.
An Alternative: Buy Nokia
Wait, didn't I just bag on the Nokia Lumia 822? Yep, I sure did. But as I have pointed out several times in calculating the net asset value of Nokia, even if I assign a $0 valuation to their Devices & Services division, the sum of its parts is worth significantly more than the market valuation of the company.
Consider that its Nokia Siemens Network division alone could be worth 75% of the market cap (assuming the same valuation as Ericsson (NASDAQ:ERIC), its closest competitor). And also consider that its partner, Siemens, has announced its intention to leave the joint venture which means NOK has to either buy the remaining stake (something it probably won't do as it continues to preserve cash), find another buyer (possible but not likely) or spin it off through an IPO (certainly possible). This is a major catalyst for the stock, which is starting to make another move out of a long downtrend and basing pattern since the beginning of the year.
Toss in $5 Billion in net cash and $600 million in annual royalty payments from patents and you have a stock that should be worth far more than its current price. And a company not solely dependent upon a single product or division, like BlackBerry.
Disclosure: I am long NOK. I wrote this article myself, and it expresses my own opinions. I am not receiving compensation for it (other than from Seeking Alpha). I have no business relationship with any company whose stock is mentioned in this article.