The recent performance of utilities has been remarkable. Since the beginning of the year alone, the sector has gained over +16% ranking it third just behind its defensive brethren in consumer staples (NYSEARCA:XLP) and healthcare (NYSEARCA:XLV). But following such a robust advance over such a short time, it is reasonable to question how much further utilities can move to the upside or if a correction is soon imminent. While a good deal of the near-term upside potential is now largely priced into utilities at this point, selected forces continue to exist that remain supportive for utilities.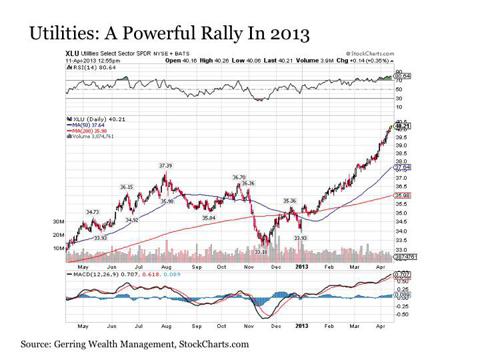 At first glance, the price chart for utilities certainly raises some eyebrows. The sector as measured by the Utilities SPDR (NYSEARCA:XLU) hit an elbow point at the very beginning of the year and has vaulted higher at an increasing parabolic rate ever since. Following this recent surge, the XLU is now trading at a 6% premium to its 50-day moving average and an 11% premium to its 200-day moving average. The sector is also now very overbought with an RSI over 80 and momentum readings at their highest levels in the post crisis period. Clearly, the normally staid utilities sector is running white hot.
A variety of additional factors suggest that utilities are long overdue for a solid correction. The sector is trading at 16 times earnings, which marks the highest valuation since just before the outbreak of the financial crisis in 2008. And earnings growth is projected to decline by -2.6% in 2013 after already falling by -1.8% in 2012 at a time when sales also declined by -1.5%. In addition, the dividend yield provided by the utilities sector as a whole has dipped to 3.8%, which is down from 4.3% just three months ago and nearly 5% a few years ago. Thus, both the fundamental and technical case for owning utilities at these levels certainty has more than its share of challenges.
But viewing utilities through some alternative lenses reveals why we could actually see the sector continue to the upside in the months ahead.
First, although utilities have moved sharply higher since the beginning of the year, much of this move was a recovery of declines sustained during much of the second half of last year. For example, the XLU peaked at a dividend adjusted $37.39 at the beginning of August before going on to decline by -7% through the remainder of 2012. So while utilities have advanced by +16% year to date, they are up a far more reasonable +7% from their summer 2012 peaks.
Second, while utilities are trading at a premium to its 50-day and 200-day moving averages, these are far from extreme readings at present. When looking back since the beginning of the last decade, while the 50-day moving average is approaching previous peak levels, it is still well within reason and not that far outside of +1 standard deviation from the mean. As for the 200-day moving average, it is still well below previous premium peaks in the 15% to 17% range seen even in the aftermath of the financial crisis. So while utilities certainly are showing some enthusiasm, they are not yet at levels that would be considered out of bounds.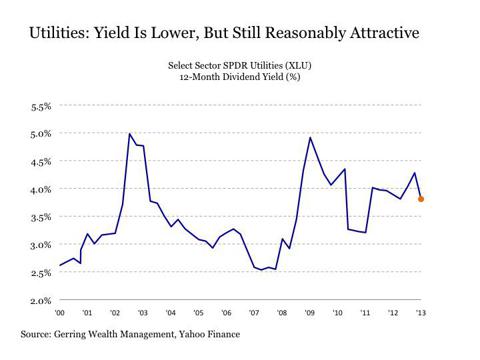 Third, while the dividend on utilities as represented by the XLU has recently fallen below 4%, the payout is still only roughly in the middle of its long-term range at 3.8%. So while yields in the 4% to 5% would be far more attractive from a buying perspective, the current reading is certainly far from levels that might suggest a final peak has been reached in underlying stock prices.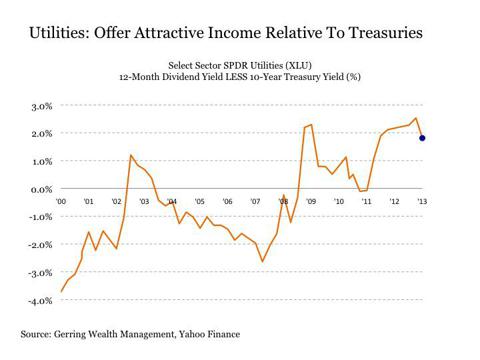 Fourth, the yield offered by utilities looks considerably more attractive when considered in the context of the 10-year Treasury yield. While utilities stocks should certainly in no way be viewed as "bond equivalents," comparing the yield spread between the two is relevant from a valuation standpoint. In a normal environment, 10-year Treasuries would typically provide a yield several percentage points in excess of the dividends provided by utilities. Of course, we are far from a normal environment at present, and one of the results of the extraordinary policy measures we have seen in the post crisis period is that the yield from utilities is now a couple of percentage points above the 10-year Treasury yield. And in the context of the post crisis period, the current spread is still at recent historical highs despite the recent advance in utilities. The earnings yield for the sector at 6.25% is also reasonably attractive in this same context.
Lastly, many investors are starved for yield and are chasing it wherever they can find it at this point. In some cases, they may be doing so while also taking on risks that may be unsuitable for their investment profile. But the sheer fact that this quest for yield is likely to remain ongoing is likely to provide continued momentum and support for the utilities sector at least for the near-term given some pullbacks and consolidation phases along the way.
So while I am cautious on utilities, I continue to maintain an allocation to the sector for now. Utilities stocks are long overdue for a pullback at this point, and it is very likely that I may step to the sidelines at the first signs that the recently parabolic price trend appears to be breaking. But from a longer-term perspective, an allocation to the utilities sector is likely to continue to make sense. This is, of course, as long as government reported inflation data remains subdued and interest rates remain pinned to the ground at 0%. If these conditions were to suddenly shift, however, the thesis for owning utilities would change along with it. But with this caveat being said, while I certainly would not be adding to any broad utilities positions at this juncture, picking up an allocation to the sector on any pullback to the $35.50 to $37.00 range on the XLU may have appeal. And for those seeing to establish an allocation in the meantime, taking a look at selected utilities that have underperformed the overall sector for various reasons since the previous summer 2012 peaks such as Southern Company (NYSE:SO), Exelon (NYSE:EXC), PG&E (NYSE:PCG), FirstEnergy (NYSE:FE), Consolidated Edison (NYSE:ED) and Entergy (NYSE:ETR) may be worth at least a look for consideration.
Before closing, it is important to emphasize that these utilities should be considered in the right context. These are not bonds that provide a fixed coupon and a return of principal at maturity. These are also not FDIC insured savings vehicles. Utilities stocks are equities with dividend payouts that change over time and principal investments that do not reach maturity and fluctuate, sometimes widely, consistently over time. So even though utilities represent the most stable stock market sector with a beta of just 0.3, they are still subject to wide price swings, particularly during broader market extremes. Thus, investors entering into any such allocations should consider these risks carefully before making any long-term commitments to the sector.
This post is for information purposes only. There are risks involved with investing including loss of principal. Gerring Wealth Management (GWM) makes no explicit or implicit guarantee with respect to performance or the outcome of any investment or projections made by GWM. There is no guarantee that the goals of the strategies discussed by GWM will be met.
Disclosure: I am long XLU. I wrote this article myself, and it expresses my own opinions. I am not receiving compensation for it (other than from Seeking Alpha). I have no business relationship with any company whose stock is mentioned in this article.