Joseph Tanious, CFA
Global Market Strategist, J.P. Morgan Funds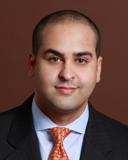 I published a white paper last fall answering the number one question I get from advisors as I travel around the country, "Should I invest in equity markets today?" Fast-forward to the present, and it's a question that I'm getting asked even more often.
The short version of my answer though has stayed much the same since then. After the S&P eclipsed its October '07 peak, after a 130% increase from March 2009's lows, and in the midst of a "muddle through" recovery - the answer is still yes - equities still appear attractive and remain a key allocation in an appropriately diversified portfolio.
Fundamentals versus uncertainty and volatility
In the long run, equity prices are determined by their fundamentals. Any time we see a dislocation between performance and fundamentals we have to ask, "Have the fundamentals changed?" If they have, then it's time to reevaluate, and if not, then what we have is uncertainty and short-term volatility. Today we have no shortage of either. A job market that's taking too long to recover, debt, deficits, and more problems from Europe to name just a few.
There'll always be uncertainty and risk - that's the point of markets. But in aggregate I expect that the sizeable issues we face today will look less sizeable down the road.
Metrics validate the hypothesis. . . mostly
The equity rally has brought its own uncertainty - investors, especially those on the sidelines, are fearful that because they've missed the run-up, there's no point in getting back in now. Inertia begets more inertia.
As of March 31, the S&P had a forward P/E ratio of 13.8x, lower than October 07's market peak (15.2x) and much lower than the March 2000 (25.6x). Sure equities are close to prior peaks in terms of index levels, but are trading at lower valuations.
Today, price to book, price to cash flow and P/E to growth ratios all tell a similar story - equities still appear undervalued relative to long-term averages, particularly relative to bonds. There's more on this on slide 7 of J.P. Morgan's Guide to the Markets.
One metric that tells a less enthusiastic story is Shiller's Cyclically-Adjusted P/E (CAPE), which we also show on slide 7. By this measure, equities are priced a little above their historic average. CAPE uses an inflation-adjusted price for the S&P and divides by the prior 10 year's inflation-adjusted earnings, which helps to smooth volatility in the earnings data. It's a useful and interesting metric, but because it's entirely backwards looking, it needs to be weighted appropriately as the economy hits its own peaks and troughs. Furthermore, it's important to consider that this past decade saw two severe earnings recessions that have depressed the denominator in the Shiller P/E ratio, making stocks look more expensive.
The Q-ratio, developed by James Tobin, uses price divided by the replacement cost of tangible and financial assets, and also points to slight overvaluation of the S&P. The Q-ratio is based on the premise that, over time, investors will pay relatively constant prices for assets. By this measure, equities are again slightly overvalued compared to their 40-year average. But here too, there are some factors that can impact the merits of such a comparison.
In 1950, financial assets comprised 23.2% of total assets; today, they make up nearly 50% (Federal Reserve's March 7th Statistical Release). If investors found typically liquid financial assets more valuable than physical assets, then the "fair" Q-ratio value should perhaps increase as well. The next challenge with using the Q-ratio in the 21st century is brand. Brand has become a key driver of a company's success, but one that is not represented in the Q-Ratio. Consider the importance of brand and goodwill not just for Apple (NASDAQ:AAPL), Coca Cola (NYSE:KO) and the like, but for all companies. As the importance of brand in global markets increases, the Q-ratio has the potential to undervalue stocks. Similarly, because the Q-ratio uses replacement cost in the denominator, it fails to account for different levels of profitability driven by similarly priced tangible assets. Essentially, the Q-ratio gives us a useful, but somewhat incomplete measure of valuation.
Continued earnings growth without margin expansion?
We know that quite a bit of earnings growth has been driven by margin improvement as firms have cut labor costs, but that's not the whole story. Revenues have also improved from their recession lows (Guide slide 10)
Another factor that supports the "still room to grow" hypothesis - over the last 10 years, we've seen a strong correlation between year-over-year percentage change in sales per share for the S&P and year-over-year percentage change in GDP. Large companies are benefiting from broad economic growth. No real surprise but something that bodes well for revenues, even if the "muddle through" recovery persists.
Eventual hiring (one hopes) will no doubt place some pressure on margins down the road. But even here I'd caution from assuming that hiring inherently means declining margins. Hiring itself doesn't lead to wage pressure. It typically leads to profitability since each decision is based on an analysis of the cost and incremental production of that worker. If capacity is needed, a new worker is hired only when the marginal value exceeds the marginal cost of an additional worker. Increased hiring over prolonged periods will eventually lead to wage inflation to be sure, but with an unemployment rate of 7.6%, that particular problem is quite far down the road.
In aggregate, return on equity (ROE) continues to climb, even though corporate cash is still high. We've seen increased dividends and a drop in share buybacks. Overall though, cash isn't being utilized and is, in effect, sitting in reserve waiting to be put to good use (Guide slide 13) DuPont analysis of the components shows that companies have, as we'd expect, cut costs to maintain and improve margins. At the same time, they've improved their asset turnover ratio and done so while deleveraging. Once companies start to selectively increase leverage, we should see further increases in ROE.
One last point. Consider the alternative - bonds. We can't mention bonds without quickly mentioning rates. Although they're obviously low and even though a significant rise isn't imminent, we know it's out there. But let's look at the environment today. Using March 31 data, the earnings yield of the S&P (earnings as a proportion of a stock's price and the inverse of P/E) was 7.3%. Compare that to the 4.8% yield of Baa bonds (Guide slide 7).Today, stocks not only look cheap relative to their own history, but also relative to bonds.
The (continued) case for equities
After a doubling of the equity markets, making the case for stocks does require careful discussion and analysis. Despite the rebound, lingering unemployment and continued fiscal uncertainty, the case for equities remains solid:
Valuations generally remain attractive
Profitability is healthy, despite record levels of cash being retained
Profitability growth has been driven by both improved margins and operational efficiency, resulting in high quality earnings
The best approach for individual investors remains the same: Maintain a long-term focus and a balanced approach that uses a mix of bonds, cash, alternatives, and stocks, and be sure that this mix is appropriate for each individual's risk tolerance, timeframe and objectives.
Disclaimer:
Contact JPMorgan Distribution Services, Inc. at 1-800-480-4111 for a fund prospectus or download it from jpmorganfunds.com. Investors should carefully consider the investment objectives and risks as well as charges and expenses of the mutual fund before investing. The prospectus contains this and other information about the mutual fund. Read the prospectus carefully before investing.
Opinions, estimates, forecasts, and statements of financial market trends that are based on current market conditions constitute our judgment and are subject to change without notice. Please note investments of any kind involve market risks that are influenced by the economic/political environment as well as prevailing market conditions.
There can be no assurance that the professionals currently employed by JPMAM will continue to be employed by JPMAM or the past performance or success of any such professional serves as an indicator of such professional's future performance or success.
J.P. Morgan Funds are distributed by JPMorgan Distribution Services, Inc., which is an affiliate of JPMorgan Chase & Co. Affiliates of JPMorgan Chase & Co. receive fees for providing various services to the funds. JPMorgan Distribution Services, Inc. is a member of FINRA/SIPC.
J.P. Morgan Asset Management is the marketing name for the asset management businesses of JPMorgan Chase & Co. Those businesses include, but are not limited to, J.P. Morgan Investment Management Inc., Security Capital Research & Management incorporated and J.P. Morgan Alternative Asset Management, Inc.
2013 © JPMorgan Chase & Co.
J.P. Morgan Asset Management, 270 Park Ave., New York, NY 10017
Disclosure: I have no positions in any stocks mentioned, and no plans to initiate any positions within the next 72 hours.
Business relationship disclosure: Business relationship disclosure: This article was written by Joe Tanious, Global Market Strategist, J.P. Morgan Funds, and submitted on his behalf via the J.P. Morgan Funds' Seeking Alpha profile.