The number of ETF Deathwatch constituents dropped by 18 for April, continuing an improvement trend that commenced last September. In ETF Deathwatch for September 2012, I predicted the 403 members could represent a short-term peak and gave my reasons why. This month's count of 324 (223 ETFs and 101 ETNs) is 79 less than the previous high, a non-trivial 19.6% reduction. It is also the lowest quantity of the past 11 months.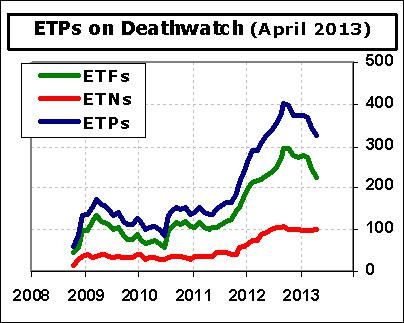 Peaks in Deathwatch membership tend to lag peaks in new product introduction by about a year. The same can be said about troughs, as a healthy and growing industry gradually absorbs the available products. Launches are currently occurring at their slowest pace since 2006. Therefore, if these relationships hold up in the future, I expect the number of products on Deathwatch to decline further throughout 2013.
We've been hearing about the imminent wave of actively managed ETFs arriving on the scene for many years now. If and when these predictions ever come true, the en masse arrival of actively managed ETFs will likely lead to another uptick in the quantity of struggling products. A wild card that could alter this scenario would be easy access to ETFs for the majority of 401(k) accounts.
I'm often asked why ETFs fail. My usual response is that it is typically the result of an inadequate marketing plan as opposed to a bad product design. Ben Johnson, director of passive fund research at Morningstar, recently summed it up nicely by stating, "This is a market defined by fairly low barriers to entry, but very high barriers to long-run success."
Six names joined ETF Deathwatch for April and four of them were ETNs. Twenty-four came off the list, with 19 of them showing improved health, while the remaining five were delisted. Nine products went the entire month of March without any trades. The iPath Short Enhanced MSCI EAFE ETN (NYSEARCA:MFSA) last traded on Oct. 9, 2012, and today has a bid/ask spread of $29/$87. A total of 161 ETPs had zero volume on the last day of the month.
Complete List of 324 Products on ETF Deathwatch for April 2013
The Six ETPs Added to ETF Deathwatch for April:
The 19 ETPs Removed From ETF Deathwatch Due to Improved Health:
The Five ETPs Removed From ETF Deathwatch Due to Death and Delisting:
Additional Data/Resources:
Disclosure: No positions in any of the securities mentioned. No positions in any of the companies or ETF sponsors mentioned. No income, revenue, or other compensation (either directly or indirectly) received from, or on behalf of, any of the companies or ETF sponsors mentioned.