It wasn't long ago that I said investors should buy in May and probably go away (please consider: 'Buy In May And Go Away' - The Most Likely Scenario). And it was a while ago when I told you that 2013 will be a good year, despite the chance of a fiscal cliff trigger and the many potholes that are all around us (also consider: Is The Fiscal Cliff Already Priced In?).
And indeed U.S. markets have rallied to new highs, despite many pundits saying that stocks are expensive, despite many saying that the Fed is the cause of all this and despite the fact that Apple has corrected almost 40% from its high.
In fact, when markets rally without stocks like Apple - the largest market cap stock in the world and on U.S. indices - that tells you that the situation is even more bullish than most imagine.
And the simple reason for that is this: if and when Apple decides to climb to $700 again, that will either push the whole market up, or it will at least be a buffer (for the market) in the case that many other stocks decide to correct.
Now if you look at the chart below, some of the largest cap companies in the U.S. have either underperformed the S&P 500 over past twelve months, or have done horribly like Apple. Only Google and General Electric have performed better than the benchmark S&P 500 index by about 7%-8% over last twelve months.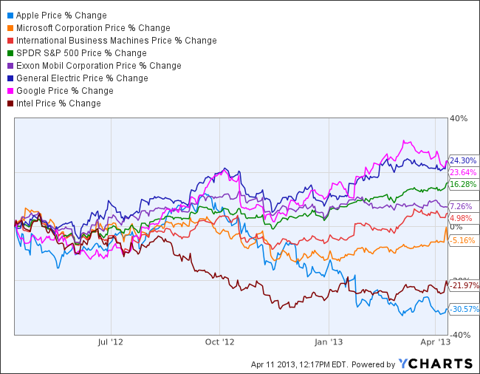 | | | | | | |
| --- | --- | --- | --- | --- | --- |
| | Current price | 1y Target Est: | Potential return | P/E | Forward P/E |
| Exxon Mobil Corporation (NYSE:XOM) | 88.7 | 94.75 | 6.80% | 9 | 10.5 |
| Apple (NASDAQ:AAPL) | 434 | 614 | 41.00% | 9.86 | 8.76 |
| Intel (NASDAQ:INTC) | 21.7 | 22.91 | 5.50% | 10.2 | 10.54 |
| IBM (NYSE:IBM) | 212 | 225 | 6.10% | 14.8 | 11.5 |
| Google (NASDAQ:GOOG) | 786 | 879 | 11.00% | 24 | 15 |
| General Electric (NYSE:GE) | 23.61 | 25.6 | 8.40% | 18 | 12.77 |
| Microsoft (NASDAQ:MSFT) | 28.8 | 32.85 | 12.30% | 15.8 | 9.2 |
The above table (data from Yahoo) shows today's stock price and the average 1 year target estimate as compiled from analysts. Also the current P/E and the twelve month forward P/E.
Now if you look at the above data, most of these big cap stocks still do not offer investors much incentive to rotate to them from something else.
If you buy or continue to hold General Electric, then if analysts have it right, you stand to earn 8.4% over the next twelve months. While that's not bad, it's nothing to cheer about either.
There is not much incentive to buy Intel or IBM either. At most you stand to make about 5% - 6% over the next twelve months at best.
Microsoft offers some good incentive to hold or buy it over the next twelve months, but only Apple offers investors the possibility to earn above average returns over the next twelve months.
Not many reasons to buy, not many to sell either
Now one of the thesis I have developed over the past several months is that the market will not correct, because the future P/E of just about every big-cap stock you can find is around 10. When almost all of the above stocks have a forward P/E of close to ten, then I don't think they can correct by much, even if there is little inventive to buy them (with the exception of Apple).
What this means is that the market as a whole will be difficult to correct, because large-cap names are not expensive and will not correct by much, even if there is not much inventive to buy them.
So if the big cap names offer stability to the market going forward, what will go up that will propel the major indices higher? The answer is everything else.
What companies you say? Well I think that Blackberry (NASDAQ:BBRY) for example will outperform every stock listed above over the next twelve months (read my take here). Omega Protein (NYSE:OME), a company I recommended in December of last year, has so far climbed over 60% and I think still has room to go.
In fact I continue to recommend avoiding almost all major large-cap stocks in favor of smaller cap companies. There is not much incentive to buy Intel in my book and if analysts have it right, there will not be so for a while.
Bottom line
While there is not much inventive to buy large-cap stocks going forward, there are not many reasons to sell them either.
As a result this will offer stability to the market.
Smaller cap stocks will continue outperform large caps
Disclosure: I have no positions in any stocks mentioned, and no plans to initiate any positions within the next 72 hours. I wrote this article myself, and it expresses my own opinions. I am not receiving compensation for it (other than from Seeking Alpha). I have no business relationship with any company whose stock is mentioned in this article.