By Sumit Roy
Natural gas rose above $4.10/mmbtu after the Energy Information Administration reported operators withdrew 14 billion cubic feet from storage last week, within the eight to 24 bcf withdrawal most analysts were expecting. The withdrawal was bullish compared with last year's build of six bcf and the five-year average build of 14 bcf, and contrasts with Wednesday's bearish oil report (see "New 21-Year High In U.S. Oil Production Forces Further OPEC Output Cuts, Prices To Fall").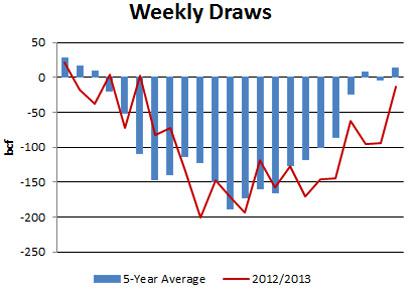 In turn, inventories now stand at 1,673 bcf, which is 805 bcf below the year-ago level and 59 bcf below the five-year average (calculated using a slightly different methodology than the EIA).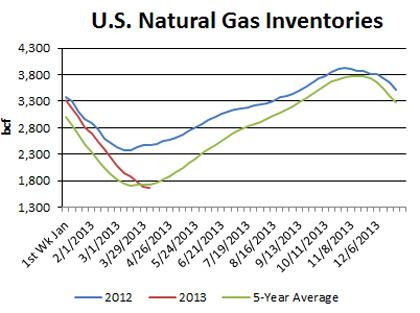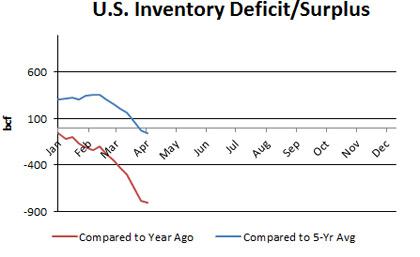 The weather last week was colder than normal and colder than last year. Looking forward, the NOAA's six- to 10-day outlook calls for another wave of colder-than-normal temperatures across the Midwest. Though chilly weather has less of an impact on demand in mid-April, forecasts are calling for temperatures in the low 30s in some areas, which should spur an increase in heating demand.
NOAA Six- to 10-Day Outlook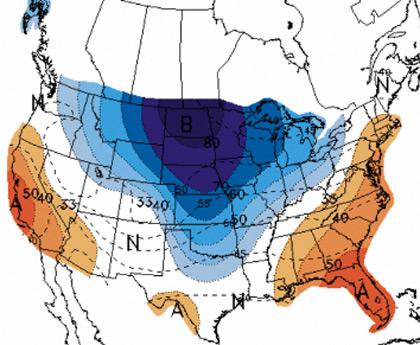 Meanwhile, the number of rigs drilling for natural gas in the U.S. fell by 14 last week to 375 -- a 14-year low, according to Baker Hughes.
Natural Gas Rig Count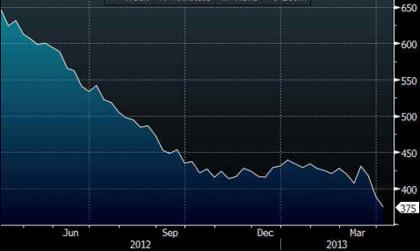 Natural Gas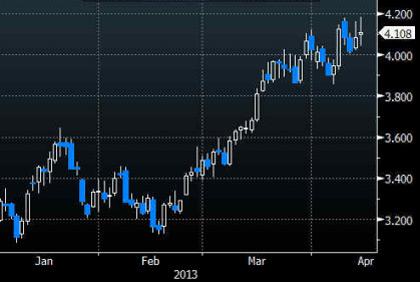 Bottom Line: The latest inventory report from the EIA was bullish, as the deficit over the five-year average grew from 31 bcf to 59 bcf. Lingering cold weather should keep injections muted for the rest of April. Thus, we expect inventories will remain in deficit territory for the time being.
That said, this week's reported withdrawal was likely the last of the season. For the withdrawal season as a whole, we estimate that weather was modestly colder than the five-year average. The five-year average is, of course, tempered by exceptionally warm years such as the 2011/2012 winter, which was the fourth-warmest on record. Nevertheless, even on a weather-adjusted basis, our calculations suggest that the natural gas market was tighter than normal, to the tune of about 1.75 bcf/d. As can be seen from the regression below, withdrawals were consistently larger than five-year average levels.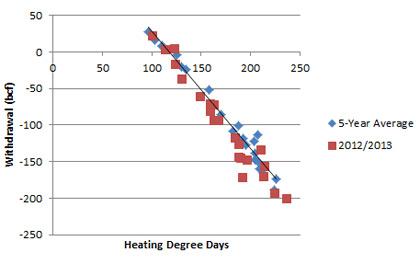 Obviously, the shift in inventories from surplus to deficit and the significant year-over-year increase in natural gas prices reflect this tightening of supply-and-demand fundamentals. The question is: Where do we go from here?
As we've opined in recent weeks, more evidence is needed before we can make a longer-term forecast out to next winter, but the onus is on the bears to prevent prices from marching higher. On the other hand, bulls would like to see evidence that the long-awaited decline in U.S. output has begun. Prices may creep up toward $4.30/mmbtu before injection season kicks off in earnest later this month and in May.