EMC Corp. (EMC) is a leader in cloud computing solutions. It provides software and services to leading corporations that enable storage, encryption, protection, and management of data. This stock appears undervalued and it could be poised to move higher for a number of reasons.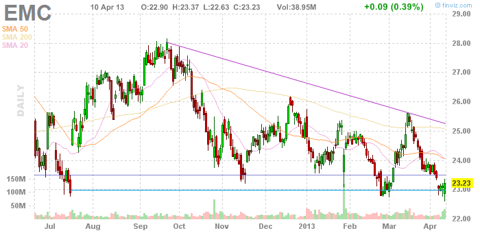 Click to enlarge
As the chart above shows, EMC shares topped out at around $28 in September 2012. It also shows that EMC shares have repeatedly bottomed-out at around $23. You can see this pattern happening in July, November, February, March and now in April. In each of these cases, the stock promptly rebounded and that is why the stock appears to be in the "buy zone" now. At $23, this stock has historically been a solid buy for at least a short-term rally.
EMC has been reporting solid financial results. For the fourth quarter of 2012, it announced revenues of $6 billion, which is an increase of 8% compared with the year-ago quarter. Fourth-quarter GAAP earnings per share rose 3% to 39 cents per share and non-GAAP earnings rose 10% to 54 cents per share. This company also has a strong balance sheet with about $11.4 billion in cash and in the Q4 earnings release, the company said it expects to buy back about $1 billion worth of stock. This company also has a significant asset that could become a major upside catalyst in the future.
EMC owns a significant stake in a cloud software company, VMware (NYSE:VMW). EMC and VMware recently agreed to create a new company called "Pivotal," which will provide data analysis. The company estimates sales will jump from about $300 million today to about $1 billion by 2017. Also, investors should note that VMware plans to start a new cloud storage service that will compete with services that Amazon.com (NASDAQ:AMZN) currently offers. This is important because if VMware continues to grow, the value of its stock could rise and increase the stake owned by EMC. Since both EMC and VMware are leaders in this industry, it could become a major competitive threat to Amazon.com.
A number of analysts are bullish and see significant upside for this stock. Not long ago, analysts at Needham put a buy rating on EMC and set a $30 price target. FBR Capital has an outperform rating and set a $31 price target. With EMC shares now trading around $23, a move to $30 to $31 will provide investors with gains of roughly 30%. Since the stock has repeatedly bottomed out around $23, the downside could be limited at current levels, while the upside appears to be quite appealing.
Here are some key points for EMC:
Current share price: $23.24
The 52-week range is $22.62 to $29.40
Earnings estimates for 2013: $1.86 per share
Earnings estimates for 2014: $2.07 per share
Annual dividend: none
Data sourced from Yahoo Finance. No guarantees or representations are made.

Disclosure: I have no positions in any stocks mentioned, and no plans to initiate any positions within the next 72 hours. I wrote this article myself, and it expresses my own opinions. I am not receiving compensation for it (other than from Seeking Alpha). I have no business relationship with any company whose stock is mentioned in this article.
Disclaimer: Hawkinvest is not a registered investment advisor and does not provide specific investment advice. The information is for informational purposes only. You should always consult a financial advisor.