Part of my job is to create investment models for clients. One of the hardest aspects for model builders is to create a highly liquid system that can handle huge amounts of capital and still have alpha or market out-performance. I have made numerous models for smaller investors with an optimal portfolio size in the range of $100K to $1 million, but creating a super liquid system that can support hundreds or thousands of investors is a whole lot more challenging - especially if you are trying to either out-perform the market or manage the downside. The 'Best 6' is such a system that uses cash management and value to pick up to 6 of the best Dow Jones stocks.
Picking the 'Big 6' Dow Jones
Just how does one go about picking what they feel are the best stocks of the Dow Jones Industrial Average (NYSEARCA:DIA)? I am a firm believer in value. When stocks are trading low compared to their fundamentals I usually short-list these stocks.
Value requirements:
In the top 18 stocks as regards earnings yield
In the top 18 stocks as regards dividend yield
But value can be precarious, especially in bear markets. If earnings are expected to fall, share prices can compress in advance giving the appearance of good value but this is really a trap. So to add some checks and balances into my value-picking, I apply two ranking systems to the remaining stocks.
These ranking systems look for an increase in dividends over the past year, 3 years and 5 years giving preference to the highest percent increases. The second ranking system looks at operating margins, asset turnover, return on capital and finances (such as current ratio and debt to capital). So good value must be matched with good dividend growth and quality financials.
You can analyze other statistics along with year by year performance here.
The 'Big 6' Portfolio
The 6 stocks currently making up this portfolio are:
It Is Not All About Yield
The first thing to note is that the 6 current stocks are not the 6 highest-yielding companies...this is not the Dogs of the Dow. In fact, only one stock, Intel Corp , is in the top 6 yielding products. As well, when it comes it the price to earnings ratio, only Intel and Chevron are on the list of the 6 lowest PE ratios. The majority of the stocks are somewhere in the middle when it comes to value being neither the deepest value nor the lowest.
Interestingly, even though this metric was never screened for, most of these 6 stocks rank high on the trailing 5 years compound earnings growth rate with McDonald's being 1st in the Dow Jones, Intel being 3rd, Wal-Mart as 4th, Chevron as 8th , Microsoft as 9th and Cisco at 14th position. This would make sense in light of the dividend growth as one of our ranking criteria as dividend growth has its roots in earnings growth.
The connection to sales growth is there although not as strong although Microsoft, Intel, Cisco and Wal-Mart are still in the top 10 out of the 30 Dow Jones stocks for 5 year sales compound growth rates.
Analyzing Historical Performance
When were each of these stock purchased and with what current return?
Chevron was recommended 1,536 days ago with a 67.3% return
Intel was recommended 969 days ago with a 16.13% return
Microsoft was recommended 563 days ago with a 20% return
McDonalds was recommended 325 days ago with a 12.63% return
Cisco was recommended 185 days ago with a 13.48% return
Wal-Mart was recommended 185 days ago with a 9.62% return
The chart below shows the total portfolio performance of this system versus the Dow Jones since 2000 in the first window. The second window gives drawdown numbers while the third shows the varying amount of cash invested at any given time. The majority of the time this system has between 50 - 90% invested although sometimes it does dip below.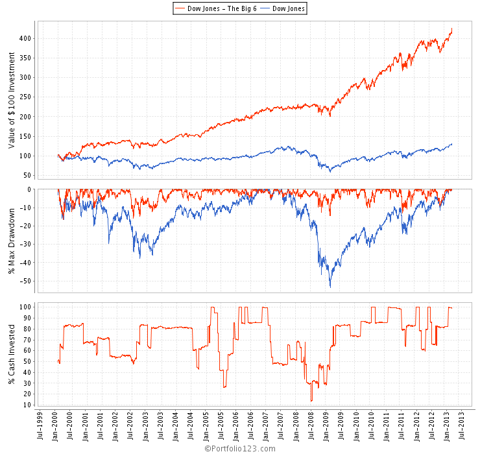 Click to enlarge
The next chart shows the trailing one year performance for each of the stocks currently in the Big 6 Dow Jones.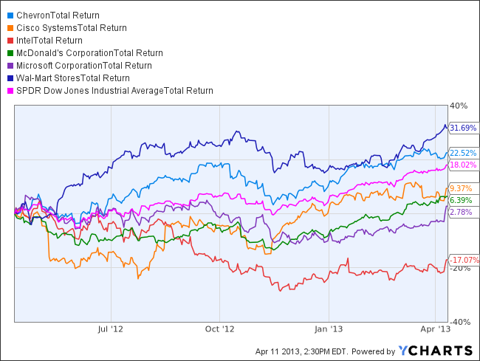 Click to enlarge
This last chart shows sector allocation with the tech sector making up almost 50% of the weight.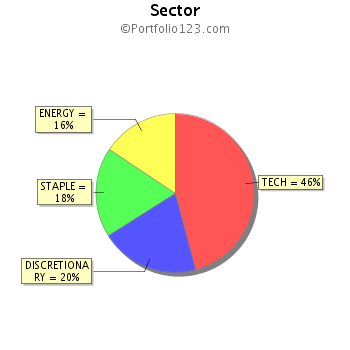 The Bottom Line
The bottom line is this: don't go to extremes. Look for good value, but not necessarily the deepest value. Look for high yield, but not necessarily the highest yield. Choose stocks that have a good blend of value, growth, quality and financial strength and then be willing to hold for years to slowly and consistently generate long-term alpha.
Disclosure: I have no positions in any stocks mentioned, and no plans to initiate any positions within the next 72 hours. I wrote this article myself, and it expresses my own opinions. I am not receiving compensation for it (other than from Seeking Alpha). I have no business relationship with any company whose stock is mentioned in this article.